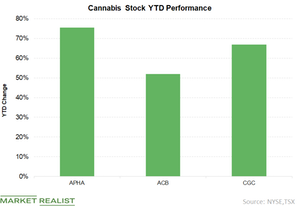 Here's What Delta 9 Cannabis 2.0 Looks Like
By Nivedha Elango

Jan. 11 2020, Updated 1:15 p.m. ET
In a recent update, Delta 9 Cannabis Inc. (NINE.V) presented details about its cannabis 2.0 products and its sales in the initial phase. Delta 9 Cannabis recently launched new recreational products in its retail stores in Manitoba. Following that, the company released the sales updates to its investors.
Article continues below advertisement
Delta 9 Cannabis Inc. Cannabis 2.0 products
Delta 9 Cannabis introduced new products in its portfolio recently. The company got its first shipment of Cannabis 2.0 products in mid-December. The company's new line of cannabis products launched in the retail stores are:
Cannabis vape products in both reusable and single-use varieties and cartridges sourced from the big brands, such as Aphria (APHA), MedReleaf, Aurora Cannabis (ACB), Dosecann, Organigram (OGI), High Park Holdings, and Cronos (CRON).
Also, cannabis edible products are curated from brands like MedReleaf, Tweed, Aurora Cannabis, High Park Holdings, and Dosecann.
Article continues below advertisement
Delta 9 Cannabis sales updates
The company is one of the first cannabis retailers in the country to sell Cannabis 2.0 products. The company got its first shipment of vapes, edibles, and cartridges on December 18, 2019. In addition to this, the company received additional shipments almost every day after the first.
The edibles product line of Delta 9 Cannabis consists of soft chews, milk chocolates, white chocolates, dark chocolates, truffles, cookies, and mints. The company's revenue grew by $52,957 due to Cannabis 2.0 products in just five days. These products make up almost 9.5% of the company's revenue for the week. Additionally, the company's new increase in sales is due to the sale of vapes and edible approximately in the ratios 51:49. In addition, these new products resulted in a 31% gross margin for the company.
Management's take
The company believes the Cannabis 2.0 product launch has been successful. The management of the company plans to collect analytical data from its retail sales. These analytical data will help them observe the preferences and tastes of the consumers.
As Cannabis 2.0 is a new market, the analytics and observations will be used to manage the inventory, product mix, supply requirements, and the supply chain. Delta 9 Cannabis also plans to add more products to its product line this year as the cannabis manufacturers. This includes launching cannabis-infused beverages and other cannabis products.
John Arbuthnot, CEO of Delta 9 Cannabis Inc., said, "We are very pleased with the successful launch of the Cannabis 2.0 products over the initial 5 days. We have seen a very positive consumer response towards these new product formats and we are fortunate to be working with the industry's leading suppliers to deliver these products to stores before the holidays."