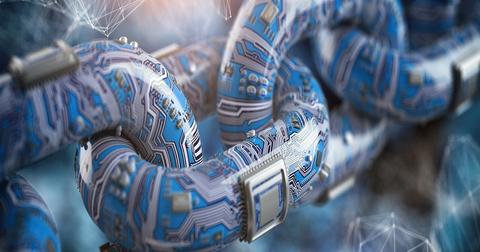 Dish Bets on Blockchain to Combat Content Piracy
By Ruchi Gupta

Updated
Dish Network (NASDAQ:DISH) has filed a patent application for a blockchain-based anti-piracy system, according to a CoinDesk report. In the application, Dish describes inserting code into digital content. The system would alert content owners whenever their content is used without permission.
Piracy is a major problem for the content production and distribution industry. The US government estimates that the country's television and film industry loses as much as $71 billion annually in revenue due to digital video piracy. Also, the government estimates that content piracy results in 560,000 lost US jobs every year.
Article continues below advertisement
Dish explores using blockchain to fight privacy
Dish has thought of using blockchain technology to combat content piracy as it battles IPTV pirates. The company has sued several pirate IPTV operators for stealing its content. Dish is also pursuing pirate IPTV subscribers with demand letters.
Cord-cutting and piracy have put pressure on Dish's pay-TV business. The company lost 66,000 subscribers in its legacy satellite pay-TV business in the third quarter of 2019. Selling satellite pay-TV subscriptions is Dish's main business. Therefore, weakness in the business resulted in Dish recording a 6.7% YoY (year-over-year) revenue decline in the third quarter. The company's profit for the quarter fell by 18% YoY.
Dish has explored other business opportunities due to the deteriorating pay-TV business. Currently, the company has its sights on the wireless market. Dish hopes to jumpstart its entry into the wireless market by purchasing divested T-Mobile and Sprint assets.
Netflix struggles with the piracy problem