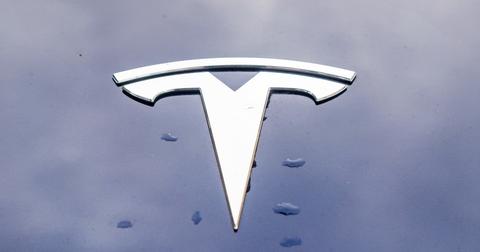 Dan Levy Raises Tesla Stock Outlook, Still Expects a Fall
By Mike Sonnenberg

Updated
Tesla (TSLA) stock ended 2019 on a high note, and 2020 has started out well too. So far in 2020, Tesla stock is up 9.6%. Today, it was up 1.6% at 10:44 AM ET. Why? One of Tesla's biggest bears is cozying up to its stock!
Today, Credit Suisse's Dan Levy updated Tesla's price target from $200 to $340. While this target price is still over 25% below its market price of $459 at the time of writing, Levy's change in stance is noteworthy. It looks like Tesla stock is suddenly getting popular among Dans: at the end of December, Wedbush analyst Dan Ives raised his price target from $270 to $370 while maintaining his neutral rating.
Article continues below advertisement
Tesla starts delivering China-made Model 3s to the public
Levy's change of heart coincides with Tesla's ramp-up in China. Today, Tesla started delivering Model 3 sedans made in its Shanghai Gigafactory 3 to the public. Today also marks the first anniversary of the groundbreaking ceremony for the Gigafactory 3. On December 30, the Global Times reported that Tesla was already producing 1,000 Model 3s per week at the factory and could soon hit a scale of 3,000 per week.
Levy still thinks Tesla stock is overvalued
In December, Levy conceded that Tesla was the leader in the EV (electric vehicle) segment. He said, "We believe Tesla is leading in the areas that will likely define the future of carmaking – software and electrification." He added, "Tesla is likely ahead of others on batteries – the core of the electric powertrain."
However, he still believes that Tesla's valuations are rich. He said, "The framework contextualizes the lofty assumptions embedded in the stock – to justify the current stock price one arguably must assume that by 2025 Tesla will grow annual volume to 1.2mn units."
In 2019, Tesla delivered just over 367,000 vehicles, beating analysts' expectations. As per Levy's assumptions, Tesla needs to raise its output by over 225% within the next five years. While this seems like a Herculean task, Tesla seems to be preparing for it.
Article continues below advertisement
Tesla is preparing for scale
Tesla's Gigafactory 3 is scaling up faster than expected. Just as the Gigafactory 3 started producing, news of Tesla's drafting a contract for buying land for its Gigafactory 4 in Germany hit. The factory could generate 10,000 jobs and produce half a million cars per year. The Gigafactory 4 would start with the production of Tesla's upcoming Model Y, batteries, and powertrains.
Tesla's upcoming Model Y may be a huge draw. The compact SUV may hit the roads by the end of this quarter, ahead of expectations. Elon Musk believes that the Model Y will be more successful than the Model 3. With the consumer trend shifting toward SUVs, we believe that it's possible. In all, Tesla is preparing for a mass-market EV revolution.
What about the competition?
Tesla is currently way ahead of the competition. Levy earlier said about Ford's (F) Mustang Mach-E, "The launch marks the first real milestone in Ford's increased emphasis in electrification, and more importantly marks an increased effort by the legacy US automakers to be relevant in electrification." However, Ford seems to be having scaling issues.
Perhaps the biggest competition for Tesla will come from Volkswagen, which is gearing up to put 1 million EVs on the road by 2023. Startups such as Rivian are also bringing their products into the competition.
What's Wall Street thinking about Tesla stock?
Despite the recent surge in Tesla's stock price, there are more bears on Wall Street than bulls. Of the 33 analysts surveyed by Reuters, 11 call it a "buy," while 13 call it a "sell." The remaining nine call the stock a "hold." The average target price of $315 on the Tesla stock points to over a 30% downside. Will Tesla shut the bears down and continue surging? The answer lies in China!