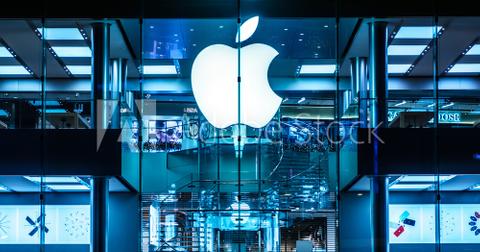 Apple Stock Makes a Strong Start to 2020, Breaches $300
By Adam Rogers

Updated
Apple (NASDAQ:AAPL) stock is up over 3% this year. The technology giant's stock closed trading at $303.19 yesterday and has gained close to 1% in premarket trading today. The stock has gained a staggering 98% in the last year, easily outperforming peers and broader indexes. The S&P 500 ETF is up 26%, while the DJIA has gained 20.4% in the last 12 months.
AAPL stock has also managed to outperform large-cap tech FAANG peers Facebook, Amazon, Netflix, and Google in the last year. While Facebook stock is up 49%, Amazon, Netflix, and Google have returned 14%, 6%, and 30.6%, respectively since January 2019.
Article continues below advertisement
Apple firing on all cylinders
What drove AAPL's impressive rally in 2019? In 2018, investors were concerned about the company's slowing iPhone sales and the sluggish macro environment. While global economic growth remains tepid, AAPL stock has moved to record highs on the back of strong supply chain estimates for its iPhone.
The iPhone remains Apple's flagship product and accounts for most of its sales. In September 2019, AAPL launched three new iPhones that have generated significant consumer interest. For the first time in several years, Apple didn't raise prices for the newly launched smartphones, boosting demand.
The company's two wearable devices, the AirPods and Apple Watch, are multibillion-dollar products. They helped the company start fiscal 2020 (ended in September) on a high. Furthermore, the Services segment continues to be Apple's fastest-growing, and the company continues to bank on it for revenue growth.
Yesterday, Apple emphasized the importance of the Services segment in its press release. According to senior VP of Internet and Software Services Eddie Cue, "2019 was the biggest year for Services in Apple's history. We introduced several exciting new experiences for our customers, all while setting the standard for user privacy and security."
Cue added, "We begin the new decade with incredible momentum and gratitude to our customers who have shown such enthusiasm for all of our Services, and we continue to celebrate the work of the world's best creators, storytellers, journalists and developers."
Article continues below advertisement
Apple continues to expand Services offerings
In 2019, Apple launched Apple Arcade, Apple TV+, Apple Card, and Apple News+, expanding its ecosystem and user base. Apple Arcade is a subscription gaming service, while Apple TV+ is an online streaming platform. Apple Card, launched in partnership with Goldman Sachs, should help Apple gain traction in the payment space. The App Store, Apple Music, and iCloud continue to enhance users' experience, resulting in strong customer retention.
The App Store, the world's largest application marketplace, has over half a billion visitors every week, according to Apple. Launched in 2008, the App Store has generated $155 billion for developers to date. It made them over $30 billion last year alone. App Store users spent a record $1.42 billion between Christmas Eve and New Year's Eve, marking growth of 16% YoY (year-over-year). On January 1, 2020, App Store spending rose 20% YoY to $386 million.
Apple Music has over 60 million paying subscribers. Launched in 2015, the service is available in 115 countries and has a portfolio of 60 million songs. It's now the second-largest music streaming service in the world, behind Spotify.
Apple TV+ is off to a strong start with several original productions, including The Morning Show, For All Mankind, See, and Servant. In its press release, Apple said it's "the first streaming platform to receive multiple Golden Globe and Screen Actors Guild nominations in its launch year."
Apple News now has over 100 million monthly active users. News+ integrates subscriptions to several magazines and newspapers. This year, the company has partnered with ABC News to cover key moments of the upcoming presidential election in the US.
Article continues below advertisement
What's next for AAPL investors?
AAPL managed to crush Wall Street's target estimates last year. Several analysts have had to raise their price targets as the stock continues to touch record highs. AAPL is currently valued at $1.33 trillion, and might move higher on the back of the company's strong December quarter results.
Apple plans to announce its quarterly results on January 28. All eyes will be on the company's guidance for the rest of 2020. Analysts' average Q4 revenue estimate is $88.3 billion, with a high estimate of $91.7 billion. For 2020, their average top-line estimate is $275.86 billion, which implies a 6% rise YoY.
Apple is still largely dependent on iPhone sales, but the company is rapidly growing its service and product offerings. AAPL now has several subscription products that could bring a stable stream of revenue. This revenue could insulate the company in an economic downturn, which is largely expected to hit global markets later this year.
However, the stock's high valuation metrics would mean investors should brace for capital erosion in a broader market sell-off. Analysts' average price target of $274 for AAPL stock is 10% lower than its current price.