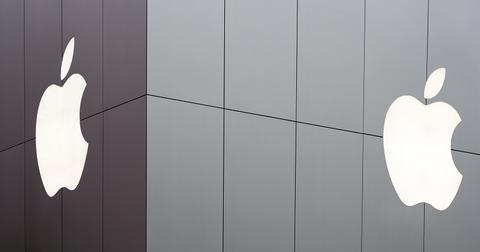 Apple Stock Cracks amid Standoff with Trump Administration
By Ruchi Gupta

Updated
Apple (NASDAQ:AAPL) stock fell 1.35% on Tuesday, which marked the stock's worst day so far in 2020. Apple has clashed with the Trump administration about unlocking a gunman's encrypted iPhones. The administration has accused Apple of not helping it open two iPhones belonging to a gunman. He was involved in a deadly shooting at a US military facility in Pensacola, Florida, last month.
US Attorney General William Barr called the shooting "an act of terrorism," according to a Reuters report. The FBI is investigating the shooting. The agency wants to access the gunman's iPhones as part of the probe, but it hasn't been able to do so.
Article continues below advertisement
Apple has a strong stance on privacy, which is why it built encryption into iPhones. Therefore, the company is concerned that the kind of access the government seeks would undermine iPhone users' security and privacy. In 2016, Apple also clashed with the US government about unlocking another killer's iPhone.
Facebook (NASDAQ:FB) has also made privacy a central objective. Now, the company wants to encrypt its social apps. Facebook's strong privacy stance follows a string of privacy breaches on its platforms. Last year, the company accepted a $5.0 billion FTC fine on charges that it didn't adequately protect users' privacy. Similarly, Facebook has clashed with the Trump administration's justice officials about their demand for backdoor access to its encrypted platforms.
Apple and Facebook used the CES 2020 event last week to talk up their work around protecting users' privacy. So far, the stocks have been strong in 2020. Facebook stock has gained 6.73% YTD (year-to-date) through Tuesday. Apple stock has gained 6.48% YTD. However, Apple stock's YTD gains would have been higher. On Tuesday, there was shock due to the standoff with the Trump administration.
Article continues below advertisement
Apple stock slides, investors are concerned
Apple CEO Tim Cook, like a few tech executives, has a close relationship with President Trump. Cook is on a Trump advisory. panel. President Trump has praised Cook as a "great executive." Since Cook has President Trump's ear, Apple has mainly been unscathed in the tariff war with China. Notably, China is a major international market for Apple products. In fiscal 2019 ended in September, Apple derived 17% of its total revenue from China.
However, Apple's reluctance to help the FBI unlock the Pensacola gunman's iPhones might strain the company's good relationship with President Trump. In addition to the China-related trade issue, Apple has also benefited from the Trump administration's tax policies. Apple stock has risen since President Trump lowered the corporate tax rate.
However, President Trump expressed frustration at Apple's refusal to help the FBI open the gunman's iPhones. In a tweet, he reminded Apple how his administration has helped it on trade. President Trump wants Apple to show goodwill by assisting the FBI and unlocking the iPhones in question. Overall, doing what the FBI wants would go against Apple's privacy beliefs.