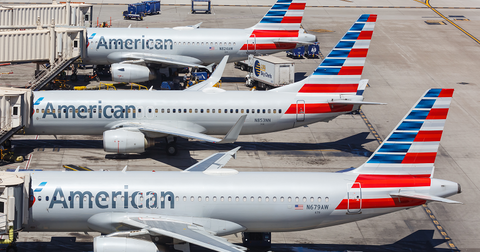 American Strikes MAX Compensation Deal with Boeing
By Anirudha Bhagat

Updated
American Airlines (AAL) struck a confidential compensation deal with Boeing (BA) over losses caused by the 737 MAX grounding in 2019. Though the company didn't disclose the actual amount, it said it would receive compensation over several years. The company also states that it would continue negotiating with Boeing for any future losses due to the MAX grounding.
American Airlines said that it would share a portion of the proceeds from Boeing with its employees. The carrier plans to use $30 million of the compensation amount for its employee profit-sharing program in March 2020.
Article continues below advertisement
American's Chairman and CEO Doug Parker said, "Despite the ongoing challenges the grounding has brought, American Airlines team members continue to do an incredible job caring for our customers." He continued, "Our ability as an airline to weather these unprecedented times is thanks to our phenomenal team, and it was important to us that we get a deal done before the end of the year. On behalf of the Board of Directors, we are proud to take the step of including this compensation in our 2019 profit-sharing program."
American Airlines' MAX grounding cost
American Airlines faced over 25,000 flight cancellations and millions of lost seating capacity in 2019 due to the MAX crisis. Notably, the Boeing 737 MAX has faced a global flying ban since mid-March following two deadly accidents within five months.
American Airlines has lost $315 million in total revenues during the second and third quarters of 2019 due to the MAX grounding. The company anticipates revenue loss to reach approximately $540 million in 2019.
Article continues below advertisement
Boeing reaches MAX compensation deal with other airlines
American Airlines is the third carrier that Boeing agreed to compensate for the MAX grounding losses. Last month, Southwest Airlines (LUV) struck a deal with Boeing to cover the damages from MAX flight cancellations. Southwest Airlines expects the MAX grounding to reduce its fiscal 2019 revenues by $435 million.
On December 31, Turkish Airlines announced that Boeing has agreed to compensate it for MAX losses. Reportedly, the total amount of the deal could be worth $225 million, of which $150 million would be payable in cash. The remaining $75 million would be in kind, including covering for future training expenses, repairs, and parts.
Approximately 380 Boeing 737 MAX planes were in operation before its worldwide grounding. Moreover, over 50 airlines globally are demanding compensation from Boeing for their financial losses from the MAX grounding.
So far, Boeing has set aside $5.6 billion to compensate for MAX customers' losses. However, we believe the compensation provision amount would increase substantially as the MAX grounding has stretched for a longer-than-expected period.
Moreover, some recent events have dashed hopes for an early return for the plane. Several airlines don't expect the MAX to be returning to the skies before April. Last month, Southwest and American extended their MAX cancellations until April 13 and April 6, respectively. On December 20, United Airlines (UAL), extended their Boeing MAX cancellation period to June 4.