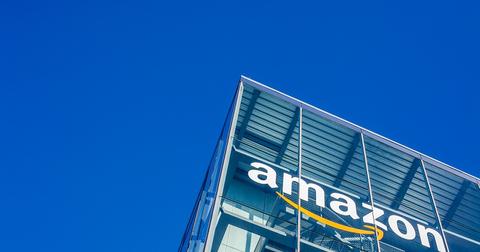 Amazon Earnings Preview: Expectations, India, and the JEDI Dispute
By Ruchi Gupta

Updated
Amazon (NASDAQ:AMZN) will report its fourth-quarter earnings after the market close on Thursday. So far, Amazon will be the fourth company in the FAANG group to report financial results for the quarter ending in December 2019. Netflix (NASDAQ:NFLX) kicked off the FAANG group's earnings reporting season on January 21. Then, Apple released its earnings report on Tuesday. Facebook (NASDAQ:FB) will report its earnings today. Meanwhile, Google parent Alphabet (NASDAQ:GOOGL) will likely release its earnings report on February 3.
Investors will be watching Amazon's earnings report closely. They will look for details about the company's Indian business and the battle over Pentagon's lucrative JEDI cloud computing contract.
Article continues below advertisement
Amazon's Q4 earnings expectations
Wall Street expects Amazon to report an EPS of $3.99 on revenue of $86.1 billion. Notably, the company's internal forecast calls for revenue of $80 billion–$86.5 billion. However, the company didn't provide an EPS guidance. In the fourth quarter of 2018, Amazon reported an EPS of $6.04 on revenue of $72.4 billion. Both of the earnings results beat Wall Street and internal expectations.
Struggle in India
India is a major focus for Amazon and many other technology companies. Amazon participates in many areas of India's technology sector. Notably, the company is one of the country's leading e-commerce companies and a major player in the cloud computing market. As a result, Amazon has its sights on India's digital payments and video and music streaming markets.
India's retail e-commerce market is on track to hit $72 billion in 2022 from $32.7 billion in 2018. The country's cloud market is on course to triple in size to $7.1 billion in 2022. Overall, India has one of the world's most vibrant digital payment markets. The country's mobile payments market is on track to grow to $1.0 trillion in 2023 from $200 billion in 2017. As a result, Amazon is excited about India. Recently, the company announced plans to invest $1.0 billion more in India following investments exceeding $5.0 billion.
Article continues below advertisement
However, the company has run into several challenges in India. In January, India opened antitrust investigations into Amazon and Flipkart—the two leading e-commerce businesses in the country. In the past, India forced Amazon to make significant changes in its supply chain to address anti-competitive concerns.
Amazon's cloud dominance is at stake
Right now, Amazon dominates the global cloud computing market. However, the company can't afford to rest on its laurels. Amazon lost the contest for a major government cloud contract. The Pentagon awarded its $10 billion JEDI cloud contract to Microsoft (NASDAQ:MSFT), which impacted Amazon's efforts to maintains its cloud dominance.
Amazon protested Microsoft's JEDI win. Recently, the company asked the court to stop Microsoft from starting to work on the contract. The cloud business is a major contributor to Amazon's earnings.