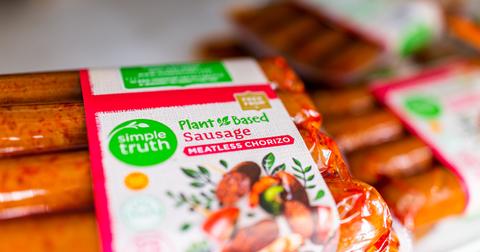 Will Kroger's Slower Earnings Growth Hurt Its Stock?
By Amit Singh

Updated
Kroger is set to announce its fiscal 2019 third-quarter earnings results before the market opens on December 5.
We expect Kroger's third-quarter earnings growth to slow.
Article continues below advertisement
Kroger's earnings: Slowing growth ahead
We expect Kroger's top line to continue to benefit from its digital initiatives. Meanwhile, the expansion of its private-label brands should further support its sales growth. However, we expect its bottom line to stay flat in the third quarter, indicating a sequential slowdown.
Analysts expect Kroger to post revenue of $28.20 billion, implying YoY (year-over-year) growth of 1.9%. This growth projection reflects sequential acceleration. During its last-reported quarter, its top line increased 1.1%.
Wall Street expects Kroger to post adjusted EPS of $0.48 in the third quarter. The consensus estimate indicates that analysts expect Kroger's bottom line to stay flat.
Sales growth drivers
Kroger is expanding its privately owned brands, which should boost its overall sales growth. The company launched 219 privately owned brands in the first quarter and 203 brands in the second quarter. These private brands are seeing healthy consumer demand and are growing rapidly. During the company's last-reported quarter, its self-owned brands saw a sales rise of 3.1% YoY.
Kroger also introduced Simple-Truth-Plant-Based, its fresh meatless brand. Plant-based meat alternatives are in high demand these days. We think the expansion of Simple-Truth-Plant-Based products will further support the company's sales growth.
Meanwhile, Kroger is also expanding its pickup and delivery services. At the end of the second quarter, it offered pickup and delivery services through 1,780 and 2,225 locations, respectively.
Article continues below advertisement
Kroger's third-quarter headwinds
We expect Kroger's earnings to benefit from comps growth. Moreover, productivity improvements and cost savings will likely support its bottom line. However, lower margins in the pharmacy business are expected to take a toll on Kroger's bottom line in the third quarter.
During the company's second-quarter conference call, management stated that pharmacy gross margin headwinds were likely to continue in the second half of 2019.
We expect Kroger's earnings growth to show a sequential slowdown. Its adjusted EPS rose 7.3% YoY in the second quarter.
Stock performance
Kroger stock has significantly underperformed its peers as well as the broader markets so far this year. Though it's recently marked healthy recovery, it's still trading in the red (albeit fractionally). Meanwhile, shares of Target (TGT), Costco (COST), and Walmart (WMT) are up 87.7%, 45.1%, and 27.4%, respectively. Moreover, the S&P 500 is up 23.4% year-to-date.
We believe Kroger's transformational strategies are working for it, but it still lags both Target and Walmart on the digital and pricing fronts. Both Target and Walmart have significantly strengthened their digital businesses. Amazon (AMZN) also continues to expand its grocery business and has announced significant investments to step up its delivery process.
Moreover, Target and Walmart are using their large store bases to reduce their shipment costs. On the contrary, Kroger is building 20 automated customer fulfillment centers, which requires a high up-front investment.
We continue to believe Target, Walmart, and Costco will drive higher traffic this holiday season. Moreover, these retailers remain the best positioned to gain from higher retail holiday sales.