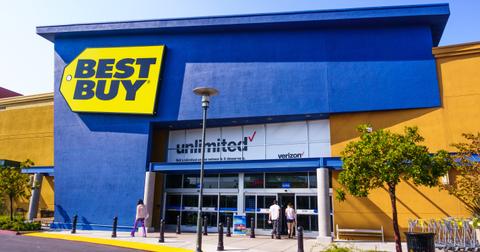 Will Best Buy Benefit Further from the Holiday Season?
By Shreerag Menon

Updated
Best Buy (BBY) stock has risen 54.9% YTD (year-to-date) as of December 6. In comparison, the broader S&P 500 Index has risen 28% YTD. BBY has surged 9.9% against the backdrop of the impressive fiscal 2020 third-quarter earnings it announced on November 26. It's continued its momentum, rising 10.5% since its third-quarter earnings announcement.
Article continues below advertisement
Best Buy's recent performance
Best Buy exceeded analysts' adjusted EPS estimates in the first three quarters of fiscal 2020. The company's third-quarter adjusted EPS rose 21.5% YoY (year-over-year) to $1.13. It exceeded analysts' EPS estimate of $1.03. Management also expressed their hope of continuing this progress and realizing new opportunities as it implements the Building the New Blue strategy. The strategy was created to develop extensive customer relationships. The company aims to double its number of customer relationship events to 50 million. It expects to achieve this goal through higher total tech support memberships, increasing at-home services, financial services, and live senior support.
The retailer's third-quarter revenue rose 1.8% to $9.76 billion on comparable sales growth of 1.7%. Its revenue increased 2.4% YoY on the domestic front due to strong comparable sales growth of 2% and revenue from GreatCall. The company acquired GreatCall, a connected health technology company, in the third quarter of fiscal 2019. The company offers health and safety products and services for elderly adults.
However, Best Buy's international revenue fell 4.1% YoY. Negative forex rates and a decline in comparable sales of 1.9%, mostly from stores in Canada, impacted international revenue.
Article continues below advertisement
The company's domestic online sales grew 15% YoY to $1.40 billion. This growth was the result of higher average transaction values of online orders. Online sales as a percentage of total sales stood at 15.6% compared to 13.8% in the third quarter of fiscal 2019. The difference indicates the retailer's increased focus on its online sales platform, where e-commerce giant Amazon (AMZN) is its main rival.
Will the growth streak continue in the holiday quarter?
The electronics retailer expects strong fourth-quarter earnings mostly driven by higher comparable sales in the range of 0.5%–3%. Best Buy expects fourth-quarter revenue of $14.75 billion–$15.15 billion. In comparison, analysts' expectation stands at $15.05 billion. Best Buy also expects fourth-quarter adjusted EPS of $2.65–$2.75. Analysts' adjusted EPS estimate is $2.74.
A major portion of Best Buy's third-quarter comparable sales growth came from headphones, appliances, computing, tablets, and services. The sales in these categories are expected to grow during the holiday season, especially during Cyber Monday sales. The retailer has come up with many attractive offers during the holiday sales both on its online platform stores. The retailer has also offered its online customers free next day delivery on a variety of products throughout the holiday season without any criteria of a minimum purchase or membership. It's also offering programs to help enhance customer engagement, such as Total Tech Support. The membership base of the Total Tech Support program has crossed 2 million.
As per CNBC, Adobe Analytics estimates that Best Buy saw a 19.7% YoY rise in online sales during Cyber Monday, touching a record $9.4 billion. Reportedly, the top-selling products included higher-margin merchandise such as Samsung TVs and Apple laptops.
Article continues below advertisement
Do analysts expect another rise?
Best Buy raised its outlook for fiscal 2020 during its third-quarter earnings announcement. The company raised its comparable sales growth outlook to the range of 1.0%–2.0% from its earlier estimate of 0.7%–1.7%. It also raised its estimate for adjusted EPS to the range of $5.81–$5.91 from $5.60–$5.75. This EPS revision comes against a backdrop of a revised revenue expectation of $43.2 billion–$43.6 billion and management's expectation to spend almost $750 million–$1 billion on share repurchases during fiscal 2020.
On December 6, Best Buy stock had "buy" recommendations from ten out of 29 analysts, including five "strong buy" recommendations. The stock had "hold" ratings from 18 analysts, while one analyst had a "sell" rating. Currently, analysts' average price target of $85.93 reflects a potential upside of 4.7% over the next 12 months. We expect the stock to keep up the price momentum in the wake of strong holiday sales.