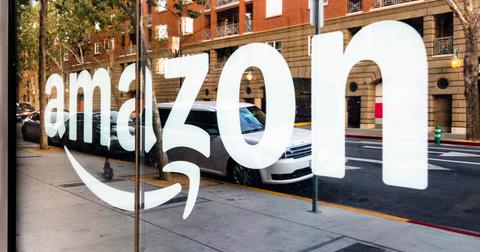 Will AMZN Stock Make a Comeback in 2020?
By Adam Rogers

Updated
Amazon (AMZN) stock has gained 13.7% year-to-date. The stock has underperformed broader indexes in 2019. While the Dow Jones Industrial Average has gained 20%, the S&P 500 ETF is up 25% this year.
Tech ETFs XLK, SKYY, and FDN have returned 41%, 24%, and 15%, respectively, in 2019. AMZN stock has also underperformed most FAANG stocks this year. The FAANGs comprise multibillion-dollar companies Facebook, Amazon, Apple, Netflix, and Google.
While Apple has crushed the market with a 69% return this year, FB, Google, and Netflix have returned 48.5%, 28%, and 13.5%, respectively, in 2019. We have seen that AMZN stock has lost steam on the back of two consecutive quarters of earnings decline.
In the June quarter, Amazon reported sales of $63.4 billion, marking growth of 19.9% YoY (year-over-year). However, its operating income rose by just 3% from $2.98 billion in the second quarter of 2018 to $3.08 billion in the second quarter of 2019.
Its net income also rose, by 4% from $2.53 billion to $2.62 billion. The company's EPS of $5.22 were 6.3% below analysts' estimates of $5.57. The stock fell following 12% in the week following the company's Q2 earnings release.
In Q3, AMZN reported sales of $69.98 billion, marking YoY growth of 23.7%. It reported EPS of $4.23. While the company beat analysts' top-line estimate of $68.8 billion, its EPS were 8.4% below their estimate of $4.62. AMZN stock was trading lower after its Q3 results as well.
AMZN stock gained 31% between the start of this year and July 15. It has since fallen over 13%. The company's market cap is currently $867.4 billion, well below its billion-dollar valuation in 2018.
Article continues below advertisement
AMZN's growth story remains intact
Amazon has managed to beat revenue estimates this year but has fallen short of analysts' earnings forecast. The company warned investors about its bottom-line growth slowing this year. It has invested $800 million over the last six months in its one-day shipping program.
The investment means an increase in its employee workforce in sales and customer service. Amazon is also targeting aggressive expansion in international markets, including India. The company's profit margins could remain under pressure as it spends heavily on marketing for the all-important holiday quarter.
In the December quarter, Amazon has forecast sales between $80 billion and $86.5 billion. Last month, Wall Street lowered its sales forecast to $85.9 billion. For the December quarter, AMZN has forecast operating income between $1.2 billion and $2.9 billion. While this estimate is pretty wide, the midpoint forecast of $2.05 billion is considerably below Wall Street's operating profit forecast of $3.8 billion. The midpoint forecast would also mean that AMZN's adjusted EPS may rise by just 2.6% to $20.66 in 2019.
Article continues below advertisement
Amazon is clearly focused on growth and not too concerned about its bottom line. The company has followed this strategy for years. Analysts expect Amazon's sales to grow by 19.8% to $279.1 billion in 2019, 18.5% to $330.68 billion in 2020, and 17% to $387 billion in 2021. But what will drive the company's sales higher?
E-commerce growth critical for AMZN
Amazon's primary business is its e-commerce segment. The global e-commerce market continues to expand, providing the company with enough opportunities to drive its sales higher. It is aggressively expanding in India, which has solid growth potential given the country's population and low online sales metrics.
AMZN is facing competition in its high-growth public cloud segment. This business is the company's primary driver of profit margins. In the last 12 months, Amazon Web Services accounted for 12% of its total sales.
In the September quarter, AWS sales grew 35%, while AWS operating income grew 9% to $2.26 billion. This business accounted for 72% of Amazon's total operating income in the third quarter.
Though AWS is growing at a slower rate than the overall market, it remains the largest public cloud player in terms of market share. AWS remains a critical driver of Amazon's bottom line.
Article continues below advertisement
AMZN's advertising business is another high-growth segment. Amazon is the third-largest digital advertising platform in the world, after Facebook and Google. It has partnered with programmatic ad players The Trade Desk and DataXu. AMZN will now be able to sell ad inventory through the Amazon Fire Stick.
All of these business segments have an expanding addressable market, which means investors can expect AMZN's sales to grow at a robust pace well into the next decade.
A look at Amazon's valuation and price targets
In the last five years, Amazon stock has returned a stunning 470% and has had a forward PE multiple of 64.6x. While many may consider this multiple unreasonably high, we can see that it is supported by solid revenue growth.
After AMZN's tepid EPS growth this year, analysts have forecast its EPS rising by 31.2% in 2020 and 36% annually between 2021 and 2023. Analysts tracking AMZN stock have remained bullish.
Of the 47 analysts tracking Amazon, 43 recommend "buy," three recommend "hold," and one recommends "sell." Their average price target of $2,168 implies a 24% upside.