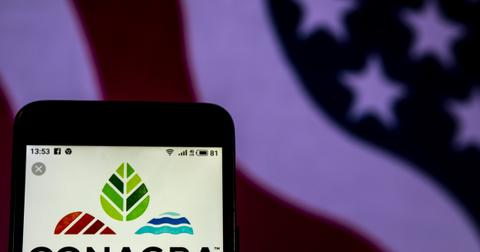 Why Has Conagra Brands Stock Continued to Rise?
By Amit Singh

Updated
Conagra Brands (CAG) stock has risen about 17% since the company posted its stellar second-quarter results on December 19. So far, the stock has risen 59.4% YTD (year-to-date). Notably, Conagra Brands shares are trading close to its 52-week high. The shares have risen about 68% from the company's 52-week low of $20.22.
Conagra Brands stock has outgrown its peers this year. The stock has beaten the benchmark index by a considerable margin. For instance, the S&P 500 has risen 28.6% YTD. Meanwhile, General Mills (GIS), Kellogg (K), J.M. Smucker (SJM), and Campbell Soup (CPB) shares have risen 36.1%, 20.9%, 11.0%, and 49.2%, respectively.
Article continues below advertisement
What's driving Conagra Brands stock higher?
The recent run in Conagra Brands stock is due to its better-than-expected second-quarter performance and upbeat guidance.
Conagra Brands' second-quarter sales and EPS beat Wall Street's estimates. The company's sales of $2.82 billion rose 18.3% year-over-year and beat analysts' estimate of $2.80 billion. Incremental sales from the Pinnacle Foods acquisition and higher organic sales drove Conagra Brands' top line.
The company's bottom line has taken a hit due to higher debt levels and an increased share count. However, Conagra Brands' adjusted EPS beat Wall Street's estimate due to higher sales and margin expansion.
Conagra Brands is upbeat and expects an acceleration in organic sales in each quarter in fiscal 2020. Management expects innovation to drive its organic sales in the second half of 2020. Notably, investments made in the first half will likely benefit the company's second-half performance.
Analysts expect Conagra Brands' bottom line to return to growth in the second half and mark stellar growth. For instance, analysts project high-single-digit growth in the company's bottom line in the third quarter. The adjusted EPS will likely mark a 44% rise in the fourth quarter.
Analysts raised the target price
A strong quarterly performance and upbeat outlook led several analysts to increase their target prices on Conagra Brands stock. Analysts made the following upward revisions to their target prices:
J.P. Morgan increased the target price to $39 from $34.
Evercore ISI raised the target price to $39 from $35.
Deutsche Bank increased the target price to $30 from $29.
Stifel increased the target price to $36 from $34.
RBC raised the target price to $36 from $30.
Berenberg increased the target price to $33 from $29.
UBS raised the target price to $38 from $32.
Credit Suisse increased the target price to $32 from $26.
On average, analysts maintained a target price of $34.93 on Conagra Brands stock. The target price indicates an upside of about 3% based on the closing price of $34.05 on Tuesday.
Among the 15 analysts covering Conagra Brands stock, eight recommend a "buy," six recommend a  "hold," and one recommends a "sell."