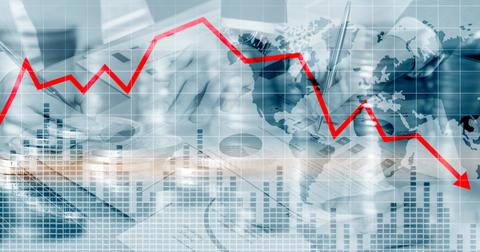 Why GameStop Stock Is Sinking after Earnings Release
By Adam Rogers

Updated
GameStop (GME) stock fell more than 14% in after-hours trading yesterday. The video game retailer announced its third-quarter results after markets closed yesterday.
It reported revenue of $1.44 billion with adjusted EPS of -$0.49. In the prior-year quarter, GameStop reported revenue of $1.93 billion with EPS of $0.67. Its comparable-store sales fell by 23.2% in the third quarter.
Analysts estimated the company would report sales of $1.62 billion and EPS of $0.11 in the third quarter. During its earnings call, GME cut its EPS forecast to between $0.10 and $0.20 for fiscal 2019. This estimate was below its prior forecast of EPS between $1.15 and $1.30. Wall Street had forecast 2019 EPS of $1.21. GameStop's massive EPS miss and less-than-impressive guidance sent its stock lower in after-hours trading.
Article continues below advertisement
In the third quarter, GameStop's new hardware sales fell 45.8%, while its software sales were down 32.6%. Accessories revenue declined by 13.4%, while the decline for pre-owned revenue stood at 13.3%. The only business that experienced revenue growth was GME's collectibles segment, which saw sales rise by 4.3%.
GameStop is the largest gaming retailer in the world. It has over 5,700 stores in 14 countries. GME sells new and pre-owned gaming consoles, video game titles, and related accessories. It also has diversified into selling popular culture collectibles and board games. It runs a customer loyalty program and has signed up 55 million members globally.
What impacted GameStop's sales in Q3?
GameStop attributed its performance to the quarter historically experiencing low sales. According to gaming research company NPD, video game sales (hardware and software) fell 8% YoY (year-over-year) in September. The decline accelerated in October, as total video game sales were down 34%.
Furthermore, Sony and Microsoft will be launching the next generation of gaming consoles in late 2020. This news has also resulted in weak gaming sales, as players are now waiting for the next generation of consoles.
During GameStop's earnings call, CEO George Sherman stated, "The near-term headwinds confirming the industry as we enter the final stages of the current Microsoft and Sony console cycles are having an outsized impact in our business given we are the alone specialty retailer in the space."
Article continues below advertisement
He added, "It's important to keep in mind that this is not uniquely a GameStop issue. This is a console issue and consoles are the trigger point for our industry. With Generation nine consoles on the horizon set to bring excitement and significant innovation to the video game space, those anticipated releases in late 2020 are putting pressure on the current generation of consoles and related games, as consumers wait for new technology and publishers address their software delivery plans."
Overall industry weakness resulted in lower-than-estimated sales for GameStop. The company expects this trend to continue for a few quarters until the next-gen consoles are launched. GameStop has explained it is in the "commoditization phase of the console cycle." It means sales are primarily driven by promotional pricing, which has a direct impact on its bottom line. Its revised outlook left investors unimpressed.
Article continues below advertisement
Why is GameStop bullish about its long-term prospects?
GameStop has had to look at every aspect of its business operations to offset the steep revenue decline. It has exited business operations in Finland, Norway, Sweden, and Denmark. These exits could improve the company's EBITDA run rate by $15 million.
GME is focused on optimizing its business model by reducing inventory levels. In the third quarter, GameStop's inventory fell 30% YoY, resulting in an increase in its cash flow. The company is optimistic about growth in the collectibles business. The collectibles business now accounts for 11.2% of its sales, up from 8.5% in 2018 and 6.9% in 2017. Due to its massive reach among gamers, GameStop is uniquely positioned to take advantage of popular player franchises in 2019 and beyond.
Sherman claimed that the company is well on its way to achieving its goal of improving operating profit by $200 million by the end of 2021. This improvement will be achieved by optimizing inventory positions and expanding into wider-margin product categories. Driven by its long-term outlook, GameStop repurchased 22 million shares for $115 million in the third quarter.
GME continues to be a risky buy
Despite the company's detailed strategy to improve its profit margins and stabilize its revenue, it has yet to put most of these plans into action. GME's revenue fell 3.1% to $8.28 billion in 2018. Analysts expect its sales to reach $7.17 billion in 2019 and $6.7 billion in 2021.
In the next five years, analysts expect its earnings to fall 50% annually. Its collectible sales are too low to offset the decline in its legacy business segments. GME stock is already down 57.4% year-to-date and has lost 86% in market value since August 2015. It has been volatile this year due to restructuring, layoffs, and falling sales. There is just too much uncertainty surrounding this stock right now.