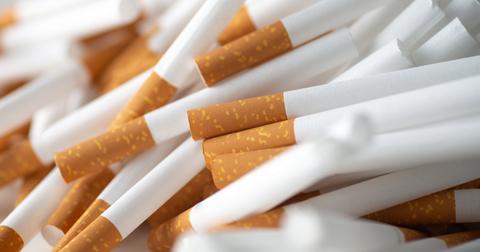 Why Citigroup Prefers Altria over Philip Morris
By Amit Singh

Updated
Citigroup has upgraded Altria stock and downgraded Philip Morris stock.
Citigroup expects lower cigarette volume declines and has a favorable outlook on traditional tobacco.
On December 2, Citigroup upgraded Altria stock to "buy" from "neutral" and raised its target price to $60 from $47. Analyst Adam Spielman of Citigroup downgraded Philip Morris stock to "neutral" from "buy."
Spielman expects the cigarette volume rate of decline to moderate in 2020, which is likely to support Altria stock. Moreover, he expects growth to soften a bit for reduced-risk products, which could reduce the erosion in Altria's market share losses.
On the contrary, the analyst expects Philip Morris to benefit from IQOS. However, he's less bullish on reduced-risk products.
Earlier in October, Citigroup upgraded Altria stock to "neutral" from "sell." Citigroup cited the negatives surrounding vaping to help cigarette volumes. Moreover, Citigroup expects moderation in the rate of decline in cigarette shipment volumes.
Article continues below advertisement
Our view
We continue to believe that cigarette shipment volumes for smokable products will decline in the foreseeable future. However, the pace of the decline is likely to moderate. Consumers' shift toward noncombustible products could continue to hurt the cigarette volumes of both Altria and Philip Morris.
However, the regulatory changes in the e-vapor category and vaping-related lung injuries could drive recovery in traditional tobacco products. The US FDA is taking a hard stance on flavored e-cigarettes. The increasing use of flavored e-cigarettes among children is a big concern. Moreover, news of deaths and illnesses related to vaping have raised further concerns.
Shipment volumes continue to decline
Altria's smokable products segment remains challenged. Lower cigarette shipment volumes have mostly offset the benefits of higher pricing and fewer promotions. However, the decline in shipment volumes is showing signs of moderation.
For instance, Altria's domestic cigarette shipment volumes decreased by 7.0% in the first half of 2019. However, in the third quarter, this rate of decline moderated to 6.6%. As for the first nine months of 2019, Altria's smokable products' domestic cigarette shipment volumes fell 6.9%.
As for the full year, Altria expects its domestic cigarette shipment volumes to fall 5.0%–6.0%. This forecast indicates sequential improvement in the fourth quarter.
Meanwhile, Philip Morris's cigarette shipment volumes fell 5.9% in the third quarter. The rate of decline accelerated sequentially, reflecting weakness in Indonesia, Pakistan, Saudi Arabia, and Turkey, among other countries. Price increases in several markets continued to hurt cigarette volumes.
Philip Morris now expects its total cigarette and heated tobacco unit shipment volumes to decrease by 1.0%–1.5% in 2019. Previously, management had forecast a 1.0% decline.
Article continues below advertisement
What's in store for Altria and Philip Morris?
As for Philip Morris stock, its weak guidance on unit shipment volumes could remain a drag and limit any further upside. Philip Morris stock is up about 23.7% so far this year. The uptrend in the stock is the result of the expansion of IQOS. Higher volumes in heated tobacco unit shipments continue to support the uptrend in PM stock.
Shares of Altria closed 1.8% higher following Citigroup's upgrade. Meanwhile, Philip Morris stock closed a bit lower on December 2.