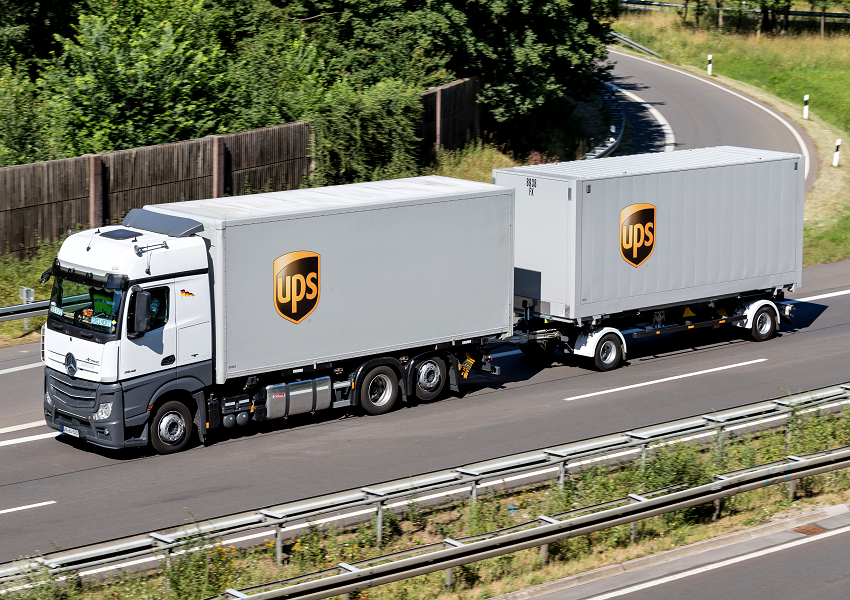 UPS Stock Rating Cut by BMO Analyst—Why?
United Parcel Service (UPS) stock fell 1.5% yesterday after an analyst downgraded the stock, citing concerns over its future margins. On December 11, BMO Capital Markets analyst Fadi Chamoun cut his rating on UPS stock to "market perform" from "outperform." Chamoun also lowered his target price by $2 to $123, depicting a 5.4% upside from yesterday's closing price of $116.79.
The latest rating downgrade by the BMO Capital analyst is surprising, as several other analysts have recently upgraded the stock. In late October, Wells Fargo analyst Allison Poliniak-Cusic initiated her coverage on UPS with an "outperform" rating.
Following its robust third-quarter results on October 22, several analysts raised their target prices on UPS stock. Among the major research firms, Citigroup raised its target price by $6 to $125 and CFRA raised it by $5 to $150. UBS also raised the target price by $8 to $136.
Article continues below advertisement
According to a Reuters poll, analysts provided a consensus "buy" rating on UPS stock. About 43% of the 28 analysts covering UPS stock gave it a bullish recommendation. Approximately 50% recommended a "hold," and the remaining 7% had a bearish stance. Their average target price of $125.33 on UPS stock reflects a 7.3% increase over the next year.
Why Chamoun downgraded UPS stock
Chamoun noted that rising e-commerce activity is disrupting the logistics business, as residential addresses account for the majority of overall deliveries. According to a December 12 MarketWatch report, the analyst questioned UPS's ability to improve profitability in such a scenario.
Chamoun and his analyst team wrote to clients, "Rising e-commerce volumes are increasingly becoming the dominant share of small package delivery volumes, pressuring operating margins and ROICs (return on invested capital) for related companies."
Article continues below advertisement
Logistics companies' last-mile profitability depends on drop density. However, Chamoun's client note added, "The biggest driver of profitability for the industry is drop density, which is significantly lower for residential deliveries than for business deliveries, and we see no reasonable path toward improving B2C (business-to-consumer) drop density."
Chamoun opined that to reduce cost structure for small package deliveries, UPS would require significant investment in technology. However, he cautioned that it wouldn't be enough to maintain its 2018 profitability in the absence of a substantial price hike.
According to the MarketWatch report, about 16.63 billion packages were delivered last year in the US. UPS, along with its rivals FedEx (FDX) and USPS, accounted for about 81.3% of the total delivered packages. Chamoun noted that UPS had the highest margins due to its disciplined pricing and capital efficiency.
The BMO Capital analyst is bullish about UPS in the near term given its higher volumes and efficiency gain expectations. However, Chamoun believes it would be challenging for the company to improve profitability in the long term.
Article continues below advertisement
UPS expects a record holiday season
BMO Capital doesn't seem optimistic about UPS's long-term margin outlook due to the rising e-commerce contribution to its business. However, the company expects to see record delivery volumes during the 2019 holiday season. In September, the company expected to deliver 31 million packages daily during the holiday season.
On September 9, UPS COO Jim Barber stated, "We expect another record Peak season this year, with daily package deliveries nearly doubling compared to our average of 20 million per day." To deliver these packages during the holiday season, the company planned to recruit about 100,000 seasonal workers.
UPS stock performance
UPS stock is one of the top performers in the logistics industry. However, its rival FedEx suffered due to global economic slowdown concerns and uncertainty over the US-China trade war. UPS's strong back-to-back quarterly performances and impressive outlook boosted investors' confidence in the stock.
Investors believe that UPS's investment in self-driving logistics trucks could enhance its margins by improving efficiency and lowering costs. In October, UPS bought a minority stake in autonomous tech startup TuSimple.
UPS stock has gained 19.7% so far this year, while FedEx stock has fallen 1.4%. Its year-to-date return exceeded the iShares Transportation Average ETF's (IYT) gains of 16.5%. UPS stock's performance is also in line with the Dow Jones Index's YTD gain of 19.7%.