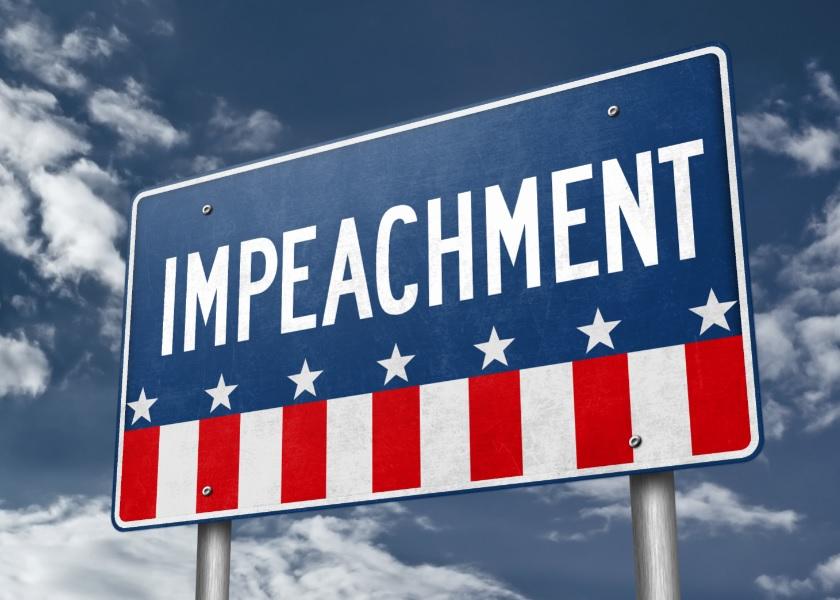 Trump's Impeachment, Trade War, and Tech Stocks
By Anjana Viswanathan

Nov. 20 2020, Updated 5:23 p.m. ET
Representatives of the Democratic House impeached US President Donald Trump on December 18, according to CNN. Post the Trump impeachment announcement at 11:30 am ET (eastern time), the S&P 500 fell very slightly by 0.20%. Moreover, the tech-heavy NASDAQ was less impacted by this news as it was down 0.17%.
In the below article, we will cover how the current Trump impeachment is affecting US tech and telecom stocks. Also, we will see if this impeachment will escalate the trade war and what it means for US tech stocks.
Article continues below advertisement
Trump's impeachment on US tech and telecom
Despite the Trump impeachment announcement, there is no major impact on the tech and telecom sector. After the announcement, we see that the S&P 500 Technology Select Sector Index (IXT) closed 0.35% lower. Also, the S&P 500 Communication Services index (S5TELS) ended 0.33% lower after the news.
However, looking at the entire day's performance yesterday, both the indices closed in opposite directions. The US technology index dipped marginally by 0.06%. It was mainly affected by 0.24%, 0.23%, and 0.21% fall in Apple (AAPL), Intel (INTC) and Microsoft (MSFT) stocks, respectively. On the other hand, the US communication services index gained 0.29%. This is owed to a 0.62% and 0.84% rise in A&T Inc (T) and Centurylink Inc (CTL) stocks, respectively.
On the other hand, the NASDAQ 100 index closed slightly up by 0.05%. It allocates more than 53% weight to the US technology stocks. This gain was primarily driven by a 2.3% rise in Facebook (FB) stock price. This rise offset the fall faced by Microsoft and Apple. Both the stocks together constitute 24% holding in this index.
Article continues below advertisement
Trump's impeachment and trade war
The trade war between the US and China commenced in July 2018 under Trump's administration. In this nearly 18-month battle, both the parties failed to reach agreeable terms. However, on December 13, the first round of trade deal was finalized by both China and Trump's administration, according to Bloomberg.
As per the first part of this deal, the US agreed to reduce the 15% tariff imposition on Chinese products, which is worth $120 billion, to 7.5%. On reaching the first phase of the deal before December 15, the additional tariffs on $160 billion Chinese products stand canceled. This was a consolation to the tech stocks. This is especially true for Apple, which is dependent on the Chinese market. Also, it looks like Trump plans to put an end to this trade war issue.
We can see that the House of Representatives accused Trump of misuse of power and for blocking Congress in performing its duty. However, he is still not removed from the presidency. In fact, Lu Xiang via South China Morning Post views that the impeachment as just a reason to delay the decision on the US-China trade deal. So, we will have to keep a close watch on any development in relation to the trade war issue and Trump's impeachment.
US tech stock relationship with trade war
Because of the confusion related to the trade deal, some analysts suggested moving away from the tech stocks. This is because they pose risk. As per the analysts' view via USA Today, "beaten-down value stocks and bonds are better options than trade-sensitive growth companies in the technology sector that have propelled the bull market."
However, there are tech stocks, such as Microsoft, that remain resistant to trade war worries. Microsoft stock is currently heading its way towards an all-time high, making returns of more than 50% to date. While we concur with the thoughts of tech stocks' vulnerability to trade war impact, we also encourage investors to look out for strong tech stocks.