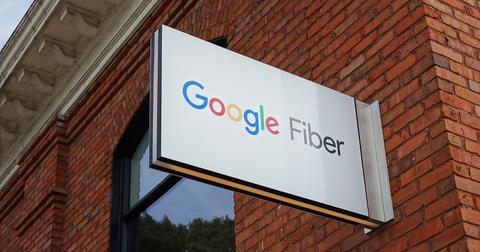 This Google Fiber Move Will Benefit Alphabet
By Ruchi Gupta

Updated
Google Fiber, a sister company to Google (GOOG) and one of Alphabet Inc.'s (GOOGL) other bets, provides internet access service. It is focused on the high-speed internet market. Since its debut in 2012, Google Fiber has offered two major internet plans: 1Gbps and 100Mbps plan options.
However, Google Fiber announced this week that it has discontinued the 100Mbps plan. Existing customers will continue with the plan. However, new customers will not have it as an option when signing up for Fiber service. Instead, Google Fiber will from now on sell only the gigabit plan. The gigabit plan costs $70/month while the outgoing 100Mbps plan costs $50/month.
Article continues below advertisement
Google Fiber wants to move households to gigabit speeds
Google Fiber says its mission from the start has been to change the internet, and that its primary focus has been improving internet speeds. When Fiber arrived seven years ago, gigabit speed was rare. But thanks to competition in the internet market, many incumbent broadband providers upgraded their speeds. And American households are the winner.
Google's decision to focus customers on its gigabit plan has the potential to benefit many parts of Alphabet. Here are some of the ways various Alphabet businesses could benefit from Fiber's move.
Google Fiber has YouTube TV subscriptions and smart home devices
As part of evolving its plans, Google Fiber will help its sister company Google sell its YouTube TV service to its broadband customers. From this week, households can sign up for both Google Fiber and YouTube TV at the same time. YouTube TV is an offshoot of YouTube that requires a paid subscription for access. It costs $50/month and is one of Google's sources of non-advertising revenue.
Google makes an array of smart home devices that require a high-speed internet connection to operate fully. These include Nest-branded smart speakers that are being adopted as hubs for control other smart home devices. Also, Google makes internet-connected thermostats and security cameras. By bringing its gigabit internet to more homes, Fiber could create more potential customers for Google devices.
Article continues below advertisement
Create more potential Stadia users
Last month, Google launched a cloud-based gaming service called Stadia. With Stadia, people do not need expensive gaming hardware to play their favorite games. But they do need a high-speed internet connection to enjoy the Stadia experience.
Therefore, Fiber's idea of promoting gigabit internet could go a long way into boosting Stadia uptake. Stadia is a subscription service, costing $10/month. Therefore, it is one of Google's new sources of non-advertising revenue.
Presently, Google and Alphabet rely heavily on the advertising market. For instance, advertising contributed 84% to Alphabet's total revenue in the third quarter. That shows that Alphabet is more reliant on advertising than Yandex (YNDX) and Baidu (BIDU). Therefore, Google Fiber's small move with plan adjustment could have a big impact across Alphabet.