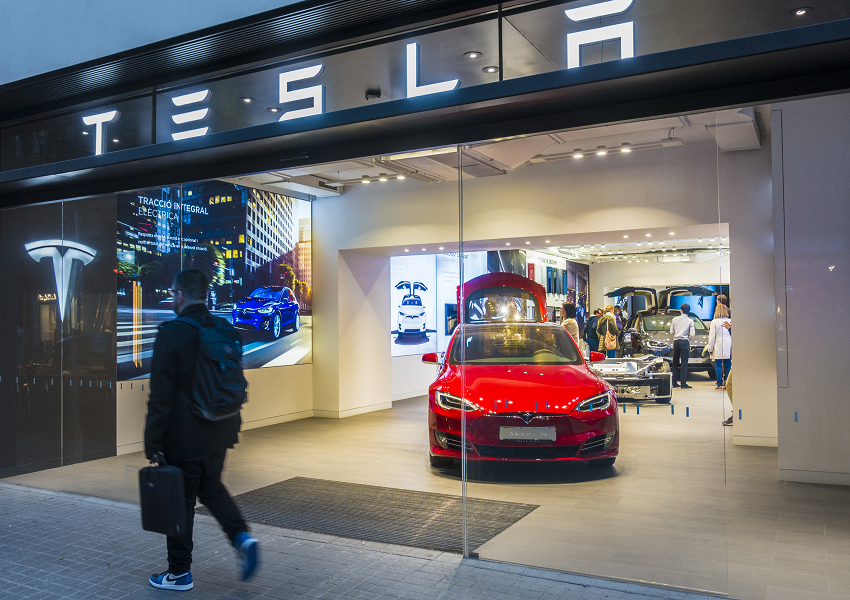 Morgan Stanley Thinks Tesla Stock Could Soar 50%
By Anirudha Bhagat

Dec. 9 2019, Updated 11:27 a.m. ET
A prominent Wall Street analyst thinks that Tesla (TSLA) stock could rise more than 50% in the near term. On Thursday evening, Morgan Stanley analyst Adam Jonas raised his bull case target price on Tesla to $500 from $440. The revised target price reflects an upside of 51% from the closing price of $330.37. Tesla stock was trading 2% higher today during the pre-market trading session.
Article continues below advertisement
50% upside in Tesla stock
Jonas cited an optimistic scenario for Cybertruck and sales in China as the main reasons behind his target price revision, according to a Bloomberg report. His upbeat target price reflects a $20 contribution from Cybertruck and a $40 contribution from incremental sales in China.
Within weeks of launching the first fully electric pickup truck, Cybertruck, Tesla received over 250,000 pre-orders. Jonas assumes that Tesla could sell 100,000 Cybertrucks by the end of 2024 at an average price of $50,000.
His assumption shows that the company would convert almost 40% of the pre-orders into actual sales. At this price point, Jonas thinks that Cybertruck's sales could fetch approximately 20% of the EBITDA margin. In a note to clients, he wrote, "We believe this is a fairly optimistic assumption, given that a pre-order only requires a $100 refundable deposit."
Jonas expects that incremental volume will boost China's total revenues. He thinks that Gigafactory's annual production rate could increase by 200,000 units to 450,000 units by 2024 and 2025. The sales in China could bring in revenues of $40,000 per unit.
Article continues below advertisement
Higher target price on Tesla stock
Morgan Stanley isn't the only research firm that raised the target price on Tesla stock after Cybertruck's launch. On Monday, Piper Jaffray analyst Alexander Potter increased his target price on the stock to $423 from $372.
Potter is impressed with Tesla's capabilities including "high-volume manufacturing, impressive opex control, and frugal capital spending," according to a MarketWatch report. He's also bullish about the Cybertruck. Potter thinks that Tesla could sell 200,000 units annually from 2023.
Citigroup analyst Itay Michaeli raised his target price on Tesla stock to $222 from $191. However, he maintained the "sell" rating on Tesla due to its unattractive risk and reward. Michaeli stated that although Tesla has a strong brand and customer loyalty, he sees risks from competition and operation executions.
Morgan Stanley isn't bullish for the long term
Although Jonas predicts a 50% upside in the short term, he isn't optimistic about the stock in the longer term. According to a CNBC report, he said, "To be clear, we are not bullish on Tesla longer term." He also said, "Tesla could be perceived by the market more and more like a traditional auto OEM." He explained, "We are prepared for a potential surge in sentiment through 1H20 but question the sustainability."
Therefore, Jonas didn't change his base case target price of $250 and "equal weight" rating on Tesla stock.