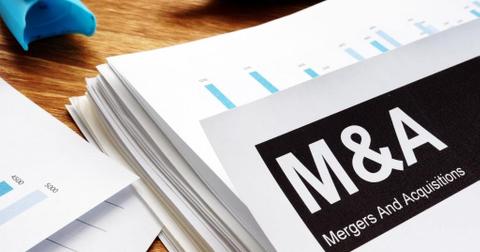 The T-Mobile and Sprint Antitrust Trial Starts Today
By Ambrish Shah

Updated
T-Mobile (TMUS) and Sprint's (S) long-awaited antitrust trial against various state attorneys general is set to begin today in Manhattan. US Judge Victor Marrero will decide the fate of the $26.5 billion proposed merger between T-Mobile and Sprint.
According to a CNET report on December 9, the court hearing is likely to last about two to three weeks. Additionally, the judge is likely to announce his ruling in February 2020.
Article continues below advertisement
T-Mobile and Sprint merger trial begins today
Currently, a coalition of 13 state attorneys general and the District of Columbia are still participating in the litigation. Led by New York and California, the states filed the litigation to stop the merger on antitrust grounds. They argue that the combination of the third- and fourth-largest carriers is anticompetitive and would lead to increased prices for wireless users. However, T-Mobile and Sprint argue that the combination would reduce expenses and lower prices.
According to a CNBC report on December 8, "The states plan to argue the wireless industry is already too consolidated to further squeeze four main competitors — Verizon, AT&T, T-Mobile and Sprint — down to three. While both the Department of Justice and the Federal Communications Commission have already allowed Sprint and T-Mobile to merge, the states will argue those regulatory bodies erred in their decision to OK the deal."
Article continues below advertisement
An analyst at New Street Research stated, "While we see the odds as close, our current view [is] that the states are more likely than not to win, particularly due to weaknesses we see in the companies' market definition, reliance on economic arguments with little support in antitrust precedent, a reliance on behavioral remedies to justify the fix, and a reliance on public interest considerations, such as social or industrial policy, that generally are considered irrelevant to competition analysis," as reported by CNBC.
On December 7, Fox Business Network's Charles Gasparino tweeted that T-Mobile and Sprint were in last-minute settlement discussions with New York State Attorney General Letitia James. Texas and Nevada reached a settlement deal with the proposed new T-Mobile and dropped out of the multistate lawsuit. Mississippi and Colorado also dropped their challenges.
Article continues below advertisement
Regulators approved the T-Mobile and Sprint merger deal
The Justice Department and the FCC conditionally approved the combination of T-Mobile and Sprint after the two carriers agreed to divest certain wireless assets to Dish Network (DISH). Under the terms of the deal, Dish agreed to buy Sprint's prepaid businesses for $1.4 billion. It would also buy Sprint's 14 MHz of nationwide spectrum in the 800 MHz band for $3.6 billion. Dish also agreed to deploy a 5G network covering 70% of the US population by the end of 2023. Dish is expected to be the fourth-largest wireless carrier in the US after the merger deal goes through.
The lawsuit argues that the deal won't be sufficient to make Dish a strong fourth carrier in the wireless market. In 2011, antitrust regulators blocked AT&T's (T) effort to consolidate the wireless industry from four carriers to three when it attempted to merge with T-Mobile.
On December 6, David Faber of CNBC said that T-Mobile was considering a price cut in its merger agreement with Sprint. T-Mobile is renegotiating the Sprint merger deal as Sprint's financial situation is getting worse. The FCC has also accused Sprint of claiming millions of dollars in subsidies from the government for about 885,000 low-income Lifeline customers who didn't receive services.
Article continues below advertisement
Analysts' recommendations
T-Mobile stock offers an upside potential of 15% based on analysts' mean target price of $89.00. It traded at $77.74 on December 6. Among the 21 analysts currently tracking TMUS, seven recommend "strong buys," and another nine recommend "buys." The remaining five analysts recommend "holds." T-Mobile hasn't received a "sell" rating in more than a year. Analysts expect its adjusted EPS to rise 18.5% YoY (year-over-year) to $3.98 in 2019. They expect its sales to rise 3.8% YoY to $44.9 billion.
In comparison, AT&T stock was rated as a "buy" by 13 out of 29 analysts. Only one out of 16 rated Sprint stock as a "buy."
Stock price movement
As of December 6, T-Mobile stock has risen 22.2% YTD (year-to-date). In comparison, AT&T stock has risen 33.9%, while Sprint stock has fallen 5.0% YTD.
T-Mobile stock rose 1.0% on December 6 and closed the trading day at $77.74. At this closing price, the company's market cap stood at $66.5 billion. The stock is trading 9% lower than its 52-week high and 30% higher than its 52-week low.
On December 6, T-Mobile closed 0.5% below its 20-day moving average and 2.1% below its 50-day moving average. It was also trading 1.6% below its 100-day moving average.
T-Mobile's 14-day relative strength index score of 45 suggests that it's neither oversold nor overbought. On December 6, it closed near its middle Bollinger Band level of $78.14, which also indicates that it's neutral.
Read Sprint Fairly Valued at $3 per Share amid T-Mobile Merger and T-Mobile Announced Un-Carrier Initiatives to Boost Merger to learn more.