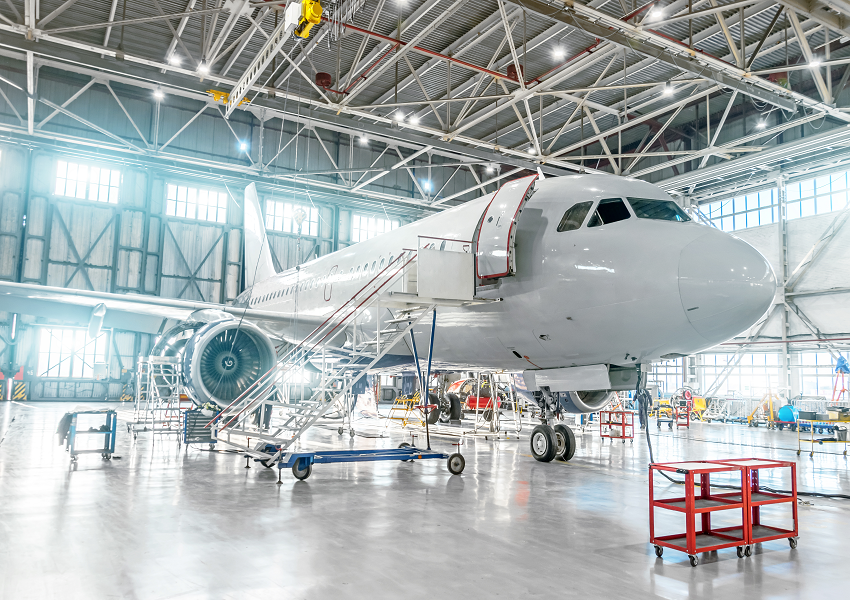 Spirit AeroSystems to Halt 737 MAX Deliveries to Boeing
By Anirudha Bhagat

Dec. 23 2019, Published 8:22 a.m. ET
Article continues below advertisement
Halting Boeing MAX deliveries
Spirit AeroSystems is at a higher risk due to Boeing's latest decision to shut down MAX production. Spirit AeroSystems built about 70% of Boeing's MAX aircraft structure. According to the company, the Boeing MAX plane accounts for 50% of its total revenues.
In a press release, Spirit AeroSystems revealed that its latest move would hurt its financial and operational performance. The decision would also reduce the company's cash flows significantly. Spirit AeroSystems said it would provide additional details regarding the financial impacts of the production halt during its fourth-quarter earnings results.
Moody's might downgrade Spirit's rating
Following Spirit's announcement about stopping MAX deliveries to Boeing, Moody's placed the company's rating on review for a downgrade. Eoin Roche, Moody's lead analyst for Spirit, said, "The review for downgrade reflects Boeing's unexpected decision to shut its 737 MAX production line."
Roche also said, "With the 737 platform accounting for half of Spirit's revenue and a much larger share of earnings and cash flow, the adverse development highlights the risk of customer and platform concentration and is expected to constrain Spirit's liquidity — particularly as Spirit will likely have to support at least some component of its supply chain, as Boeing has done to date."
Moody's downgraded its credit rating on Boeing last Wednesday. The agency lowered the company's debt rating by a notch to "A3" from "A2." Moody's analyst Jonathan Root stated that the MAX production halt would elevate the aircraft manufacturer's financial and operational risks.
Root said that the production suspension could disrupt Boeing's supply chain. Also, Root thinks that the prolonged grounding would increase Boeing's compensation expense burden. Moody's also warned that it might downgrade Boeing more if the MAX grounding stretches into the second half of 2020.
Article continues below advertisement
General Electric adjusts engine production
CFM International has adjusted the output of LEAP 1B engines amid Boeing's future production plans. Notably, CFM International is the sole supplier of LEAP 1B engines. The company is a 50-50 joint venture between France's Safran and General Electric (GE). However, the ongoing MAX crisis is hurting the company's financials. Previously, General Electric said that it expects the MAX grounding to cost it $1.4 billion this year.
Therefore, General Electric and Safran have entered into a contract to increase the production of another engine type while reducing LEAP 1B output. On December 20, the Wall Street Journal revealed that the two companies agreed to increase the production of LEAP 1A engines, which powers Airbus' A320neo aircraft.
Airbus A320neo competes directly with Boeing 737 MAX airplanes in the single-aisle narrow-body aircraft space. The A320neo comes in two engine variants—CFM's LEAP 1A and United Technologies' (UTX) subsidiary Pratt & Whitney made PW1000G.
According to the report from the Wall Street Journal, CFM's latest move is in the wake of UTX's decision to reduce LEAP 1A production. The report revealed that CFM and UTX had been fulfilling Airbus' LEAP 1A engine requirements at 50:50 ratios. However, UTX plans to reduce its share to 42%.
Article continues below advertisement
Boeing MAX crisis weighs on Spirit stock
Spirit AeroSystems stock has been under tremendous pressure since the second MAX aircraft crashed on March 10. Before the accident, the stock's YTD (year-to-date) return as of March 8 was 33.8%. However, Spirit stock has fallen significantly since then.
At the closing price of $74.55 on December 20, the stock's YTD gain is just 3.4%. Currently, the stock trades near its 52-week low of $64.48 attained on December 26, 2018. Spirit stock has fallen 25.7% from the 52-week high of $100.34 reached on March 4.
Analysts have also changed their stance on the stock since the worldwide grounding of the Boeing 737 MAX in mid-March. Before March 10, about 79% of the 19 analysts covering Spirit stock had a bullish stance. However, the proportion has changed. Now, only 33% of the analysts have a "buy" or equivalent rating.
None of the analysts had a bearish stance before March 10. As of today, at least one analyst has turned bearish on the stock. Wall Street analysts' average target price on Spirit stock has fallen by 10.3% to $93.33 as of today.