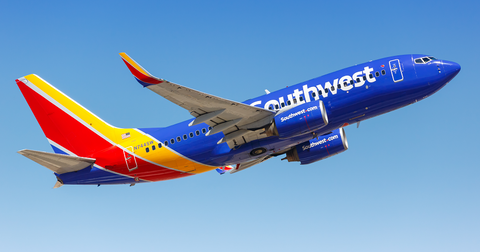 Southwest Strikes Deal with Boeing for MAX Compensation
By Anirudha Bhagat

Updated
Yesterday, Southwest Airlines (LUV) announced reaching a confidential compensation deal with Boeing (BA) regarding damages caused by the 737 MAX grounding. According to the company, the agreement covers a portion of the projected financial loss due to the ongoing 737 MAX crisis. The company also stated that it is still negotiating with Boeing for the remaining 737 MAX compensation.
Southwest Airlines said that it would share the proceedings from Boeing with its employees. The airline estimates its profit-sharing accrual to be around $125 million. The company plans to distribute the amount along with its annual 2019 profit-sharing distribution in 2020.
Article continues below advertisement
Chairman and CEO Gary C. Kelly said, "Our People have done an incredible job managing through the MAX groundings." He added, "On behalf of the Southwest Board of Directors, we are grateful to our Employees for their extraordinary efforts throughout the year and are pleased to share proceeds from our recent agreement with Boeing."
Southwest's MAX grounding cost
Boeing 737 MAX aircraft have faced a global flying ban since mid-March following two fatal crashes within five months. Southwest Airlines, which owns 34 Boeing MAX planes, has suffered over 45,000 flight cancellations and millions of lost seats of capacity.
Southwest has previously revealed that it lost total revenue of $385 million in Q2 and Q3 due to the MAX grounding. During its third-quarter results, the company said that it expects to lose $435 million in 2019 due to the MAX crisis. The MAX grounding has also impacted Southwest Airlines' expansion plans, mainly across the Hawaiian Islands. The carrier acquired a flying license for the California and Hawaiian Islands route in March.
Article continues below advertisement
Southwest had planned to use all Boeing MAX planes across this route due to the aircraft's fuel efficiency, and was aiming to rapidly grow its fleet across the network by using fresh MAX deliveries from Boeing this year. The company was scheduled to receive shipments of 41 new 737 MAX planes from Boeing in 2019.
Southwest is not the only US carrier that is feeling the pinch of the Boeing MAX grounding. American Airlines (AAL) and United Airlines (UAL) are also facing massive flight cancellations due to the MAX crisis.
American Airlines, which has 24 MAX planes, has faced over 25,000 flight cancellations since mid-March. The airline saw a cumulative reduction of $315 million in pre-tax income in Q2 and Q3. It projects the ongoing MAX grounding will impact its 2019 pre-tax income by $540 million.
United Airlines owns 14 Boeing MAX aircraft. The airline has said that it has managed to fill the vacant MAX routes with its older planes. However, the use of larger and older planes may be boosting the operating expenses of the company.
Uncertainty still looms over Boeing MAX return
Recent developments have squashed the hopes for a 2019 return of the grounded Boeing 737 MAX planes. Earlier, Boeing said that it was confident of gaining regulatory approval for its updated software in December. However, on December 11, Federal Aviation Administration (or FAA) administrator Steve Dickson clearly said that the agency would not re-certify the MAX this year.
And yesterday, Boeing acknowledged that it wouldn't be receiving certification for the 737 MAX this year. The company's statement came after a meeting between CEO Dennis Muilenburg and Dickson, according to Reuters. Boeing said it would "work with the FAA to support their requirements and their timeline as we work to safely return the Max to service in 2020."
Most carriers worldwide have already pushed back their MAX grounding period until early March. Last month, Southwest extended its MAX flight cancellations through March 6. United Airlines has removed the MAX from its flying schedule until March 4.
Yesterday, American Airlines pushed back the MAX grounding until April 6, 2020. With the announcement, American is the only company that doesn't see the MAX returning before April of next year. The company projects that the grounding will cause approximately 140 daily flight cancellations through April 6.