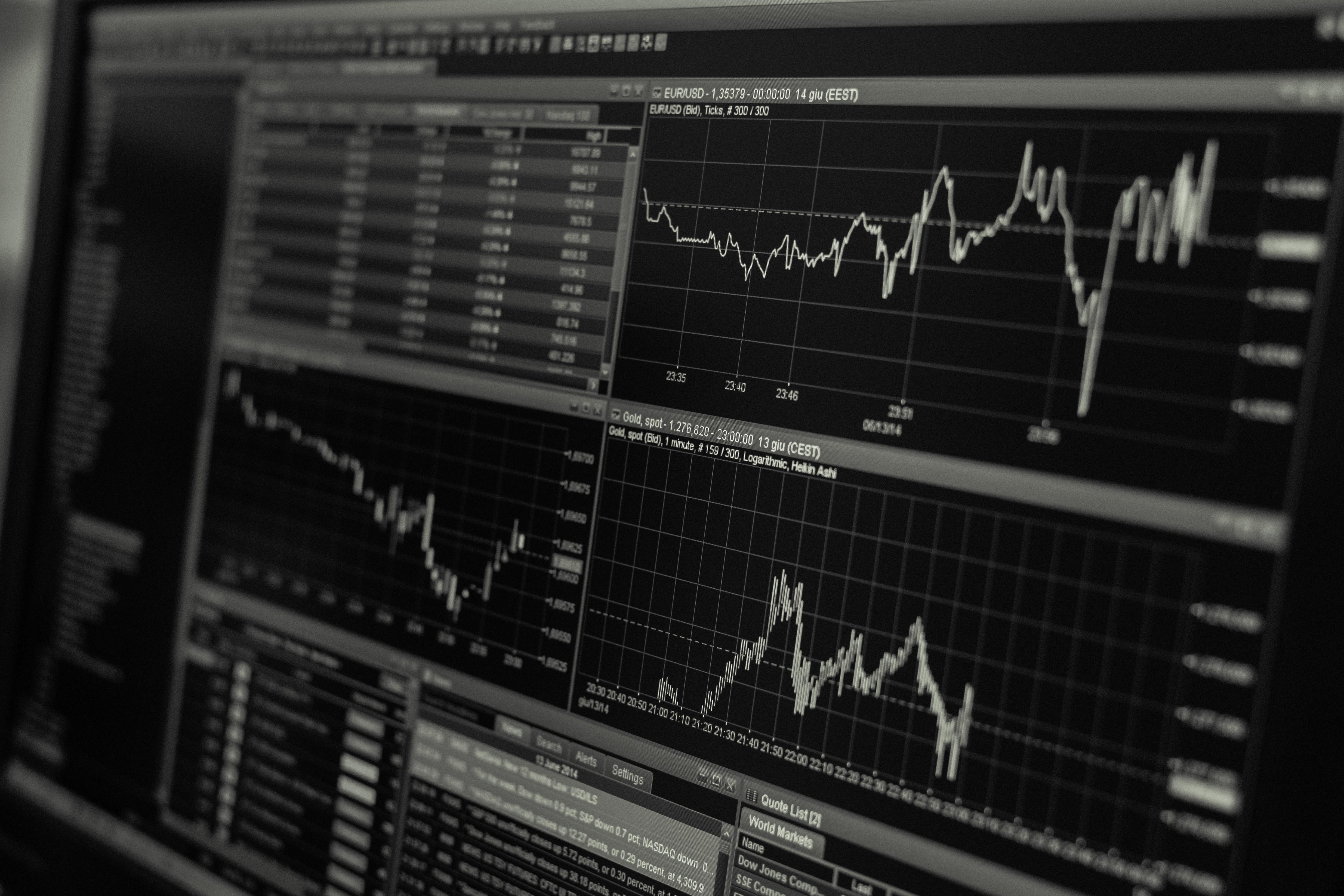 Nvidia and AMD: Should Investors Buy or Sell?
By Umar Khan

Dec. 1 2019, Updated 5:51 p.m. ET
The stock prices of chipmakers Advanced Micro Devices (AMD) and Nvidia (NVDA) have propelled by 18.17% and 6.76% in the last one month, respectively. The firms' promising Q3 performance drove the growth, making investors bullish on the stocks.
In their Q3 earnings, both firms' revenue sequentially grew by a double-digit percentage. This sequential rise helped stabilize annual revenue growth as well. AMD recording 9% YoY (year-over-year) increase and Nvidia recovering to a 5% YoY decrease as compared to 17% last year.
Moreover, both the firm's sequential Q4 revenue outlook fell in the progressive line. According to its Q4 guidance, AMD expects annual revenue growth of 48% and an approximate sequential rise of 17%. Also, Nvidia estimates a strong sequential growth anchoring on its Gaming and Datacentre platforms.
In the recent quarters, both the firms grew by decent margins and are now competing for each other's market share. Let's dive a bit deeper to pick the best bet!
Article continues below advertisement
Technical analysis and moving averages
According to Investopedia "Technical analysis is a trading discipline, used to evaluate investments and identify trading opportunities by analyzing statistical trends gathered from trading activity, such as price movement and volume."
One of the indicators of technical analysis is the moving average. This measure uses the average of stock's prices over a periodic range to estimate the directional movements of a stock price. We will focus on the short-term moving average. Higher short-term moving average shows technical strength rather than a stock's long-term moving average.
Talking about the numbers, AMD's stock price in the last three months grew by 24.4% to $39.15. The stock is trending above its 50-and 100-day moving average. YTD (year-to-date), the stock price more than doubled, rising 111.21%. Additionally, Nvidia's stock price in the last three months has gone up by 29.78%, leading the stock to $216.74. The stock is trending on the upside of its 50- and 100-day moving average. Nvidia's stock price increased by 62.55% YTD.
Though the firms are different sizes, in terms of their moving average both the firms are holding strong. The recent earnings' better performance made investors lighten their pockets on the two stocks. This buying spree is also visible in their RSI.
Article continues below advertisement
RSI (Relative Strength Index)
RSI is another technical analysis indicator, which explains the investors' sentiments in a better way by looking at the buying and selling activity. The indicator is measured on a scale of 0-100, where less than 30 indicates oversold status and more than 70 directs to an overbought status.
As of November 29, Nvidia's 14-day RSI was 62. The indicator has a neutral stand on the stock. However, one can expect the stock to move towards the buy-side, with its recent weight adjustment by Morgan Stanley.
On the other hand, AMD's 14-day RSI was 64. This too had a neutral stance. The stock prices are oscillating by minimal margin during and after trading hours. This makes it difficult to estimate which side the stock will move. For now, it can be said that the stock is trailing on its normal course.
MACD (Moving Average Convergence Divergence)
MACD looks at the difference in the moving average of the stock price. Taking the series of three-time frames into consideration, the MACD of Nvidia is 1.550 and AMD is -0.240. A negative MACD indicates that a stock is in a downward trading trend, while a positive MACD suggests that the stock is in an upward trading trend.
Article continues below advertisement
Deduction: AMD or Nvidia
Deducing from the three discussed indicators, one would say that both the stocks are trending well. Nvidia, with its better Q3 performance, is all green with the market sentiments. And AMD, having its best year in history, is trading at its 20-year high.
Now, since both the firms are doing fairly good in its moving average indicator, it boils down to RSI and MACD. Following the basic thumb rule of trading, "you sell when the prices are high and you buy when the prices are low," NVIDIA is a better buy than AMD.
AMD had already pierced its 20-year high and is trending at one of its best prices. The RSI indicates AMD near to the neutral line and the negative MACD guiding a downward trend. This means that soon the prices are expected to go down. AMD as of now is a good sell or a hold stock. Although it is not a bad-buy, it will come with the added risk of a fall in stock price.
By comparison, Nvidia in comparison stands acceptable. The RSI is neutral on the stock and the MACD is positive. Also, the firm impressed investors with its Q3 earnings. Additionally, it's the firm future outlook towards AI (artificial intelligence) that has made the market more excited. With Morgan Stanley moving Nvidia stock prices towards the overweight zone, Nvidia is a good buy today. Like technical, stock valuations also favor Nvidia.
Article continues below advertisement
Valuation analysis: AMD or NVIDIA
A stock's PS (price-to-sales) ratio is a valuation ratio. It gives details of the amount investors are willing to pay for every dollar of the company's sales.
NVIDIA price-to-sales ratio is 13.5x and AMD's is 7.36x. The ratio stands against the industry PS ratio of 4.4x. This means investors are paying $13.5 for every $1 of Nvidia's sales. Following the same logic for AMD, investors are paying $7.36 for $1 of sales. However, it's not the dollar value of sales that the investors are looking at. It's the sales growth rate that investors focus on. Since both firms are at their growth stage of the industry cycle, the PS ratio above the industry standard is justified.
Price-to-earnings ratio
A firm's PE (price-to-earnings) ratio is another valuation ratio. The PE ratio gives us information about the amount investors are willing to pay per dollar of EPS. Nvidia's PE ratio is 62.6x and AMD's is a ginormous 198.2x. Their ratios are trending way above the industry PE ratio of 38.3x. This explains that for every $1 of EPS, Nvidia's stockholder is paying $62.7. And in AMD's case, it would be $198.2.
Article continues below advertisement
Valuation perspective: AMD or NVIDIA
The stock valuation ratios are reiterating what the technical indicators are saying. AMD's high stock valuation is justified as it is a growth stock and is banking on market share for growth. AMD investors are betting on new product launches because its valuation is more inclined toward PS ratio. AMD is a stock that should not be looked at from the earning perspective but from the sales perspective to profits. Its PS ratio is closer to the industry standard and fairly lesser than Nvidia. From the valuation perspective, AMD would prove to be a good hold.
What to pick
Analysis of technical indicators and valuation ratios are banking on a similar opinion for AMD and Nvidia. But apart from these two factors, it's the investor's emotions and sentiments that decide the fate of stocks. Nvidia in both technical and valuations standards is holding a neutral stance. The market is optimistic about the stock, and the firm is in high spirits about its future AI prototypes. Also, the recent change of weight by Morgan Stanley makes Nvidia a good buy.
Even with its good RSI score, AMD cannot be overlooked for its inclination to the higher valuation. The stock has ripened to a point that it has become a profitable sale. We believe that AMD can be tagged as a sell and Nvidia as a buy.