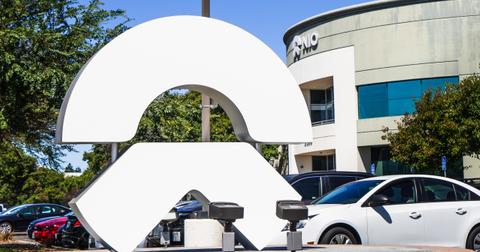 NIO Stock Soars on Q3 Earnings Beat, Tesla Stock Down
By Mike Sonnenberg

Updated
Ok, so I was wrong. I had several reasons to believe that NIO's (NIO) Q3 earnings would make Tesla bulls happy. However, NIO stock is up over 40% today following the earnings beat while Tesla stock is down 3.8% at 10:56 AM today.
NIO's revenues in Q3 came in at 1.84 billion Chinese renminbi ($257 million), beating analyst expectations by 12.6%. The revenues were 25% higher than those in the same quarter last year. NIO's net loss of 2.45 billion Chinese renminbi ($350 million) was also lower than the expectation of 2.65 billion Chinese renminbi ($379 million). NIO delivered 4,799 ES6 and ES8 electric vehicles during the quarter, a 35% jump over Q2 2019's deliveries.
Article continues below advertisement
Why this is a big deal for NIO stock
At the beginning of the third quarter, NIO recalled 4,800 ES8 batteries due to a potential safety issue. NIO's chairman said, "During the month, we prioritized battery manufacturing capacity for this effort, which significantly affected our production and delivery results. In addition, some deliveries were pushed forward into June in anticipation of further electric vehicle subsidy reductions that took effect at the end of June. Lastly, China's macroeconomic and auto market conditions remained challenging, exacerbated by the US-China trade conflict."
NIO's earnings surprise also comes against the backdrop of weakness in the Chinese auto market. China's auto sales fell 3.6% in November, which marked a decline for the seventeenth consecutive month. New electric vehicle sales also saw a 43% decline in November.
Another factor to note is NIO's performance amid subsidy issues. The third quarter was NIO's first full quarter after China rolled back electric vehicle subsidies in June. At that time, China fully rolled back the EV subsidy for vehicles under the range of 250 kilometers (about 155 miles). China halved the subsidies for longer ranges.
Article continues below advertisement
NIO's liquidity remains a concern for NIO stock
While NIO's revenues surpassed analyst estimates and net losses were narrower than expected, the company continued to burn cash. At the end of the third quarter, NIO had cash, cash equivalents, and short-term investments of $274.3 million, down from $500 million as of June 30, 2019. In the earnings release, NIO noted, "The Company operates with continuous loss and negative equity. The Company's cash balance is not adequate to provide the required working capital and liquidity for continuous operation in the next 12 months."
Back in September, Bernstein analysts said, "As it stands, we think NIO's liquidity is now measured in weeks. It appears inevitable to us that investors will start to question NIO's ability to remain a going concern." The company desperately needs external financing to continue operations. With financial arrangements subject to uncertainties, the risks remain for NIO stockholders.
Article continues below advertisement
Competitive pressures are rising for NIO
Beyond its third-quarter earnings, NIO's outlook looks bleak due to fresh competition from industry stalwarts. Right after the third quarter, Tesla opened its Shanghai Gigafactory 3 to mass-produce Model 3 electric vehicles. The Shanghai factory delivered 15 Model 3 cars today. Gigafactory 3 will have the capacity to produce 250,000 electric vehicles per year.
Ford and General Motors are also gearing up for the EV revolution. The world's biggest automaker, Volkswagen, recently unleashed its EV offensive. The company aims to have 1 million Volkswagen EVs on the roads by 2023 instead of the previous goal of 2025. By the end of 2025, the company expects to have 1.5 million EVs running. China is a key market for Volkswagen. In fact, Volkswagen is preparing its two Chinese factories to produce 600,000 electric vehicles annually by next year.
On the other hand, NIO doesn't have its own production facility. NIO had a setback in October when a local government ended talks about building the first NIO factory. NIO also competes with homegrown players in the EV space. All these competitive pressures will impact NIO stock going ahead.
What about NIO's Q4 2019?
NIO is betting big on Q4 2019. The company expects to deliver over 8,000 electric vehicles during the quarter. During the first two months of the quarter, NIO has delivered just over 5,000 vehicles. William Bin Li, NIO's founder, chairman, and CEO said, "We expect over 8,000 vehicles to be delivered in the fourth quarter, a record of quarterly deliveries in our history. With that, the total aggregate deliveries in 2019 are estimated to reach over 20,300."
Fourth-quarter revenues are expected to be 2.81 billion Chinese renminbi ($393.2 million), a 53% rise over Q3 2019's revenues. However, continued cash burn during the quarter without adequate external financing arrangements may hamper NIO stock.
Article continues below advertisement
What are analysts saying?
Analysts are still largely pessimistic about NIO stock. Only two out of 14 analysts surveyed by Reuters have a "buy" rating on NIO stock. Seven are on a "hold," while five are recommending a "sell." The current average target price of $3.07 points to a potential 15% downside over the $3.74 price at 12:18 PM.
We'll perhaps see some price target upgrades and rating changes on NIO stock in the coming days. However, liquidity will continue to remain a prime concern for the stock's prospects.
Tesla stock down 
Meanwhile, Tesla stock is trading lower after Cowen analyst, Jeff Osborne, forecast 101,000 deliveries for Tesla during the fourth quarter. That means Tesla will fall short of its target of 360,000 to 400,000 deliveries in 2019.