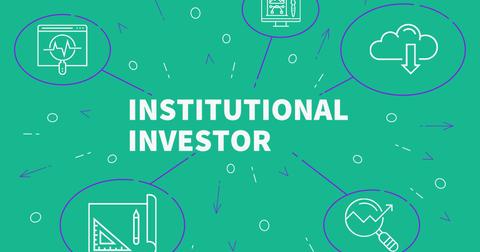 Major Institutional Investors Still in Cannabis Sector
By Margaret Patrick

Updated
On December 20, Curaleaf Holdings (CURA) (CURLF) announced a $275 million senior secured loan facility from a syndicate of lenders. Seaport Global Securities LLC is the placement agent for this transaction. According to CEO Joseph Lusardi, institutional investors are impressed with the company's operational performance and credit profile. On December 2, Aphria (APHA) also announced a senior secured credit facility of $80 million for its subsidiary, Aphria Diamond.
Article continues below advertisement
It seems that despite the tough market conditions, institutional investors are still keen to invest in the cannabis sector. Vanguard Group, Morgan Stanley Canada, and BlackRock Institutional Trust Company are a few of the institutional investors with exposure to the cannabis industry. Institutional investors generally enjoy an advantage over retail investors. This is because of their research capabilities, industry know-how, and management access. Hence, we need to analyze their investment rationale to see if it piggybacking will make sense for retail investors
Institutional investors are optimistic
According to RESEARCHANDMARKETS, the global legal cannabis market will be worth $75.6 billion by 2025. This implies a CAGR (compounded average growth rate) of 28.3% from 2019 to 2025. The research agency expects the market to benefit from increasing marijuana legalization. Also, it will benefit from expanding the addressable market for medical cannabis.
According to New Frontier Data, the US cannabis market will grow from $13.6 billion in 2019 to $29.7 billion in 2025. Also, the US legal medical cannabis market will grow from $6.0 billion in 2019 to $13.1 billion in 2025. The research firm has also estimated the US legal adult-use market to grow from $7.6 billion in 2019 to $16.6 billion in 2025.
Increasing cannibalization from legal players will reduce the illicit cannabis market in the US from $64 billion in 2019 to $57.3 billion in 2025. The agency also estimates that 223 million Americans or 68% of the overall population currently stays in states having access to legal cannabis.
Article continues below advertisement
New Frontier Data pointed out the high support for marijuana legalization in the US across age groups. The research agency expects legal cannabis market growth to prove to be a durable generational trend. The legal cannabis industry created 258,437 jobs in the US in 2019. New Frontier data expects the legal cannabis jobs in the US to be 743,196 in 2025. The agency also expects federal tax revenues generated from this industry to grow from $1.41 billion in 2019 to $4.06 billion in 2025.
Institutional investors are always on a lookout for strong and durable growth opportunities. Most consider the industry's current fallout as temporary. Hence, many institutional investors may attempt to maximize their gains by increasing cannabis industry exposure at market lows.
Institutional Investors are positive for the CBD market
According to Nielsen, the US hemp-based CBD market will be worth $6.0 billion by 2025. New Frontier Data highlighted the US-wide access for medical and adult-use CBD products. Since the passage of the 2018 US farm bill, licensed hemp acreage grew dramatically by 479%. The acreage went from 78.1k acres to 453k acres.
CBD products are used for pain management, stress relief, relaxation, and anxiety relief. CBD products are now sold through pharmacy chains, such as CVS Health and Walgreens Company as well as retailers like Southeastern Grocers and Lucky's Market.
However, there remain challenges for this new industry. A recent FDA warning related to the safety of CBD consumption has dampened overall investor sentiment. According to New Frontier Data, FDA needs to clarify whether CBD is a nutraceutical or a pharmaceutical product.
Article continues below advertisement
Also, the US market is reporting challenges related to the oversupply of hemp. Compared to 1,945 hemp cultivators, the number of hemp processors in the US is only 527. The processing capacity for hemp has not grown at the same pace as the cultivation. The grower-to-processor ratio stands at a dismal 3:7:1. These supply challenges are stunting the growth potential of the US CBD market.
Venture capital fund sees potential in ancillary cannabis companies
On December 12, NEW CANNABIS VENTURES highlighted the cannabis sector investments of cannabis-sector focused venture capital firm, Phyto Partners. Phyto Partners generally opts for investment in the form of convertible notes or Series A rounds. High net worth individuals are key investors in Phyto Partners.
This firm has invested around $20 million in more than 30 ancillary cannabis companies. These are mainly companies offering services like technology, data management, human resource management, staffing solutions, and agricultural testing to licensed cannabis producers. The firm highlighted two of its prominent investments: Flowhub and Leaflink.
Investments in the cannabis industry have reduced in 2019
New Frontier Data estimated the global cannabis industry investment to be $11.0 billion as of November 12, 2019. This is lower than the investment of $13.8 billion in 2018. The agency attributes this decline to supply-side challenges and the federal status of marijuana in the US. Pricing pressures may rise further due to increasing competition with existing players.