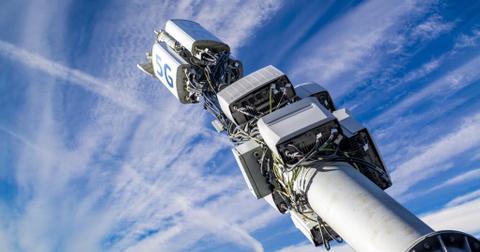 Is T-Mobile Planning to Merge with Comcast?
By Ambrish Shah

Updated
Last week, T-Mobile (TMUS) CEO John Legere disclosed that T-Mobile nearly merged with pay-TV provider Dish Network (DISH) in 2015. A report by The Verge suggests that T-Mobile could be planning to merge with cable giant Comcast (CMCSA).
Article continues below advertisement
Is T-Mobile planning to merge with Comcast?
During the T-Mobile and Sprint (S) merger antitrust trial, a 2015 study, Defining a Winning Position for the US Business Model, was made public. The report highlighted T-Mobile's market position and potential future strategies. The report suggested that T-Mobile would continue to show organic growth until 2018. After that, it could possibly acquire Sprint to scale up and realize synergy opportunities. A potential cable merger could follow with Comcast.
According to a December 23 report by The Verge, "The document makes clear that Sprint was not the only potential merger T-Mobile was interested in. The same playbook section encouraged T-Mobile to invest in 'assets and activities that complement a cableco merger,' and consider partnering with a cable company on an MVNO basis. A later section recommends the company 'consider creation of mobile-only video content (i.e. short form) that could be integrated in cableco's OTT offering.'"
Article continues below advertisement
The report added, "Of the cable companies mentioned, Comcast is the clear favorite. 'Move into mobile might be the only natural option for Comcast to grow, as preferred Comcast moves (i.e. wireline and content) are unlikely to get regulatory approval,' the report assessed. 'Likely no significant regulatory barriers.'"
Because this article is from 2015, it's hard to know whether T-Mobile is still planning to merge with Comcast. However, it appears that a possible merger with a cable giant depends on the T-Mobile–Sprint merger closure.
The latest T-Mobile and Sprint merger plan was announced in April 2018—the third time the two wireless carriers attempted to merge. In 2017, the merger talks collapsed between T-Mobile and Sprint when it wasn't possible to come to mutually agreeable terms. The merger negotiations between the two mobile operators collapsed in 2014 on antitrust concerns.
Article continues below advertisement
T-Mobile and Sprint merger deal
Last week, the testimony phase of the T-Mobile and Sprint merger antitrust trial concluded. Analysts expect the final decision from US District Judge Victor Marrero in February.
According to a LightReading report on December 23, "'We think the case is close and both sides probably think they are winning,' wrote the Wall Street analysts at New Street Research in a note to investors this weekend. 'In such a situation in a commercial litigation, we would see the prospects of settlement as fairly high.'"
The attorneys general of 13 Democratic-majority states and the District of Columbia sued to stop the pending $26.5 billion deal. The court challenge is led by California and New York. The states argue that combining the third- and fourth-largest wireless carriers in the US would reduce competition in the wireless industry, leading to higher prices for users.
Earlier this month, a Raymond James analyst lowered the odds from 85% to 55% that the merger deal between T-Mobile and Sprint would be approved by a federal judge. The FCC and the Department of Justice have already approved the deal.
Article continues below advertisement
These regulators blessed the deal after the proposed new T-Mobile agreed to sell certain wireless assets to Dish for $5 billion. Dish is expected to be the fourth-largest wireless service provider in the US if the merger deal goes through. To learn more, please read T-Mobile–Sprint Merger Trial: Three Things Dish Chairman Told Court.
However, the states argue that Dish can't replace Sprint, as Dish would begin with about 9 million wireless customers, according to a December 17 Bloomberg report. Sprint has approximately 50 million wireless customers.
T-Mobile's focus on network improvement
Customer retention is impacted by changes in a mobile operator's network performance, and network improvement is a crucial part of T-Mobile's strategy. In the third quarter, T-Mobile's year-over-year (or YoY) postpaid phone churn rate looked better at 0.89%, compared with 1.02% in the third quarter of 2018.
RootMetrics' National RootScore report for the first half of 2019 highlighted that at the national level, T-Mobile's network performance closely trailed that of AT&T (T) for third place in overall performance, data performance, and network speed.
T-Mobile ranked fourth in the text performance, call performance, and network reliability categories. T-Mobile earned a score of 86.9 for overall network performance, compared with AT&T's score of 93.2 and Sprint's score of 86.7.
Article continues below advertisement
Analysts' recommendations and target price
Of the Reuters-surveyed analysts, 77.3% and 22.7% recommended a "buy" and a "hold" for TMUS stock, respectively. As of December 23, analysts gave T-Mobile a 12-month median target price of $91.00. Based on the closing price on December 23, the target price represents a potential upside of about 18.2%.
T-Mobile's financial performance
In the third quarter, T-Mobile's adjusted earnings per share rose 8.6% YoY to $1.01. Overall, its earnings fell around 7.3% from the previous quarter. T-Mobile's revenues rose more than 2% YoY in the third quarter and improved 0.7% from the previous quarter.
Analysts expect its fourth-quarter revenues to reach $11.8 billion, up 3.4% YoY. Analysts expect T-Mobile's sales to increase 3.8% YoY in fiscal 2019. Wall Street analysts expect its sales to improve 5.2% YoY in fiscal 2020.
Stock performance
T-Mobile stock closed 0.57% lower on December 23, ending the trading day at $76.96. The stock was trading 9.7% below its 52-week high of $85.22 and 28.4% above its 52-week low of $59.96. At its closing price, T-Mobile's market cap stood at $65.9 billion.
T-Mobile closed 0.1% above its 20-day moving average of $76.87. The stock also closed 2.5% and 2.0% below its 50-day and 100-day moving averages of $78.91 and $78.57, respectively.
TMUS stock has risen about 21.0% YTD (year-to-date). In comparison, Sprint, AT&T, and Dish have returned -10.1%, 36.9%, and 43.7%, respectively, YTD.
Read T-Mobile-Sprint Merger Antitrust Trial Ends Positively and Why Analysts Are Still Bullish on T-Mobile to learn more.