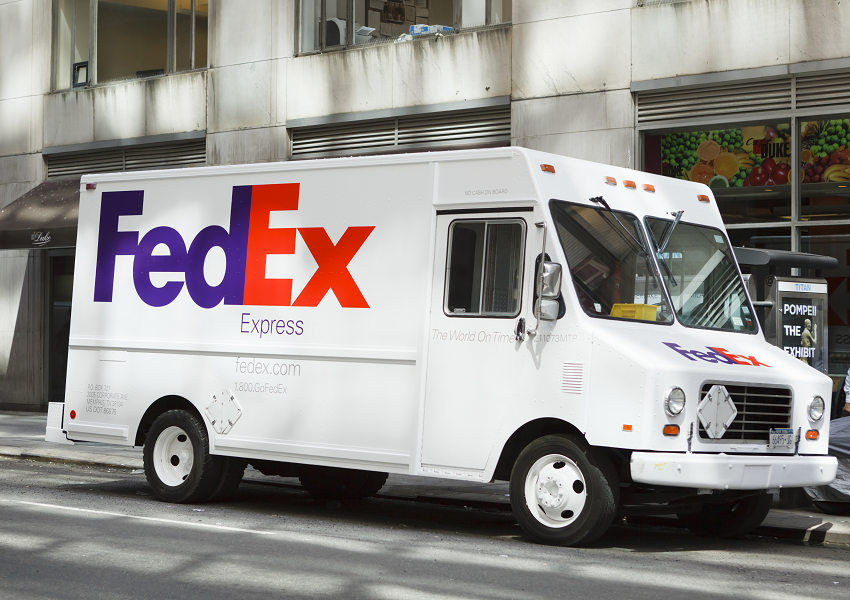 FedEx Loses Analysts' Confidence on Weak Earnings
FedEx (FDX) stock faced rating and target price cuts following its dismal fiscal 2020 second-quarter earnings results and its pessimistic fiscal 2020 earnings outlook. The company blamed weak manufacturing output in Europe and US-China trade tensions for its disappointing performance. Moreover, a loss of business from Amazon (AMZN) and increased costs for its expanded services also hurt the logistics giant's overall results.
Article continues below advertisement
Following its dismal quarterly results, FedEx lowered its fiscal 2020 earnings outlook. The outlook cut reflected FedEx's anticipation of higher expenses, increased investments, and lower revenue across all of its transportation services. Moreover, the company's mix shift to low-yielding delivery services could also affect its bottom line results in the near term.
To learn more, read FedEx Q2 Earnings: Trade War, Higher Costs Took a Toll.
Oppenheimer downgrades FedEx stock
Citing concerns about growth prospects, at least one analyst downgraded FedEx stock, while several others trimmed their target prices. On December 18, Oppenheimer analyst Scott Schneeberger cut his rating on the stock to from "outperform" to "market perform."
Schneeberger said in a client note that he wasn't buying FedEx's claim that the worst is over. During the company's second-quarter earnings conference call, Alan B. Graf, FedEx's executive vice president and CFO, said, "We are at the bottom." He continued, "It's going to improve in Q3, and it's going to improve substantially in Q4."
Article continues below advertisement
Schneeberger expects some economic headwinds to become less intense next year. Therefore, he expects "moderate improvement" in FedEx's results in the second half of 2020, according to MarketWatch. Nonetheless, Schneeberger cautioned that wouldn't be good enough. He said that FedEx has a lot to prove over the next few quarters to restore investors' confidence.
In a note to clients, Schneeberger wrote, "We believe the company's 'show me' status is likely to persist multiple quarters until it demonstrates enhanced certainty of a return toward historical Express/Ground segment margin levels," MarketWatch reported.
Following Oppenheimer's rating downgrade, the proportion of analysts with bullish stances has come down to 48% from 52%. As of December 19, 14 of the 29 analysts covering FedEx stock have given it "buy" or equivalent ratings. Of this total, 14 say to "hold" the stock, while one analyst calls it a "sell."
Article continues below advertisement
Analysts reduce their target prices
Following the company's weak earnings results and downbeat outlook, analysts significantly reduced their target prices on its stock. Currently, analysts' average target price is $170.76—down from $173.12 as of Monday. The average target price reflects a return of 15.5% over the next year. The major analysts that trimmed their target prices on FedEx stock were as follows:
Cowen and Company cut its target price by $5 to $185 but reaffirmed its "outperform" rating.
JPMorgan Chase lowered its target price to $147 from $154 and reiterated its "hold" rating.
Morgan Stanley trimmed its target price by $2 to $109, maintaining its "equal weight" rating.
Bank of America lowered its target price to $163 from $170 and reaffirmed its "neutral" stance.
Wells Fargo cut its target price by $6 to $183 and maintained its "overweight" recommendation.
BMO Capital decreased its target price by 3% to $160. It gave the stock a "market perform" rating.
Raymond James, which had an "outperform" rating, cut its target price by $8 to $167.
FedEx stock's performance
FedEx stock fell 10% on Wednesday after the company's dismal quarterly performance and bleak outlook. The decline also weighed on the iShares Transportation Average ETF (IYT). IYT, which holds 9.2% in FedEx stock, fell 0.9% yesterday. FedEx's peers also saw declines in their share prices on Wednesday. United Parcel Service (UPS) and XPO Logistics (XPO) stocks fell 2% and 2.7%, respectively.
With a year-to-date decline of nearly 9%, FedEx is one of the worst performers among logistics stocks. As of its closing price of $146.86 on December 18, the stock was trading near its 52-week low of $137.78. Additionally, FedEx stock has fallen nearly 26% from its 52-week high of $199.32.