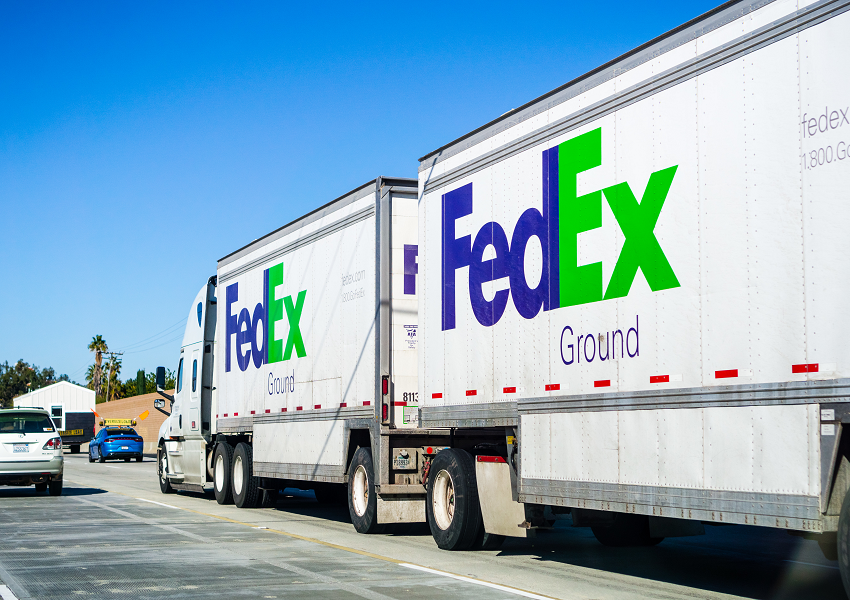 FedEx Q2 Earnings: Trade War, Higher Costs Took a Toll
Article continues below advertisement
What dragged FedEx's Q2 earnings lower?
A YoY (year-over-year) decline in revenue and higher expenses weighed on FedEx's Q2 earnings. In the second quarter, FedEx's revenue fell 2.8% YoY to $17.3 billion and missed Wall Street's expectation of $17.6 billion. The second quarter marked its worst top-line performance in 17 quarters. Notably, the logistics giant's revenue grew YoY in the previous 16 quarters.
Higher expenses in the ground business segment hurt FedEx's overall profitability during the second quarter. The expansion of six- and seven-day delivery services drove costs higher in the ground division. Competitive pricing and a continuous mix shift to lower-yielding services also hurt the company's bottom line in Q2. These negative factors were partially offset by higher yields in the freight division and lower incentive compensation expenses.
Trade war, Amazon loss hurt FedEx revenue
Weakness in the international market and the loss of a significant customer are the main reasons for FedEx's dismal second-quarter revenue results. The shift of Cyber Week to December also impacted the logistics giant's top line.
FedEx's international revenue fell 4.7% YoY to $4.9 billion, mainly due to a slowdown in global trade and production. According to the company, the ongoing US-China trade war has caused trade softness in Asia, particularly in China. China accounts for nearly 6% of FedEx's total revenue. In the EU, trade has slowed due to trade tensions with the US and negative manufacturing output in Germany.
Article continues below advertisement
Furthermore, the company noted that the loss of a major customer, Amazon (AMZN), also hampered its overall Q2 performance. FedEx is cutting ties with Amazon to focus on the broader e-commerce market, and hasn't renewed two major delivery contracts with the e-retailer. FedEx believes that although the strategy could hurt its near-term financials, it would benefit the company in the long run. Last year, Amazon accounted for approximately 1.3% of FedEx's total revenue.
Dismal performance at FedEx Express and FedEx Freight weighed on the company's top line. FedEx Express revenue fell 5.4% YoY to $9.1 billion, mainly due to weakness in international operations. FedEx's ground division revenue grew 3.4% YoY to $5.3 billion, driven by strong customer demand across all segments. The launch of seven-day delivery services during the quarter also boosted the ground division's revenue.
The company's freight revenue fell 3.9% YoY to $1.8 billion. According to the company, lower-than-expected demand due to weak global trade and manufacturing hurt freight services across all of its business segments.
Article continues below advertisement
FedEx cuts fiscal 2020 earnings outlook
Following its disappointing second-quarter results, FedEx lowered its earnings outlook for fiscal 2020. The company now projects fiscal 2020 non-GAAP EPS of $10.25–$11.50, down from its previous guidance of $11–$13. The updated guidance reflects a YoY decline of 26%–34%. Currently, Reuters-polled analysts are projecting EPS of $11.82 for fiscal 2020.
The company's lower earnings outlook reflects its anticipation of higher expenses and lower revenue across all of its transportation services. Moreover, FedEx's increased investments in facility upgrades and service expansions could weigh on its near-term bottom-line results. The mix shift to low-yielding delivery services could also impact its earnings in the near term.
FedEx anticipates a moderate improvement in the US economy, and no additional adverse developments in international trade. The company expects that splitting relations with Amazon in the US could continue to impact its financial results in fiscal 2020.
Analysts lower target prices
Two prominent investment research companies lowered their target prices for FedEx stock following its dismal Q2 earnings results. Cowen trimmed its target price for the stock by $5 to $185. Later, JPMorgan Chase cut its target price to $147 from $154. We foresee more price and rating downgrades in the coming days.
Of the 29 analysts covering FedEx stock, 15 suggest "buy," 13 suggest "hold," and one suggests "sell." Analysts' average target price of $171.92 implies a mere 5.3% upside over the next year.
Expectations for peers
Most logistics companies are set to report their earnings results for the fourth quarter of fiscal 2019 in January. Wall Street's EPS expectation for United Parcel Service (UPS) implies an 8.7% YoY increase to $2.11. Analysts' revenue expectation of $20.6 billion implies YoY growth of 3.9%.
Analysts' fourth-quarter EPS prediction of $1.05 for XPO Logistics (XPO) implies 46.5% YoY growth. However, they expect the company's revenue to fall 3.3% YoY to $4.2 billion. For Old Dominion Freight Lines (ODFL), analysts expect its EPS to fall 6.3% YoY to $1.83 in the fourth quarter, and its revenue to fall 1.4% YoY to $1 billion.