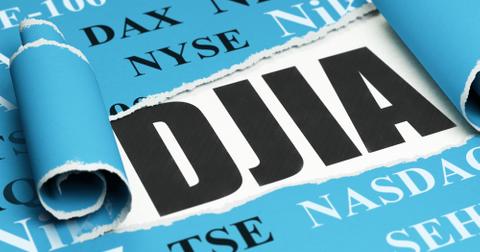 Dow Jones: Apple, MSFT, and Others Lead Gains Today
By Adam Rogers

Updated
The Dow Jones Industrial Average (or DJIA) has risen 1.15% today, gaining over 300 points. According to the US Department of Labor, total non-farm payroll employment rose by 266,000 jobs in November. The unemployment rate stood at 3.5%. According to CNBC, economists had forecast around 187,000 jobs with an unemployment rate of 3.6%. This stellar performance was why the DJIA has gained momentum today.
Article continues below advertisement
The job gains were driven by strong growth in the healthcare and technical services industries. The healthcare industry added 45,000 jobs in November, and has added 414,000 jobs in the last year. The manufacturing sector added 54,000 jobs in November after reporting a decline of 43,000 jobs in October. Employment in the motor vehicles and parts vertical rose by 41,000 after General Motors workers returned from a strike in October.
The leisure and hospitality sector also contributed heavily to job growth, adding 45,000 jobs last month and 219,000 in the last four months. The transportation and warehousing sector added 16,000 jobs, while the financial activities employment rose by 13,000 jobs. The financial services and related activities sector has added 116,000 jobs in the last year.
A few industries lost jobs last month. Mining employment was down by 7,000 jobs last month, and 19,000 since May. In the retail sector, job growth stood at 2,000. While employment in general merchandise stores was up 22,000, it was offset by a decline of 18,000 in clothing accessories stores. This year, an average of 180,000 jobs have been added per month, below last year's average of 223,000.
Article continues below advertisement
Dow Jones recovers after a poor start to the week
While the DJIA is up today, investors were worried earlier this week. The index fell more than 600 points between November 26 and December 3, dragged down by the ISM's (Institute for Supply Management) PMI data. In November, the PMI was at 48.1, below the estimate of 49.4 and October's PMI of 48.3. A PMI score below 50 indicates economic contraction.
Despite the economy slowing globally and the ongoing US-China trade war, broader indexes are trading at record highs thanks to domestic strength. The DJIA has gained 20% year-to-date and is trading at 28,000, just below its record high of 28,100. The S&P 500 ETF has returned 26% this year and is trading at a record high of $315.
Apple and MSFT lead the DJIA
Today, the top Dow Jones stocks are 3M, Goldman Sachs, American Express, and Chevron. While 3M is up 3.8%, Goldman Sachs, American Express, and Chevron have returned 3%, 2.2%, and 2.2%, respectively. Tech stocks Apple, MSFT, Intel, Cisco, IBM, and Verizon have returned 1.9%, 1%, 0.9%, 1%, 1.3%, and 0.3%, respectively.
This year, Apple (AAPL) has been the DJIA's top performer and is up 68.4%. Microsoft (MSFT) has also been strong, rising 47.6%. The DJIA's other top performers this year have been JPMorgan Chase (JPM), Procter & Gamble (PG), United Technologies, Visa, and Disney, which have returned 36%, 35.6%, 36.4%, 38%, and 35%, respectively.
Meanwhile, 3M, Pfizer, and Walgreen have fallen this year, underperforming the DJIA. While 3M is down 13.7%, Pfizer and Walgreen have lost 12.9% and 13.5%, respectively.
Though broader markets have continued to rise, several macroeconomic challenges are impacting investor sentiment. The trade war still isn't resolved and could continue to weigh on markets in the short term.
Grim economic data for developed markets such as Europe, Brexit uncertainty, and China's slowing economy could keep global GDP growth at 3.3%, down from last year's 3.6% growth. Will the Dow Jones move lower as 2020 approaches, or will it touch another record high by the end of 2019?