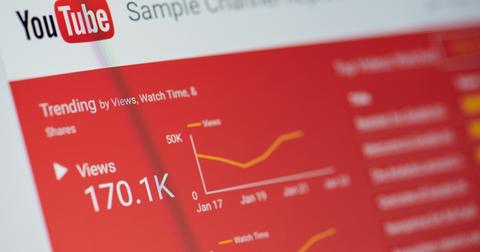 Did YouTube Delete Bitcoin Videos in a 'Crypto Purge'?
By David Moadel

Updated
YouTube, the video-sharing website owned by Google (GOOGL)(GOOG), has a major influence on the world of cryptocurrency. Users discuss Bitcoin (BTC) both in videos and in the comments sections of those videos. So censoring Bitcoin and cryptocurrency videos on the platform would be a devastating blow.
There's no clear evidence that YouTube deliberately censored Bitcoin videos. However, there's been an incident that allegedly still hasn't fully resolved. A large number of Bitcoin and cryptocurrency videos on YouTube went missing, prompting many users to ask questions about what happened.
Article continues below advertisement
Google's rocky history with Bitcoin
This isn't a First Amendment issue. YouTube can show or not show whatever videos it chooses. Still, Google and its massive video platform have an enormous influence on web and video searches. When people look for Bitcoin content online, they typically use Google and YouTube.
Earlier in 2019, Google banned Bitcoin and cryptocurrency ads. This move sent shock waves through the crypto world, and it seemed to cause Bitcoin prices to fall. After three months, Google lifted the ban in the middle of September.
As a result, some people feel that Google (and therefore YouTube) has an anti-Bitcoin position. As far as I know, neither Google nor YouTube has made any official anti-Bitcoin statements. And readers should also note that Google isn't the only website to ban crypto ads. Facebook (FB) has done the same thing.
Article continues below advertisement
The alleged "crypto purge"
Then in December, we saw a mysterious incident on YouTube. Without warning or explanation, hundreds of videos relating to Bitcoin and cryptocurrency were allegedly deleted. For instance, popular YouTuber Chris Dunn wrote on Twitter (TWTR) that the platform removed most of his crypto videos.
Dunn added that YouTube cited "harmful or dangerous content" and "sale of regulated goods" in removing his cryptocurrency videos. In the aftermath, Dunn considered the possibility of moving his video content off of YouTube and onto "decentralized platforms."
The alleged removal of hundreds of Bitcoin videos has come to be informally known as the "crypto purge." Again, there's no way to prove that any video removals were deliberate or that they targeted the sector. A YouTube spokesperson seemed to suggest that the deletion wasn't a "purge" but only an error.
"With the massive volume of videos on our site, sometimes we make the wrong call. When it's brought to our attention that a video has been removed mistakenly, we act quickly to reinstate it. We also offer uploaders the ability to appeal removals and we will re-review the content," continued the spokesperson.
Article continues below advertisement
After the YouTube "purge": What happens now?
It's too early to assess the consequences of the seemingly accidental Bitcoin video removals. And it seems that YouTube wants to acknowledge the video removals as just an error. However, Chris Dunn recently claimed, "Today, YouTube not only took down the videos that they reinstated yesterday, but they took down at least one other video that they'd never taken down before."
Even if YouTube reinstates all of the removed videos, that might not be enough for some users. For example, cryptocurrency commentator Ran NeuNer tweeted a subversive message to his followers: "YouTube deleting all Crypto content is a MASSIVE blow to the industry. YouTube is the go to place for educational video and the first port of call for new people entering the eco system to learn the basics. As a community we should challenge this formally."
It will be interesting to see how the Bitcoin community responds—if it chooses to respond at all. I've heard people on social media express support for alternative, decentralized video sites. Right now, though, nothing is as popular as YouTube. So the Bitcoin community might be stuck with Google and YouTube for a while at least.