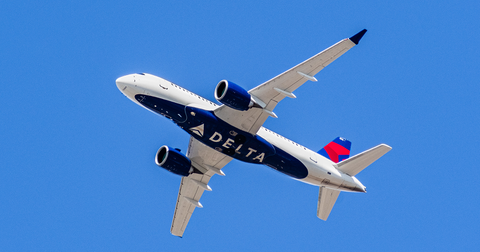 Delta Air Stock Falls as November Load Factor Declines
By Anirudha Bhagat

Updated
Delta Air Lines (DAL) stock fell 1.4% yesterday after the carrier reported a YoY (year-over-year) contraction in its November load factor. The load factor measures the percentage of available seats filled by passengers. This key airline metric determines how efficiently an airline is filling its available seats and generating fare revenue.
According to the recently released operating statistics, Delta Air's load factor shrank 180 basis points to 84% in November. The company's load factor declined as the growth in its seating capacity exceeded its demand growth. November marked the first time in the last 22 months Delta Air had seen lower traffic growth than capacity additions.
Article continues below advertisement
Capacity exceeds traffic growth
Delta's traffic grew 1.8% YoY and set a new record of carrying 15.7 million passengers in November. Healthy leisure and corporate travel demand appear to be driving Delta's passenger traffic. The airline may also be benefiting from its traffic-driving initiatives, which include partnerships, low airfares, and rewards programs. Nonetheless, last month, the company added more seating capacity than traffic growth. It increased its seating capacity by 4% in November.
By region, Delta's domestic traffic increased 1.5% in November. The airline's international traffic rose 2.4% in the month, mainly due to a 3.4% rise in the Latin American region. Its passenger traffic across the Atlantic and Pacific regions grew 2.8% and 1%, respectively.
On the contrary, seating capacities across the US and international markets increased by 4.9% and 2.4%, respectively. The airline's capacities across the Latin American, Pacific, and Atlantic regions grew 2.3%, 3.8%, and 1.5%, respectively.
From January to November, Delta's traffic grew 5.3%, while its capacity rose 4.5%. The company registered a 60-basis-point YoY improvement in its load factor during the period. From January to November, domestic and international traffic grew 6.45% and 3.3%, respectively. During the same period, seating capacity in the US and international markets increased 5.2% and 3.2%, respectively.
Article continues below advertisement
Delta is increasing capacity on profitable routes
Over the last several months, Delta has been trying to focus on route realignment and capacity additions across profitable routes. The airline's YTD (year-to-date) operating statistics state massive capacity additions across the transpacific and transatlantic routes.
The strategy has helped Delta boost its unit revenue. Its third-quarter unit revenue growth of 2.5% was much higher than most of its peers'. In the third quarter, United Airlines' (UAL) and American Airlines' (AAL) unit revenues grew 1.7% and 2% YoY, respectively. At 4.2%, Southwest Airlines (LUV) registered the highest unit revenue growth among the top four US carriers.
Delta Air stock performance
Despite its strong back-to-back quarterly performances, Delta Air stock has remained a laggard on economic slowdown concerns and US-China trade uncertainties. With a YTD return of 11.5%, it's underperformed the broader US indexes and the iShares Transportation Average ETF (IYT). The Nasdaq, S&P 500, and Dow Jones indexes are up 28.4%, 23.4%, and 17.9%, respectively, YTD. IYT has gained 14.5% YTD.