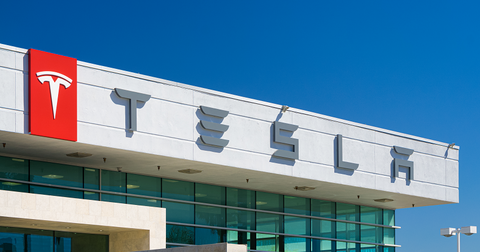 Cowen Expects Tesla to Miss 2019 Delivery Forecast
By Anirudha Bhagat

Updated
Tesla (TSLA) stock fell 4% this morning after an analyst said the company could miss its 2019 delivery forecasts. According to a Bloomberg report, Cowen's Jeffrey Osborne predicted that Tesla would ship nearly 356,000 vehicles in 2019. Osborne's estimate was slightly lower than the EV (electric vehicle) maker's forecast of 360,000–400,000.
The analyst anticipated "demand saturation" for Tesla's Model 3 sedans "across most mature markets" to hurt overall deliveries, Bloomberg reported. Osborne believes that Model 3 sales will continue to rise in the Netherlands and China. However, a decline in Model 3 sales across other markets might lead to Tesla falling short of its 2019 delivery targets.
Article continues below advertisement
Excluding the Netherlands and China, Osborne expects the company's Model 3 deliveries to fall 9% sequentially and 7% YoY (year-over-year) in the fourth quarter. The analyst wrote to clients that the situation "highlights the demand saturation we are seeing across most mature markets as we shift from pent-up demand to steady flow demand," according to Bloomberg.
Cowen raises Tesla's fourth-quarter delivery forecast
Although Osborne's full-year shipment forecasts are below Tesla's low-end guidance range, the analyst has raised his predictions for the fourth quarter. The analyst now expects the company to deliver 101,000 EVs, higher than his earlier forecast of 95,000. Osborne's upbeat delivery forecast for the fourth quarter reflects strong demand across the Netherlands and China.
Nonetheless, the Cowen analyst said that "pricing and mix" issues could hurt Tesla's fourth-quarter profitability and margins, Bloomberg reported. The analyst also remains cautious about the long-term demand prospects for EVs in China.
Article continues below advertisement
China and the Netherlands have been offering subsidies on EVs, which is driving demand in these markets. However, the two markets could face demand saturation, just like other mature markets after subsidy reductions. In the Netherlands, government subsidies on EVs will end next year. In China, the government has planned to gradually phase out EV subsidies by 2021's end.
Osborne cautious over Tesla's China plan
Osborne also said Tesla's China plans could go wrong if it fails to reduce production costs significantly. Tesla has built its so-called third Gigafactory in Shanghai. It believes the China facility could provide an operating cost advantage of 55%–60% compared to its US plants.
However, Osborne seems to believe that these cost reductions won't help Tesla compete with local Chinese automakers. Osborne wrote in his note that Tesla had sold less than 2,000 Model 3s per week in China, Bloomberg reported. On the contrary, "the top 5 models (all local brands) combined for less than 6,000 vehicles per week," he said.
The analyst noted that all the top five local models "cost about one-quarter to three-quarters less than what the China-made Model 3 is expected to cost." He added that the Model 3 would "also be more expensive than 90% of China vehicles sold in 2018."
Analysts' ratings and target prices
Citing the aforementioned near-term issues, Osborne reaffirmed his "underperform" rating on Tesla stock. Nonetheless, he increased his target price on the stock by $20 to $210. His updated target price reflects a potential decline of approximately 50% for TSLA over the next year.
Reuters-polled analysts have provided a consensus "hold" recommendation on Tesla stock. Of the 33 analysts covering the stock, about 33% have given it a bullish rating. Nearly 27% have a "neutral" view, while 40% have a bearish stance. Their average target price of $299 depicts a potential decline of 29% over the next year.