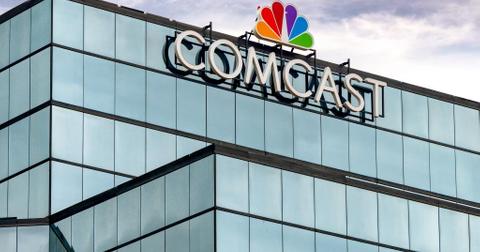 Comcast to Spend $2 Billion on Peacock in 2020–2021
By Ambrish Shah

Updated
On Monday, during the UBS Global TMT Conference, Comcast (CMCSA) CFO Mike Cavanagh provided an update to the company's investors.
Article continues below advertisement
Comcast at UBS Global TMT Conference
Comcast's NBCUniversal segment plans to release its Peacock streaming video service in April 2020. In the first two years, Comcast intends to spend about $2 billion on content and marketing for Peacock. Cavanagh believes that Peacock could break even by the fifth year. Peacock is likely to launch with 15,000 hours of content.
According to a December 9 Bloomberg report, "Unlike paid-subscription rivals such as Netflix Inc., Walt Disney Co.'s Disney+ and Apple Inc.'s Apple TV+, Peacock will be free to Comcast cable subscribers. Cavanagh said the service would have various tiers of pricing for others."
The report added, "Disney has said it plans to spend $1 billion on programming alone for the first year of Disney+, which launched last month and quickly signed up more than 10 million subscribers. Streaming behemoth Netflix heavily outspends its competitors, expecting to splash out $15 billion on programming this year."
Article continues below advertisement
Financial performance
Comcast reported sales of $26.8 billion in Q3 2019, up 21.2% year-over-year from sales of $22.1 billion in Q3 2018. Its adjusted earnings per share improved from $0.65 in Q3 2018 to $0.79 in Q3 2019. Analysts expect the cable company to post sales of $28.2 billion with adjusted earnings per share of $0.76 in Q4 2019.
In the third quarter, Comcast's video revenue fell 0.9% YoY (year-over-year) to $5.5 billion due to a decline in video customers. Comcast lost 238,000 net pay-TV customers in Q3 2019 compared to its 106,000 net losses in Q3 2018.
Its total pay-TV subscribers fell 2.8% YoY to 21.4 million through September 30. The company is losing pay-TV customers due to competition from over-the-top service operators like Amazon Prime and Netflix.
Comcast has shifted its focus to the broadband segment, where it is gaining traction amid a falling pay-TV customer base. In the third quarter, the company's high-speed Internet revenues rose 9.3% YoY to $4.7 billion.
Comcast gained 379,000 net high-speed Internet customers in Q3 2019 compared to its 363,000 net additions in Q3 2018. Its total high-speed Internet subscribers rose 4.9% YoY to 28.2 million through September 30.
Comcast stock: Analysts' recommendations
Comcast stock offers an upside potential of 20% based on analysts' mean target price of $51.42. It traded at $42.77 on Tuesday.
Among the 36 analysts currently tracking CMCSA, eight recommended a "strong buy," and another 22 recommended a "buy." The remaining six analysts recommended a "hold." Comcast hasn't received a "sell" rating in more than 12 months. On Wednesday, Deutsche Bank reduced its target price on CMCSA stock from $54 to $52.
Analysts expect its adjusted EPS to rise 20.8% YoY to $3.08 in 2019. They expect its sales to rise 15.1% YoY to $108.8 billion.
Stock performance
Comcast stock fell 2.55% on Tuesday to close at $42.77. Based on this closing price, the stock is trading at a discount of 9.5% to its 52-week high of $47.27 and a premium of 31.2% to its 52-week low of $32.61.
At yesterday's closing price, Comcast's market capitalization was $194.6 billion. The stock has risen 25.6% this year through December 10.
Comcast's 14-day RSI (relative strength index) score is 37, which signifies that the stock is approaching the oversold zone. On Tuesday, Comcast stock closed near its lower Bollinger Band level of $42.87. This value signifies that the stock is oversold.
Comcast stock closed 3.3%, 4.3%, and 4.0% below its 20-, 50-, and 100-day moving averages of $44.22, $44.67, and $44.56, respectively. Because Comcast is currently trading below the moving average, the stock is trending downward.
Please read Comcast Announces Price Hikes Starting December 18 and Video Services: Comcast versus Dish Network to learn more.