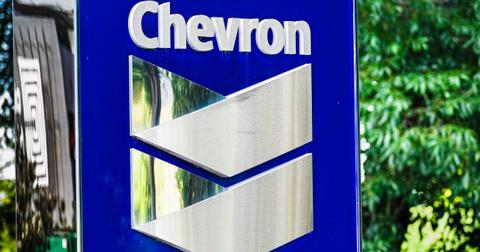 Chevron: Analyzing Its Stock Price Forecast until December 31
By Maitali Ramkumar

Updated
Chevron's (CVX) stock price has risen 7.7% YTD (year-to-date). However, other energy stocks have put up mixed performances this year. While Total (TOT) and Suncor Energy (SU) stocks have risen 0.7% and 12.3%, ExxonMobil (XOM), Royal Dutch Shell (RDS.A), and BP (BP) stocks have fallen 0.1%, 1.3%, and 1.3%, respectively.
Article continues below advertisement
What impacts energy stocks?
A series of factors have been moving in opposite directions, which impacts energy sector stocks. Most oil companies' earnings have fallen this year, while the equity market has risen.
So far, the S&P 500 Index (SPY) has risen 26% YTD. The equity market has risen due to easing trade tensions between the US and China. Although there's uncertainty regarding trade talks, the markets are optimistic that both sides will eventually resolve the issues. Read Dow Jones December Outlook: A Crash or Santa Rally? to learn more.
In the first nine months of 2019, most energy companies' earnings fell due to lower upstream earnings. The same is expected for the fourth quarter and fiscal 2019. Despite oil prices rising 23% this year, their average is lower than the previous year. The average oil prices have been $56.8 per barrel in the current year compared to $64.9 per barrel in the previous year.
Article continues below advertisement
Chevron's stock price forecast
In such a scenario, we'll forecast Chevron's stock price until December 31 based on its current implied volatility. We'll estimate Chevron's upper and lower price limits, which will reflect the upside potential and downside risk in the stock.
The implied volatility in Chevron stock has fallen by 4.3 percentage points since October 1—the beginning of the fourth quarter. Currently, the implied volatility is 16.6%, which is lower than the average of 18.5% during this quarter. So far, Chevron's stock price has fallen 1.2% during the quarter. The company's stock price and implied volatility have moved inversely in the current quarter.
We'll estimate Chevron's stock prices based on certain assumptions. We assumed a normal distribution of prices, which reflects a bell curve shape. We also assumed a standard deviation of one, which implies a probability of 68%. So, based on the assumptions and current implied volatility of 16.6%, Chevron's stock price could close between $122.9 and $111.4 in the next 32 days ending on December 31.
Article continues below advertisement
Peers' implied volatility
Chevron's peers have also seen a decline in their implied volatilities in the current quarter. The implied volatility in ExxonMobil stock has fallen by 3.5 percentage points in the quarter. Now, the implied volatility in ExxonMobil is 16.7%. The implied volatilities in Shell and BP have fallen by 3.8 percentage points and 3.2 percentage points, respectively, to 14.5% and 17.0%. ExxonMobil, Shell, and BP's stock prices have fallen 3.5%, 2.3%, and 1.5%, respectively, in the current quarter.
The above data show that these oil stocks and their implied volatilities have moved in opposite directions in the current quarter.
Chevron's Q4 earnings outlook
Analysts have dull expectations for Chevron in the fourth quarter. They expect the company's earnings to fall 22% YoY to $1.52 per share in the fourth quarter. The fall could be due to the lower oil price scenario. Oil prices have risen in the quarter, but they're lower on average than the fourth quarter of 2018.
However, downstream earnings could be supported by better refining margins. In the quarter, refinery cracks and oil spreads have been widening due to IMO 2020.
Read ExxonMobil, Chevron, Shell, BP: Energy Stocks to Buy? to learn more about investing in oil stocks.