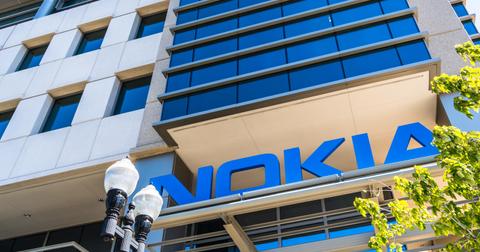 Can Nokia Survive a Recession in 2020?
By Adam Rogers

Updated
Shares of hardware networking giant Nokia (NOK) are currently trading at $3.56. The stock has lost 41% of its market value this year and is trading 47% below its 52-week high. Investors expressed worry after NOK reported its third-quarter earnings results, sending the stock spiraling down 22% on October 24.
In the third quarter, Nokia reported revenue of $6.31 billion, a year-over-year rise of 4%. However, its earnings fell 17% to $0.06. While its revenue came in just below the estimate of $6.32 billion, its earnings met the consensus forecast in the third quarter.
Article continues below advertisement
Nokia revised its guidance
But Wall Street was spooked by Nokia's revised outlooks for the fourth quarter and 2020. Nokia updated its 2019 earnings forecast to between 0.18 euros and 0.24 euros, lower than its previous guidance of between 0.25 euros and 0.29 euros.
The company also revised its 2020 earnings guidance downward to between 0.20 euros and 0.30 euros. This estimate was significantly lower than its previous earnings guidance of between 0.37 euros and 0.42 euros.
Nokia expects an operating margin of 8.5%–10.5% in 2020, below its previous forecast of an operating margin of 12%–16%. Wall Street previously expected Nokia to post earnings of 0.23 euros in 2019 and 0.35 euros in 2020. They've since revised their earnings forecast down to 0.20 euros for 2019 and 0.23 euros for 2020.
Nokia also withdrew dividend payments for the third and fourth quarters of 2019. This rollback was approved by its board of directors. The company's annual dividend payment stood at $0.22 per share, indicating a high payout ratio of 87%.
Article continues below advertisement
Why did NOK stop its dividend payment?
Nokia attributed its dividend rollback to its massive investments in the 5G space. It's launched several 5G networks with customers that include telecommunications companies Sprint, T-Mobile, Verizon, and AT&T.
In the global markets, it has partnered with Vodafone Italy and Zain in Saudi Arabia, among others. Its initial 5G deployments will be capital intensive. Its gross margins in the third quarter contracted YoY due to product mix and high costs associated with its first-generation 5G products.
Nokia will have to continue investing heavily in 5G and will, therefore, have to continue to suspend dividend payments. It also aims to increase investments in its software business.
Nokia sales fall in a slowdown
Nokia is already part of a mature business segment. Though 5G is a key driver of the company's top line, it requires massive capex, and the benefits of these investments will be realized in the coming years.
In the networking space, it competes with Ericsson and Huawei. Huawei is grappling with privacy issues and might lose out on 5G deals in various countries. This provides an opportunity for Nokia and Ericsson to step up and bag these contracts.
However, the rollout of 5G will take several years. It will begin with investments in the developed markets of North America and Europe and will slowly expand to the Middle East and Asia.
Article continues below advertisement
Nokia is looking to diversify into growth segments. It has announced partnerships with Microsoft and VMware in the AI and Internet-of-Things spaces. It also aims to transform enterprise and CSP (communications service provider) businesses by integrating Microsoft's cloud solutions and its own networking solutions.
In partnership with VMware, Nokia wants to develop integrated solutions to improve the operational efficiencies of CSPs.
In the third quarter, the company's Networks segment accounted for 78% of total sales, followed by the Software and Technology segments at 12% and 6.3%, respectively. However, the Networks segment is also the most capital-intensive segment with the lowest profit margins.
In the third quarter, the Networks segment's operating profit fell 28%, indicating a margin of just 2.9%. In comparison, Nokia's Software and Technology segments have operating margins of 23% and 82%, respectively. If a recession hits the global markets in 2020, enterprises will significantly lower their tech spending, which will drive Nokia's sales and margins down.
Article continues below advertisement
Nokia's cash flow at 299 million euros
Nokia ended the third quarter with cash flow of 299 million euros. Restructuring costs and capex affected this metric. Nokia has now outlined a cost-saving program to improve its bottom line.
According to its earnings release, "We expect our most recent cost savings program to result in a net EUR 500 million reduction of non-IFRS operating expenses and production overheads ('fixed costs') in full year 2020 compared to full year 2018, of which EUR 350 million is expected to come from operating expenses and EUR 150 million is expected to come from cost of sales."
It added, "This reflects a EUR 150 million reduction in our expected operating expense savings and a EUR 50 million reduction in our expected cost of sales savings. The change from a net EUR 700 million reduction to a net EUR 500 million reduction is primarily due to our expectation to make additional 5G investments and additional digitalization investments."
Last month, Nokia announced the resignation of its COO, Joerg Erlemeier. It will discontinue this position in January 2020.
Investors have waited for several years for Nokia to turn its business around. But the company has time and again come up short of industry estimates, dragging the stock to all-time lows.