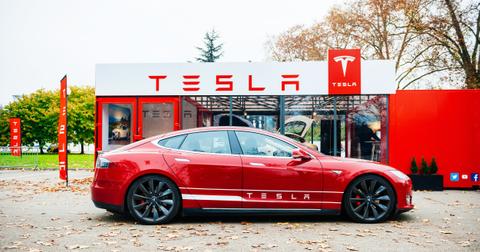 Can Musk's Year-End Priorities Lift Tesla Stock?
By Anuradha Garg

Updated
In an email obtained by Electrek, Tesla (TSLA) CEO Elon Musk outlined the company's priorities for employees. Musk often sends emails to employees ahead of the quarter-end to motivate them to help with the delivery rush. Some of these emails get leaked.
Article continues below advertisement
Musk's emails and stock price reaction
Electrek also obtained an email from Musk to employees at the end of the September quarter. In that email, Musk wrote that the company had "a shot" at delivering 100,000 vehicles during the third quarter. After the email leaked, Tesla stock rallied. Although the company ended up delivering 97,000 vehicles during Q3 and setting a record, its stock fell after the earnings report. The market may have taken the internal company target as guidance.
Tesla's quarter-end push for deliveries
Now, as the end of the fourth quarter draws near, Tesla seems to be in rush mode. Musk's first priority before the end of the year relates to deliveries. According to Electrek, Musk wrote, "The first [priority] is making sure all cars are delivered to their customers before end of year."
Additionally, a source familiar with Tesla told Electrek it expects the company to achieve record deliveries every week until the end of the year. Tesla delivered 255,200 vehicles in this year's first nine months, and has guided for 360,000-400,000 deliveries in 2019 overall. To achieve even the lower end of this guidance, the company would have to deliver at least 105,000 vehicles and mark another record quarter.
Article continues below advertisement
If Tesla achieves its guidance, it would mean three back-to-back quarters of record deliveries for the company. Some factors could help Tesla achieve this feat. The first and most important is that the company's federal tax credit is set to expire on January 1. As a result, customers may advance their car buying to get the credit. The same thing happened in Tesla's fourth quarter last year. Tesla vehicles' tax credit of $7,500 was reduced to $3,750 at the beginning of 2019, and then to $1,875 on July 1. At the beginning of 2020, the tax credit will be eliminated.
Tesla Model 3 and deliveries conundrum
As was the case in Q2 and Q3, Tesla's biggest delivery driver in Q4 2019 is expected to be the Model 3. In Tesla's third quarter, Model 3 sales in Europe and China accelerated, while US Model 3 deliveries fell. Tesla's Model S and Model X sales, on the other hand, fell almost everywhere in the world. This changing product mix has implications for the company's revenue and margins. As Tesla's Model 3 has narrower margins than its other models, the company's mix shift resulted in its Q2 profit being negative despite record deliveries. It managed a surprise profit in Q3 due to other drivers.
Article continues below advertisement
Product mix and solar focus
Therefore, in addition to total deliveries, Tesla's delivery mix in the fourth quarter will also be important. Tesla stock could rise even if the company's deliveries are near the lower end of its guidance. However, the stock could fall if it reports narrower margins.
In his employee email, Musk highlighted another priority for the company before the end of the year. Electrek reports Musk wrote, "The second, just as important, is that we immediately increase the rate of solar deployments by a significant degree."
During the company's Q3 earnings call, Musk was positive on its energy business and outlook. He added, "This is the most underappreciated group. I think it could be bigger, but it's certainly of a similar magnitude to Tesla Solar."
Tesla's solar business potential
Tesla's solar business has been struggling amid controversies. Currently, the solar and battery segment forms just 6% of the company's total revenue. But Musk seems serious about expanding that proportion and sees huge growth prospects for the company's solar roof tiles.
Tesla launched the third version of its solar roof in October after the previous two failed to gain much ground. Musk is optimistic about that version and other solar initiatives, as the resources put toward the Model 3 are now free to focus on solar.
Several catalysts have driven TSLA stock lately, including the company's Cybertruck unveiling and analysts' post-Q3 upgrades. The stock seems to have priced in most short-term positives. Therefore, if Musk can meet the goals laid out in his email, TSLA stock could rise.