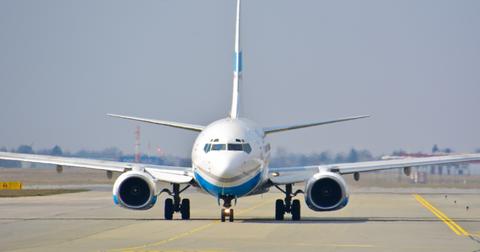 Boeing's Deliveries Were 30% of Airbus's in November
By Mike Sonnenberg

Updated
Today, Boeing reported its orders and delivery numbers for November. In the month, it shipped 24 planes, half of which were 787 Dreamliners. Apart from the Dreamliners, Boeing delivered two 737-800s, one 747 to UPS (UPS), five 767s, and four 777s. Boeing delivered 345 planes in the first 11 months of 2019 compared to Airbus's 704. In November, Boeing received orders for 63 new planes, including 33 Dreamliners and 30 units of 737 MAX planes. With this, Boeing's net orders in the first 11 months of 2019 stood at -84. Boeing stock was down 0.4% at 1:50 PM ET today.
On the other side of the Atlantic, Airbus is cruising. It's delivered 77 aircraft. The A320 family of planes, which compete head-on with Boeing's grounded 737 MAX 8, took the lion's share with 56 deliveries. Other deliveries included 11 A350s, five A330s, four A220s, and one A380.
Article continues below advertisement
Boeing 737 MAX crisis is hurting its deliveries
The worldwide grounding of Boeing 737 MAX 8 planes has hurt Boeing considerably so far in 2019. The planes were grounded after Ethiopian Airlines Flight 610 crashed in March, killing 157 people on board and marking the second fatal accident involving the model within months. As a result of the grounding, Boeing couldn't deliver these planes to customers (although it's still been producing dozens every month). With uncertainty growing about the return of the MAX, many airlines have chosen to go with Airbus's A320s.
The 737 MAX crisis has also hurt Boeing's reputation, and the recent issues related to the 737 NG have only added fuel to the fire. Airlines have canceled tens of thousands of flights due to the crisis, and they're obviously not happy about it. Pilots are also unimpressed. The Southwest Airlines Pilots Association has already sued Boeing for breach of trust and loss of income. All of these factors could affect the company's future order flow.
Article continues below advertisement
The 777X program is also showing signs of weakness
Apart from the return of the 737 MAX, Boeing's future order flow also depends on the success of its 777X programs. However, things are less than rosy in that area. First, the program has already been delayed by a couple of years due to various issues, such as those with GE's GE9X engines (which power the planes). Second, recent details related to stress tests also point to possible delays. Third, customers are looking to reroute their orders for the 777X. Emirates, which was the first 777X customer and has ordered 156 so far, changed 30 orders to 787 Dreamliners. This isn't exactly exciting for Boeing's ultra-long-range plane.
Meanwhile, Airbus may be beefing up its A350s to compete with the 777X. Last week, Aerotime reported that the European Aviation Safety Agency had approved Airbus to add 40 more seats to its A350-1000 variant.
Boeing 797 still isn't here
Another factor that could affect Boeing's future order flow is the company's indecisiveness about building its New Midmarket Airplane, dubbed the 797. The company has set the project aside to focus on getting the 737 MAX 8 back in the skies. But airlines are getting impatient.
Some, including American Airlines, JetBlue, and United Airlines, have already chosen Airbus's A321XLR, which offers a similar range and specs. A delay in the 737 MAX 8's return will only drive more orders toward Boeing's European rival.