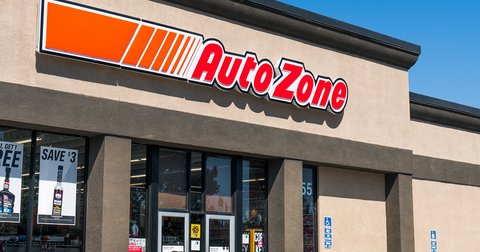 AutoZone Crushes Q1 Earnings Forecast, Stock Soars 6%
By Anirudha Bhagat

Updated
AutoZone (AZO) stock was trading around 6% higher today during premarket trading after the company reported better-than-expected Q1 earnings results. The company's Q1 EPS increased 6.2% YoY (year-over-year) to $14.30 and beat analysts' expectation of $13.76.
Nonetheless, its first-quarter earnings growth reflects a slowdown compared with the high-double-digit percentage growth AutoZone has registered in the last four quarters. The slower earnings growth was mainly due to higher operating expenses and tax, which partially offset its increased revenue.
What impacted AutoZone's Q1 earnings?
In AutoZone's fiscal 2020 first quarter, its revenue increased 5.7% YoY to $2.79 billion and surpassed analysts' estimate of $2.77 billion. The company also reported a 3.4% YoY improvement in its domestic same-store sales. AutoZone's first-quarter top line continued to benefit from its sales initiatives, which included store and product portfolio expansions.
Its sustained investment in building omnichannel capabilities to enhance customers' shopping experience is also bearing fruit. The company offers buy-online-pick-in-store and fast delivery facilities, which are driving traffic at its stores and on its website. Moreover, AutoZone consistently improvises its supply-chain network to speed up delivery and inventory fulfillment.
AutoZone's gross profit increased by 5.9% YoY to $1.50 billion. However, as a percentage of revenue, it remained flat YoY at 53.7%. The company's operating expenses grew 7.7% YoY to $1.00 billion. As a percentage of revenue, they increased by 60 basis points YoY to 35.8%. The YoY increase in operating expenses was mainly due to higher domestic store wages and benefits.
As a result of AutoZone's higher operating expenses as a percentage of revenue, its operating margin contracted by 60 basis points YoY to 17.9%. In absolute terms, however, its operating income grew 2.5% YoY to $500 million. The company's net income inched down 0.3% YoY to $350.3 million, as its increased operating expenses and tax more than offset its higher revenue. The effective tax rate for AutoZone's first quarter of fiscal 2020 was 23.2%, 150 basis points higher YoY.
Other first-quarter highlights
AutoZone ended the first quarter with a merchandise inventory of $4.46 billion, which was 9.1% higher YoY. Its inventory per store also increased by 5.5% YoY to $694,000. The YoY increase in merchandise inventory was mainly driven by new store openings and product placement.
During the first quarter, AutoZone opened 22 new stores: 18 in the US, two in Brazil, and two in Mexico. It ended Q1 with a total store count of 6,433, with 5,790 in the US, 606 in Mexico, and 37 in Brazil.
Furthermore, the company continued with its shareholder wealth maximization initiatives. During the first quarter, AutoZone bought back 403,000 of its common shares for $450 million. In fiscal 2019, the company repurchased 2.4 million shares for $1.59 billion. At the end of the first quarter, it had $1.3 billion remaining under its authorization limit.
Peers' performance
Other companies in the automotive replacement part retail space are also doing well. Last month, Advance Auto Parts (AAP) reported better-than-expected third-quarter earnings results. The company's EPS grew 11.1% YoY to $2.10 and surpassed the Wall Street estimate of $2.05. Its revenue of $2.31 billion came in higher than analysts' expectation of $2.30 and improved 1.6% YoY.
Similarly, O'Reilly Automotive (ORLY) reported impressive third-quarter results on October 23. The company's revenue increased 7.4% YoY to $2.67 billion and came ahead of analysts' forecast of $2.64 billion. Its EPS of $5.08 surpassed analysts' estimate of $4.79 and marked YoY improvement of 12.9%.
Analysts' projections for the fourth quarter also reflect impressive YoY improvement in both companies' top- and bottom-line results. For Advance Auto Parts, analysts expect revenue and EPS of $2.13 billion and $1.37, respectively. Their estimates reflect top and bottom-line growth of 1.1% and 16.7%, respectively.
For O'Reilly Automotive, analysts project revenue and EPS of $2.48 billion and $4.28, respectively, implying YoY growth of 7% and 14.9%, respectively.