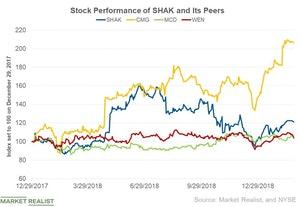 Aurora Cannabis Gets Product Approval in Ireland
By Nivedha Elango

Updated
Aurora Cannabis (ACB) (ACB.TO) recently received approval to use one of its oil products under Ireland's Medical Cannabis Access Programme. On December 2, Irish authorities approved the company's High CBD Oil Drops. The oil was added to the list of medical cannabis products approved by the Health Minister of Ireland. The drops are Aurora's second product to gain such authorization in Ireland.
Article continues below advertisement
Ireland's medical program
Ireland has launched the Medical Cannabis Access Programme for five years on a pilot basis. The first stage of this operation involves the receipt of applications from potential suppliers to submit their medical cannabis products. The submitted products will be assessed based on their suitability for the country's medical needs. Right now, the country doesn't have any medical cannabis products available in the market. However, the new legislation will allow operators with selected cannabis products to supply their products in Ireland.
Program scope
Once the Medical Cannabis Access Programme chooses suitable medical cannabis products, it will allow the operator to import and supply the products into the country. Under the new access program, doctors and health consultants can prescribe the selected cannabis medicines for treatment.
To get cannabis medical treatment in Ireland, a patient must possess one of the following medical conditions:
Muscle spasticity due to multiple sclerosis.
Severe nausea and vomiting due to chemotherapy.
Severe epilepsy.
Consultants can prescribe cannabis only when the patient has failed to react to other standard treatments.
Article continues below advertisement
Aurora's take
Aurora's management is happy to have gained approval from Ireland's medical program. As the company is one of the first cannabis operators to secure product approval, it also expects to get more approvals for other products in its portfolio. This should help the company nab a considerable share of Ireland's developing cannabis market. The company continues to work with state agencies and other parties on the approval of other products.
Dr. Shane Morris, Aurora's chief product officer, said, "Aurora is pleased to be able to assist patients who are seeking treatment with high quality EU-GMP (good manufacturing practice) certified pharmaceutical-grade medical cannabis in Ireland. We are very proud to be one of the first approved suppliers of medical cannabis under the MCAP."
Aurora stock
Aurora stock has been stable for the last week and is currently trading at $2.47. The stock has lost 53% of its value this year. The last couple of weeks have been very eventful for the company. It released disappointing fiscal 2020 first-quarter results, which resulted in a steep decline in its share value. Additionally, it faced lawsuits related to possible misleading statements. Since its earnings release, ACB has fallen 10.5%.