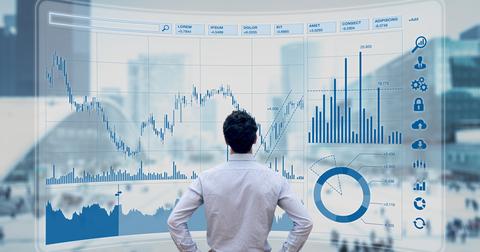 Apple Touches Record High on Trade Deal Phase I
By Adam Rogers

Updated
Shares of tech heavyweight Apple (AAPL) were trading at $273.06 as of 11:00 AM ET today. The stock has returned 73% year-to-date, easily surpassing gains from broader indexes. It continues to be the top stock in the DJIA (Dow Jones Industrial Average) in terms of market returns.
The Dow has returned 20.6% in 2019. The other top performers in the Dow include Microsoft (MSFT), JPMorgan Chase, and United Technologies, which have returned 50.9%, 41.4%, and 40.3%, respectively, this year. As we've seen, Apple has also outperformed high-profile FAANG stocks Facebook, Amazon, Netflix, and Google this year.
Article continues below advertisement
Apple stock hit a high of $272.56 yesterday on the back of the latest trade deal announcement. President Donald Trump announced that the US and China had reached Phase 1 of their trade negotiations. This means several products will not be levied with the 15% tariff that was due to take effect on December 15.
According to Bloomberg, "Apple Inc. avoided 15% tariffs on its most important products, the iPhone, iPad and MacBooks, after U.S. President Donald Trump signed off on a trade deal with China. The new import duties were due to kick in Dec. 15 and could have added about $150 to the price of iPhones during the crucial holiday shopping season."
If these tariffs had been levied on Apple's products, its 2020 earnings would have been 4% lower than current estimates. Further higher iPhone prices would have reduced demand by 6%–8%, according to Wedbush analyst Daniel Ives.
Apple stock is valued at $1.2 trillion
Ives has also emphasized that Apple will be one of the bigger casualties in the event the trade war isn't resolved. Several of its products, including the HomePod, Apple Watch, and AirPods, have already been hit by tariffs.
The trade war has been weighing on Apple's stock price for close to two years now. Despite these concerns, it's touched record highs due to the solid demand for its latest iPhone and the launch of its new services.
Recently, analysts are also bullish as a result of strong demand for the company's wearables products in the holiday quarter. The company is currently valued at a market cap of $1.2 trillion.
Last year, investors were concerned about slowing iPhone shipments. In October 2018, Apple also announced it would no longer publish product shipments going forward, adding fuel to the fire.
The sell-off in the broader markets in the last quarter of 2018 drove Apple stock down 30% in the period. The market recovered in the first half of 2019, and AAPL gained 11% between January and May.
Soon after the company launched its new line-up of smartphones, analysts raised their price targets based on its strong supply chain indicators. Apple also unveiled a gaming subscription product and a streaming service, which got investors excited.
Since the start of September, AAPL has risen 32%. Due to its stellar performance, the stock is trading close to oversold territory with an RSI (relative strength index) score of 66. An RSI score of above 70 indicates that a stock is oversold.
Apple shares are now trading at the following levels:
8% above its 20-day moving average of $266.19.
3% above its 50-day moving average of $253.39.
18% above its 100-day moving average of $232.49.
Will AAPL gain in 2020?
While Apple has made a strong end to 2019, it will be difficult for the stock to replicate this performance in 2020. There's a chance of a global slowdown impacting its growth. Even if the trade war comes to an end, major markets, including Europe and China, are experiencing economic contraction, according to recent PMI data.
Apple may very well post record sales in the first quarter of fiscal 2020 (which ends in December) driven by robust demand for iPhones and AirPods. But will it be able to sustain such momentum in the second quarter?
Yesterday, investment bank Credit Suisse claimed that iPhone shipments had fallen 35% year-over-year in China in November. Further, according to Reuters, Apple's market share in China fell from 7% to 5% in the third quarter, losing share to domestic players such as Huawei.
Apple will most likely be launching a lower-priced iPhone in the first quarter of 2020. It will also manufacture three 5G-enabled smartphones, which it will reportedly unveil at its next September event. Will these products result in revenue growth in 2020?
If recession fears come true, how much will Apple sales fall next year? Will its wearables products help offset any decline in its legacy products in 2020? Currently, analysts expect the company's revenue to grow 5.9% to $275.4 billion in 2020 and 7.6% to $296.5 billion in 2021.
As of 1:11 PM ET, the stock is trading at a new record high of $275.