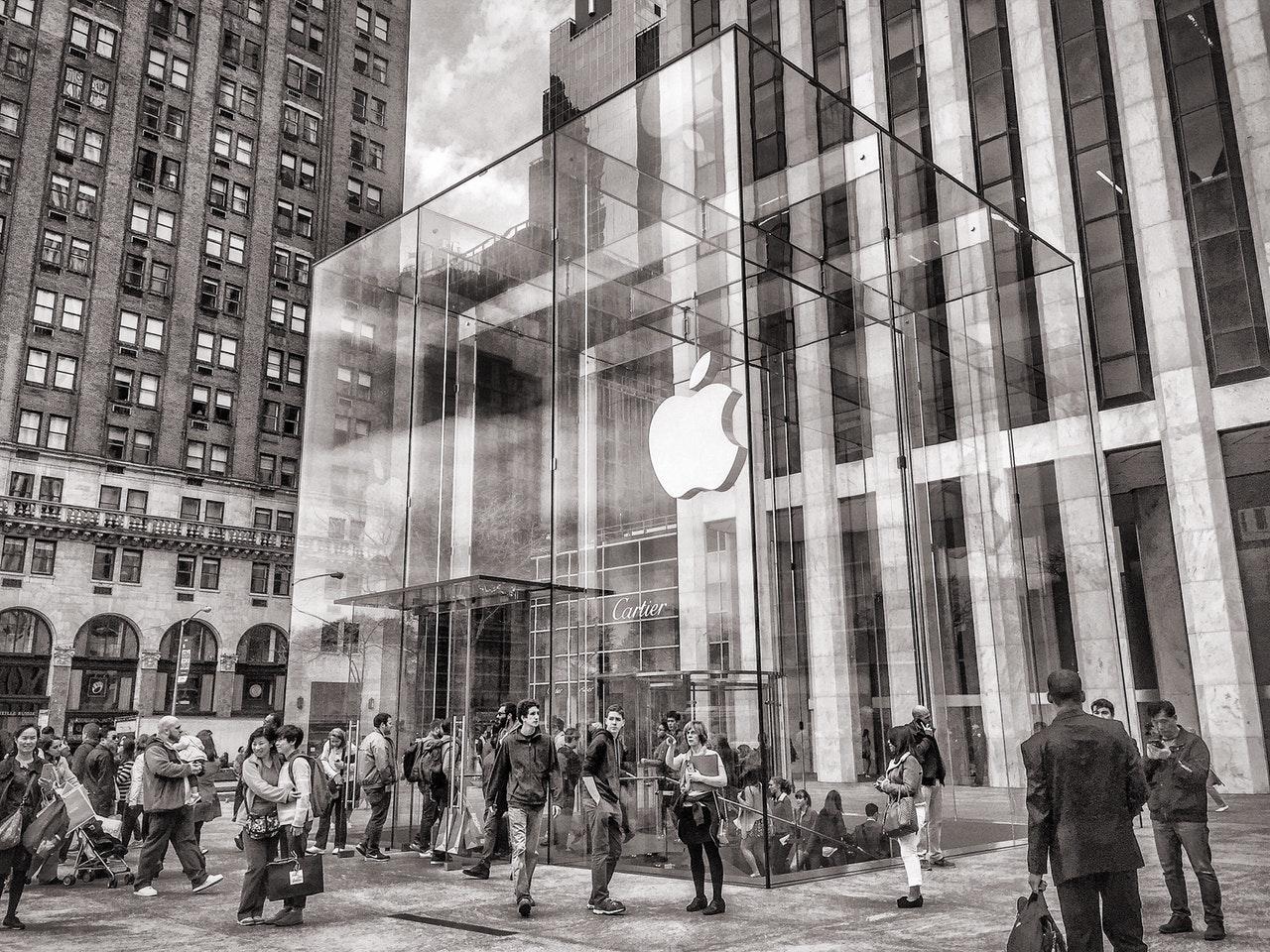 Apple: The Story of a Trillion-Dollar Tech Titan
Apple (AAPL) is a designer, manufacturer, and seller of smartphones, personal computers, media devices, and accessories. It also sells related digital services. Apple devices are an amalgamation of hardware and software products, both developed in-house, where the company's hardware runs on the software platform it's developed. The company generates mainstream cash from the sale of products and fees charged for subscription services such as Apple Music and iCloud.
Article continues below advertisement
Apple's business model didn't appear out of the blue. The way the company has sustained its momentum over the last two decades made it the first publicly traded US company to hit the $1 trillion market cap. Today, it's also counted among the FAANG (Facebook, Apple, Amazon, Netflix, and Alphabet's Google) stocks, the five most popular and best-performing tech players in the US. With Apple concluding fiscal 2019 with groundbreaking revenue of $260.17 billion and all-time-high fourth-quarter revenue of $64 billion, its stock is trading close to its 52-week high of $271.
In terms of market share, Apple closely competes with Samsung and Huawei. According to Counterpoint, in the third quarter of fiscal 2019, 12% of all smartphones shipped across the world were iPhones.
To get a better sense of understanding about the company, let's take a closer look at its humble beginnings.
A walk down memory lane: Steve Jobs's vision
Apple was founded on April 1, 1976, by Steve Jobs, Steve Wozniak, and Ronald Wayne. The trio started the company with a vision of making an assembly of computers for homes and offices. These were the days when tons of tech enthusiasts were trying to assemble a simple computer with a friendly interface.
During this period, Jobs saw Wozniak's computer prototype at the Homebrew Computer Club. The prototype was a typewriter-like keyboard with the ability to connect to a regular TV screen. Out of many, only Jobs could see the potential of this assembled computer set.
Article continues below advertisement
Apple's initial days were a roller-coaster ride
The first Apple product was the Apple I. It was an assembly of a motherboard with a CPU (central processing unit), RAM (random-access memory), and basic textual video chips, sold without a monitor or keyboard casing. Second in line was the Apple II, introduced in 1977. The upgraded version came with a monitor and a built-in keyboard with casing. The computer was installed with the world's first app (VisiCalc). The app was a spreadsheet and calculating software that made the Apple II office compatible. With the introduction of color graphics, the Apple II became a revolutionary model, consolidating $117 million in sales by 1980. This was the same year Apple went public.
The next ten years
The next ten years of Apple's leadership were completely unexpected and bizarre. Wozniak left because he lost interest in the company's day-to-day operations. Jobs's move to hire PepsiCo's John Sculley as president backfired badly. This cost Jobs his place in the company, and he, too, left in 1985. During this period, Apple did well and also recorded its highest profit to date in 1990. In truth, Jobs had planned out Apple's future, and the company was just churning out the expected results.
Article continues below advertisement
But this automated profit frenzy didn't last long. As there were no revolutionary product launches and no strategy in place, Apple's market share started suffering. Its inevitable end seemed nigh. However, in 1997, in a desperate attempt to revive itself, Apple bought the operating system NeXT software from Jobs's company. The move also prompted the board of directors to get Jobs back on board to set things right at Apple, making him interim CEO.
Rise to profits
Upon returning as its CEO, Jobs changed the face of Apple. He went ahead with making a partnership, acquisitions, mergers, and—most importantly—bringing back Apple's core concept of pioneering. Here's a list of the major steps Jobs took in his years as CEO.
Article continues below advertisement
Apple's rebirth: 1997 to 2000
In 1997, Jobs announced a partnership with Microsoft to create a new version of Microsoft for Macintosh.
On August 15, 1998, Apple introduced the iMac, an all-in-one computer designed by Jonathan Ive. Apple sold 80,000 units of the iMac in just five months as a result of its modern technological features and unique design.
In 1998, Apple acquired Macromedia's KeyGrip software project. The company made this acquisition to expand its video editing market. The development of KeyGrip helped Apple launch its video-editing product, iMovie, in October 1999.
2001–2010
In 2001, Apple introduced the Mac OS X to replace the System 7. The Mac OS X was an operating system from NeXT computers. In the same year, the company released the iPod, a portable digital audio player, which would go on to sell 100 million units within six years.
In 2003, Apple launched the iTunes Store, an online service that provided music downloads for $0.99 per song and could integrate with the iPod. iTunes became the world's largest music retailer by 2005.
From 2003 to 2006, AAPL surged more than ten times, from $6 per share to $80 per share.
On January 9, 2007, Apple announced its flagship smartphone, the iPhone, at the MacWorld Expo. It was estimated that close to 270,000 iPhones sold during the product's first 30 hours on sale. Many media reports described the launch as a game changer for the industry.
In July 2008, Apple launched the App Store to sell third-party applications for the iPhone and iPod Touch. Within a month, the App Store was generating average daily revenue of $1 million.
In October 2010, AAPL was trading at a staggering $300, as per CNN Money. From 2006 to 2010, the stock rose by a whopping 275%.
Article continues below advertisement
Apple's unique blend of products and services
As discussed, Apple generates revenue from the sale of hardware devices such as the iPhone, iPad, Mac, and its collection of wearables. It also generates revenue from subscription services such as iCloud, iTunes, the App Store, the Mac App Store, the iBook Store, and the Apple TV App Store.
This dynamic wasn't initially the case. Since it garnered more than half its revenue from the sale of hardware products, it was largely considered a product-centric company. However, this impression didn't last long.
In the second quarter of fiscal 2016, weak iPhone sales lead to the company's first revenue decline in 13 years. The iPhone's quarterly sales fell 13% YoY (year-over-year) and 33% on a sequential basis, resulting in $50.6 billion in revenue. According to the New York Times, in January 2019, Apple revised its revenue expectations for the first time in 16 years due to poor iPhone sales.
In both cases, a drop in iPhone sales and a weak macroeconomic environment (specifically in China) affected Apple's revenue. These scenarios made it shift from a product-based revenue model to a balanced product- and service-oriented revenue model. Now, a drop in iPhone sales could be compensated by Services revenue.
Let's get into the details of Apple's collective business segments.
Article continues below advertisement
Apple's product portfolio
Apple's product portfolio consists of the iPhone, iPad, MacBook, and Wearables. These hardware devices compete in the global arena of smartphones, media players, personal computers, and tablets. Apple's products are known not only for their pioneering technology but also for their premium branding.
iPhone: How Apple reinvented the phone market
On June 29, 2007, at the MacWorld convention, Apple launched its first smartphone, the iPhone. The iPhone was a combination of a revolutionary mobile phone with touch controls along with a built-in iPod. Its features included online browsing, searching, and maps. Apple developed these smartphones on its own iOS (iPhone Operating System). It launched the first iPhone at $499 and charged $599 for the 4 GB and 8 GB models, both requiring two-year contracts. As cited by History Cooperative, "When Steve Jobs finally took the stage at the MacWorld convention on June 29th, 2007 to announce 'We're going to reinvent the phone,' iPhone history [began], and the era of smartphones was officially upon us."
Article continues below advertisement
Performance to date
From 2007 to date, Apple has launched 11 series of iPhones. According to Mixpanel data reported by 9to5Mac, the iPhone 6S and iPhone 7 are the most popular devices, holding 13.01% and 17.34% shares of the current iPhone market, respectively. The iPhone has always been Apple's biggest cash cow. In fiscal 2019, the device contributed more than 54% of the company's total revenue. In most of its holiday seasons, it's significantly capitalized on iPhone sales, marking repeated successful fiscal first quarters.
The outlook for the iPhone looks interesting. Current trade war headwinds and enormous competition from Huawei have made its sales wobble. With that said, however, Apple's leadership is optimistic that its strategies for 2020 will pull the iPhone out of this slump.
Several innovations, one MacBook
MacBooks are Apple's premium line of laptop computers. The concept of laptop computers originated back in the '90s. In 1991, Apple launched its first laptop, the PowerBook, which was a huge success. In the span of a decade, the company released several variants and designs. But in 2001, it launched the PowerBook G4, which went on to serve as the prototype for the MacBook in the years to come.
On June 28, 2006, Apple launched its first MacBook. The laptop was an inch thick and weighed over five pounds. It was the first model to have the signature backlit keyboard. The MacBook also came with a sudden motion sensor and fall protection feature that cushioned the impact on the hard drive during a fall.
Article continues below advertisement
New specs
In terms of technical specifications, the display of the new MacBook was 67% brighter than its predecessor. Its processing speed was upgraded with the 67 GHz (gigahertz) Intel Core Duo processor. The new device had 512 MB RAM and was expandable to 2 GB. Its navigating hardware also got an upgrade with the scrolling trackpad. The MacBook came with built-in Airport Extreme 802.11g wireless networking and Bluetooth. It also came equipped with two 2.0 USB ports and one FireWire port. The new device also featured an 80 GB hard drive. Along with the 17-inch MacBook, Apple also released 13-inch and 15-inch models.
Close to eight MacBook models launched after 2006. With each successive change in technology, Apple's personal laptop business always had a stable contribution to revenue. In fiscal 2019, the MacBook segment generated nearly $26 billion in revenue, a 9.9% contribution to the company's overall revenue.
Article continues below advertisement
An eye for an iPad
On January 27, 2010, Steve Jobs unveiled the first generation of the iPad. In the same year, Apple released the Wi-Fi variant of the iPad on April 3, followed by the Wi-Fi and cellular variant on April 30. The company developed the iPad to serve as a filler between an iPhone and a MacBook. It had the screen of a laptop and the portable ease of an iPhone, with all the built-in iOS features.
The first-generation iPad came with a full-size touchscreen. The gadget allowed for the use of all types of digital media and had a new autorotate screen feature. In terms of technical specifications, the iPad had a 9.7-inch IPS LCD touchscreen display, powered by Apple's A4 system on chip. A PowerVR SGX535 GPU (graphics processing unit) and 265 MB of DDR RAM (double data rate RAM) backed the device's processing speed. The first-generation iPad was available in different variants from 16 GB to 64 GB storage, with prices ranging from $499 to $799. The 3G model came in at an extra $130.
The gadget was such a hit that within the first three months of its release, the company sold more than 3 million units, according to Statista. Over the years, Apple has launched close to 21 models of the iPad, all of which proved to be consistent revenue generators. In fiscal 2019, the iPad generated close to $21 billion in revenue, contributing 8.17% to the company's total revenue.
Article continues below advertisement
Wearables: Tim Cook's addition to Apple's product portfolio
Wearables are Apple's latest product category. According to Inc.com, the company is already the biggest player in this market. Its Wearables segment currently includes the Apple Watch and the revolutionary AirPods.
Apple Watch
In August 2011, Tim Cook took over Apple's CEO position. In September 2014, he introduced Apple's first wearable, the Apple Watch, and on April 24, 2015, the company launched its first generation of Apple Watches. Today, there are five series of the device. The first generation of the wearable came out in three variants:
An everyman edition made from stainless steel for the regular consumer.
A sports edition with bands and an aluminum build to appeal to athletes.
An exquisite premium edition made from 18-karat gold—a marketing strategy to promote the device as a fashion accessory.
The price of the wearables ranged from $349 to $10,000. In terms of technical specifications, the Apple Watch came in 38 mm (millimeter) and 42 mm sizes. The watch had a built-in Wi-Fi and Bluetooth feature. It would also sync with the iPhone once paired. The device had a basic Digital Crown, Force-Touch, Multi-Touch, digital touch, and a side button. It also contained a digital heart sensor, making it a basic fitness wearable too.
Article continues below advertisement
AirPods
On September 7, 2016, Apple launched its first wireless Bluetooth AirPods. According to MacRumors, AirPods are Apple's cordless headphones. The pods work via an installed wireless W1 or H1 chip, dual optical sensors, an accelerometer for gestures, dual beamforming microphones for Siri and phone calls, and a second accelerometer for speech detection.
In terms of performance, AirPods have excelled in their battery life and backup, simple charging, easy connectivity, and superior Bluetooth range. All these features together make AirPods one of the company's best products in recent years. Their launch price was $159.
What wearables products mean to Apple
With the fall in the sales of iPhones, Apple is now banking on its Wearables segment for revenue. Though iPhones will still be in business, good wearables sales can offset an iPhone decline if there is one. The Wearables category also has promising potential in terms of future growth. As reported by Business Insider, "Cook thinks Apple's only just getting started when it comes to its wearables and accessories." Cook said, "We're still significantly in the build mode there."
Article continues below advertisement
In fiscal 2019, the Wearables segment reported $24.5 billion in revenue. As per Business Insider, "That's 95% of the Tally of its Mac business during the same period. By comparison, in fiscal 2018, wearables and accessories revenue were only 69% of Mac sales and two years ago, they were about half." Soon, Wearables and Accessories may also be part of Apple's mainstream revenue generation.
Services: A new take on revenue generation
Lately, Apple has reworked its revenue generation streams from mainly products to a balance of products and services. In recent years, the company has become more intensive about selling subscriptions relative to hardware products. Fiscal 2019 saw its Services segment generate nearly $46 billion in revenue, with a 17.8% contribution to total revenue. According to The Verge, "Cook also said that Apple is on track to double its services business from 2016 to 2020."
Let's look at the highlights of the services provided by Apple.
Article continues below advertisement
Apple Music
Apple launched its Apple Music services on June 30, 2015, following its acquisition of the rebranded Beats Music.
The service covered 56 million customers according to a Billboard article in 2018, citing Financial Times data.
Apple Music generates revenue from subscription fees and partnerships with mobile carriers.
Apple Music charges $10 for a regular monthly subscription. It charges $5 and $15 monthly for student and family plans, respectively.
App Store
Apple launched the App Store on July 10, 2008.
The App Store generates massive revenue from in-app purchases and subscriptions such as Netflix and YouTube.
Article continues below advertisement
iCloud
Launched on October 12, 2011, iCloud is the only storage platform to back up iPhones and iPads.
Every Apple customer is theoretically an iCloud user. Apple provides 5 GB of free storage to all customers. However, it generates revenue from paid plans for additional storage.
Apple's iCloud plans cost $0.99 for 50 GB per month, $2.99 for 200 GB per month, and $9.99 for 2 TB per month. The 200 GB and 2 TB plans are family shareable.
iTunes
Launched on January 9, 2001, iTunes is a one-stop shop for a wide range of content.
The service costs $24.99 per year for the iTunes match, which adds Apple Music.
iTunes generates revenue from content purchases and subscription fees.
Article continues below advertisement
Apple Pay
Launched in October 2014, Apple Pay is a mainstream payment system that allows users to make purchases online, send and receive money, and complete NFC (near-field communication) transactions.
Apple generates revenue from Apple Cash. Users can send money from a debit card for free, but the service charges a fee of 3% for any funds sent via credit card.
The service further generates revenue from banks.
Apple Care
The company's extended warranty service, Apple Care, allows users to get inclusive warranties for their Apple products.
The service costs range from $129 to $199 for iPhones, $249 to $369 for MacBooks, and $99 to $249 for iMacs and Mac desktops.
Apple Care generates revenue from warranty fees.
Apple is expanding its Services segment to include Apple TV+, Apple Arcade, Apple News+, Apple Card, and many more services.
Article continues below advertisement
Apple's lofty reputation
The iPhone maker has a big reputation to live up to. Being a trillion-dollar titan keeps it under a microscope. The company has soared to remarkable heights, and to sustain its top spot, it has to achieve new ones. In the last four years, its major revenue driver, the iPhone, has lost its charm. It's not just Apple—the entire smartphone industry is flatlining. However, it's still important to question whether Apple will be able to revive the hype for its alpha product.
The market speculates that Apple is betting on Services and Wearables as its mainstream revenue drivers in parallel to its iPhones. In fiscal 2019, the iPhone contributed 54.7% to the company's total revenue, and Services and Wearables together contributed 27%. Will the company's non-iPhone revenue be able to offset iPhone declines? Apple has indeed kept its promise to double its Services revenue in four years, but the segment is still a supporting actor and will need time to fill Apple's pockets by comparable margins.
The road ahead
As we speak, Apple is working on multiple strategies and products, including pricing strategies, partnerships to improve the scale of its services, and the introduction of next-generation products. According to MacRumors, Apple is developing augmented reality glasses and even self-driving vehicles. It's also expected to come out with 5G iPhones in 2020. No matter how catchy these updates are, loyal Apple investors and users are still looking for a promising breakthrough from Apple's end.
With Apple having proven its mettle time and again, leaving its critics in awe, we have no doubt that there's more of the same on the horizon.
Correction: An earlier version of this article misreported revenue figures in millions instead of billions.