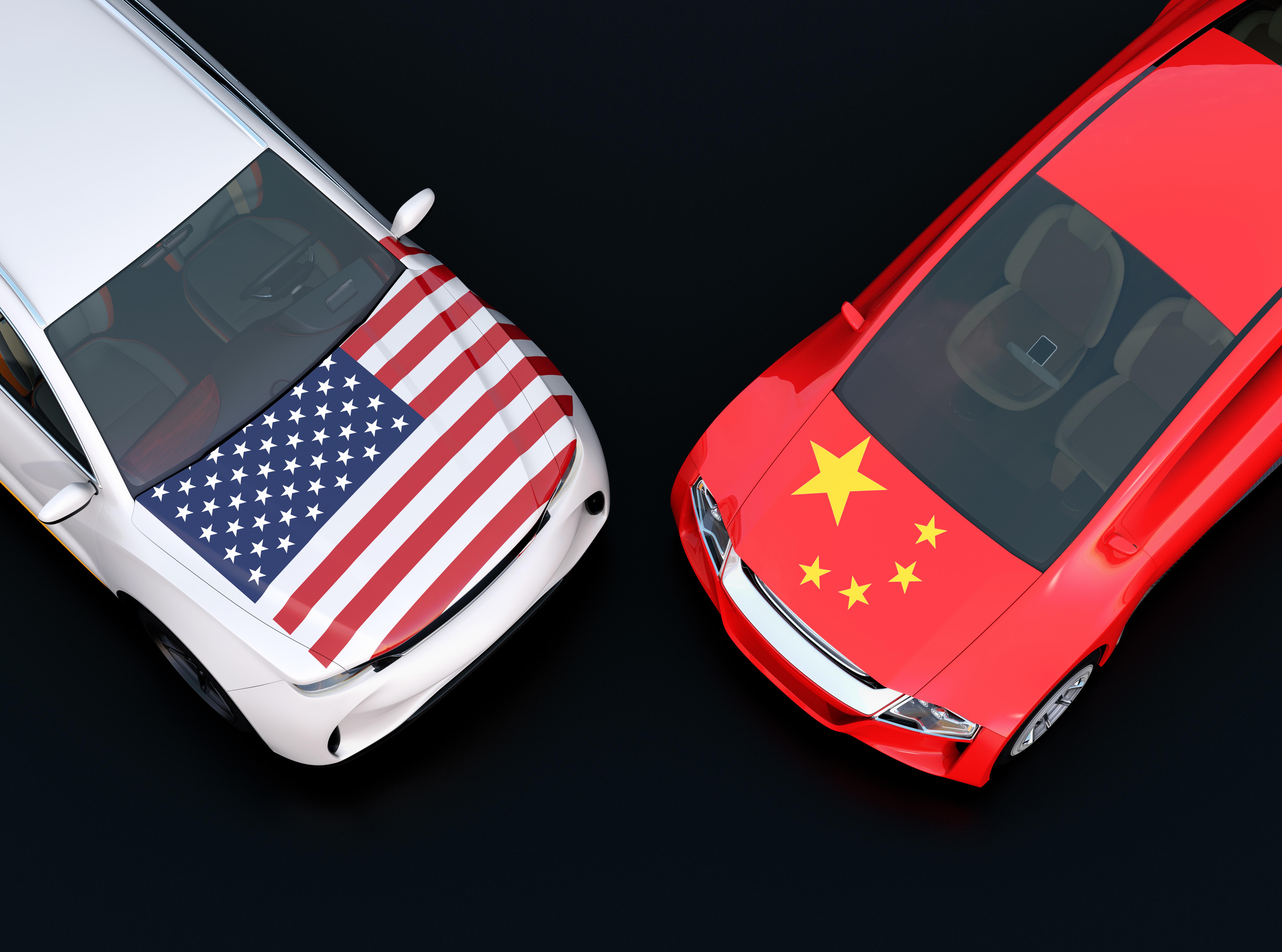 After China Suspends Auto Tariffs, Should Detroit Rejoice?
By Mike Sonnenberg

Dec. 16 2019, Updated 2:47 p.m. ET
It's been a good Monday so far. The S&P 500 (SPY), the Nasdaq (QQQ), and the Dow Jones (DJIA) have all hit their all-time highs today. The trade waters seem calmer now, with China suspending tariffs on US goods, including auto tariffs. Semis are on the top of the world. Autos are not too far behind. China was scheduled to slap 25% auto tariffs on made-in-America cars.
Among the legacy automakers, General Motors (GM) was up over 1% at 10:47 AM ET, while Ford (F) was up 1.3% at the same time. Fiat Chrysler (FCAU) was also up close to 1% at that time. Tesla (TSLA) is the star among automakers with 4.7% intraday gains at 10:48 AM ET.
Article continues below advertisement
China suspends auto tariffs
The easing trade war, coupled with positive surprises in China's economic data, are pushing the markets ahead today. China's industrial production and retail sales for November beat analysts' expectations. Higher-than-expected retail sales are generally positive for the consumer sector and autos, indicating consumer confidence.
How does the suspension of auto tariffs affect Ford and GM?
For Ford and GM, suspension of auto tariffs simply avoids adding insult to injury. Ford and GM are already struggling in China. The 25% auto tariffs would have made the matter worse.
Ford's (F) third-quarter sales to China came in at 131,060 vehicles, a year-over-year decline of 30.3%. Its Q1 and Q2 sales in China fell 35.8% and 21.7%, respectively.
If you think 2019 is bad for Ford in China, think again. Ford's sales in China have been falling since 2007. In 2018, Ford recorded a decline of 14.3% in sales in China. Things aren't rosy back home, either. During the first 11 months of 2019, Ford deliveries have dropped by 3.3%, leading to a 40 basis point drop in market share.
Article continues below advertisement
General Motors also sees a slump in China sales. During the third quarter, General Motors' China sales dropped by 17.5%. GM's sales in China declined 15.8% in the first nine months of 2019. General Motors has posted negative sales growth for five consecutive quarters. Domestically, GM has seen a 2.1% drop in deliveries during the first 11 months of 2019.
The suspension of auto tariffs gives General Motors and Ford a chance to revive their respective prospects in China. Both companies are revising their product lineup in China to get back on track.
Is the suspension of auto tariffs good or bad for Tesla?
Tesla is going big in China. It recently opened a Gigafactory to produce Model 3 near Shanghai. The suspension of auto tariffs may have a dual effect on Tesla.
First, the suspension of auto tariffs can help Tesla in terms of importing models that are not being produced in Gigafactory 3. Currently, China-made variants are the cheapest. The performance and long-range variants are still imported from elsewhere. Moreover, Model S and Model X are still not produced in China. Without tariffs, Tesla won't have to raise prices for these models, helping it stay competitive.
Article continues below advertisement
On the flip side, no tariffs also mean Tesla's competition coming from the US even for its China-made cars. Ford recently unveiled Mach-E, its Mustang-based, fully electric SUV. Mach-E would compete with Tesla's upcoming Model Y, which would be produced in the Shanghai Gigafactory. In fact, Mach-E would also compete with Tesla Model 3 on price point.
Interestingly, Tesla wants Chinese customers to buy locally made cars. The company is planning to raise prices for imported Model 3 variants. Overall, the update may have a mixed effect on Tesla. Tesla stock was up 6% at 12:54 PM ET on positive sentiments related to its China ramp-up.
China auto sales present a problem
With no auto tariffs imposed on American carmakers, for now, our attention shifts to demand-side issues. However, China's auto market is not doing that well.
China's auto sales fell 3.6% in November, marked a drop for the 17th consecutive month. US brands comprise 7.4% of the market share in China. During November, US-made brands were the slowest performers with a decline exceeding 28%.
In the first 11 months of the year, US brands saw a decline in sales in China that exceeded 23%. Even without the auto tariffs, American carmakers would have to succeed in China to regain their share in the largest auto market in the world.