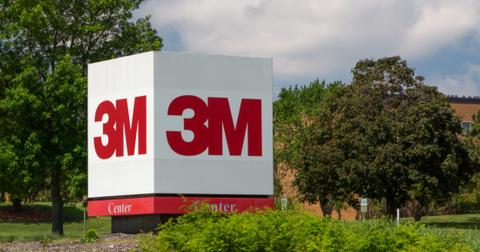 3M Stock in the Red Even after Drug Delivery Divestment
By Mike Sonnenberg

Updated
Yesterday, 3M stock closed lower in spite of the company announcing a multimillion-dollar divestiture. 3M is selling the majority of its drug delivery segment to Altaris Capital Partners LLP. The deal, which will fetch about $650 million, is set to include a 17% stake in the new entity. The business being divested generates annual revenue of $380 million. 3M is expecting to realize a gain of 40 to 50 cents per share from the transaction. As part of the transaction, 900 employees of 3M will be transferred to the new entity.
Article continues below advertisement
The broader S&P 500 and Dow Jones gained 0.62% and 0.79%, respectively, yesterday. Their gains came after Donald Trump tweeted, "Getting VERY close to a BIG DEAL with China. They want it, and so do we!" While broader indexes are near their all-time highs, 3M stock is closer to its 52-week low. This year, 3M stock has fallen 11.5%, while the Dow Jones has gained almost 21%.
Why 3M stock is under pressure
The US-China trade war and idiosyncratic issues have driven 3M stock's performance this year. During the company's Q3 earnings call on October 24, 3M CEO Mike Roman noted that the global economic environment is challenging. It was an apparent reference to the US-China trade war. 3M's sales from China and Hong Kong fell 9.4% during the third quarter, leading to a 5% decline in its Asia-Pacific revenue.
Article continues below advertisement
The weak environment also forced 3M to lower its Q4 and 2019 guidance. The company currently expects its Q4 adjusted EPS to be $2.25 at the midpoint. For 2019, the company's management lowered its EPS guidance to 9.04 at the midpoint, which is below the low end of its previous guidance of $9.25–$9.75.
On Monday, Citi downgraded 3M stock due to concerns related to 3M's PFAS (Per- and polyfluoroalkyl substances) liabilities. PFAS were manufactured by 3M and others for years until the early 2000s. The US Environmental Protection Agency (or EPA) says that exposure to PFAS can be harmful to humans. As a result, there are pending lawsuits against 3M and others who produced the chemicals. 3M took a financial charge of over $200 million in the first quarter related to the litigation.
Will 3M's transformation look like GE's?
3M's divestiture comes at a time when another industrial conglomerate, General Electric (GE), is also going through changes. This year, GE has divested multiple businesses to bring its focus back to core industrials. GE has also frozen pensions to cut down its debt. Some analysts are bullish about GE's transformation. On Wednesday, UBS analyst Markus Mittermaier recommended "buy" for GE stock while raising its price target to $14 from $11.50. He gave the thumbs up to GE's ongoing transformation, saying, "We question the depth of which consensus captures the ongoing GE evolution." Of the 20 Reuters-surveyed analysts covering GE, nine recommend "buy."
On the other hand, analysts are less excited about 3M stock. Of the 19 surveyed analysts covering MMM, only two suggest "buy." Meanwhile, 12 suggest "hold," and five suggest "sell." Their average target price of $169.38 almost equals 3M's closing price yesterday.