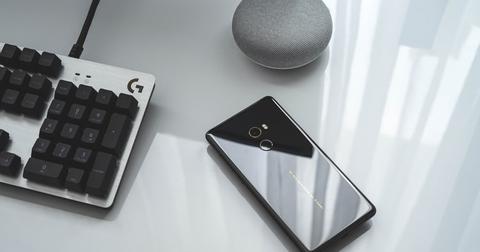 Will Microsoft Take on Alexa, Google Assistant, and Siri?
By Namrata Sen Chanda

Nov. 29 2019, Published 8:20 a.m. ET
Microsoft (MSFT) now wants to enter the consumer market for digital speakers, reported Windows Latest. The company filed a patent for a "high-efficiency speaker with multi-magnet structure" in May 2018. The US PTO (Patent and Trademark Office) published the patent on November 26.  As per the patent filed, the device will be cylindrical and look similar to those already in the market. In another patent published earlier this year, Microsoft revealed a Teams-integrated speaker for the enterprises. However, this time, Microsoft has a consumer speaker in mind.
Article continues below advertisement
Microsoft CTO previously denied smart speaker launch
Back in January, Microsoft's CTO Kevin Scott had a different take on Microsoft entering the speaker market. In an interview to Venture Beat, Scott said, "On the smart speaker side of things, we've got a bunch of partners who are building Cortana-powered things right now, and we're super excited about all of those, but it's not like we're going to have a single Microsoft-branded Cortana smart speaker that's going to be the thing that carries Cortana to customers."
Earlier this month, Microsoft announced that it was planning to suspend its Cortana app in selected countries on January 31, 2020. It would now be available as a part of the Microsoft 365 productivity apps. Cortana is Microsoft's voice assistant launched in 2014. The Cortana failed to match up to Amazon's Alexa (AMZN), Google Assistant (GOOG), or Apple's Siri (AAPL). Microsoft is now positioning Cortana as a digital voice assistant for enterprises.
Interestingly, in 2018, Microsoft and Amazon entered into a partnership. The alliance entailed making Cortana and Alexa available on Echo speakers and Windows 10 in the US. As both the voice assistants have different features, their interoperability would give enhanced value to the users.
Article continues below advertisement
Global Smart speaker market is a massive growth arena
According to a report by Canalys in August, the global smart speaker market surged 55.4% in the second quarter. Amazon, Baidu, and Google were the top performers in this category. The smart speaker market is at the cusp of prospective growth. As per Technavio, the global smart speaker market will grow at 24% CAGR (compound annual growth rate) from 2019 to 2023. Also, Technavio states that the success of the smart speaker market depends on the attractiveness of voice commerce.
It goes without saying that if Microsoft steps into this lucrative arena, it will expose itself to limitless opportunities. However, on the hardware front, Microsoft has yet to prove itself. It still has to come up to the level of rivals like Apple, Amazon, Google, and Samsung. The company's Surface revenue slipped 4% YoY (year-on-year) in the first quarter of fiscal 2020.
However, the segment performed well in the same period last year. This is likely owed to the launch of affordable Surface Go devices. Also, Microsoft revamped the line-up for its Surface devices in its annual hardware event this October.
Article continues below advertisement
Cortana capabilities and pricing to determine the success
If Microsoft wants to enter the smart speaker market, it must first work on evolving Cortana. In a space that has advanced players like Alexa and Google Assistant, Cortana has to up its game. Thus, instead of pushing Cortana on the backburner or restricting it to the enterprise space, Microsoft needs to boost its capabilities. Also, the company must price the product smartly. Notably, Apple's HomePod hasn't seen the desired success due to its high pricing.
That said, tech companies do file numerous patents as a part of the business. However, many of them do not develop into an actual product. We are curious to know what Microsoft does with a smart speaker in the future. Let's see if it announces its plan to enter this space in its next annual hardware event.