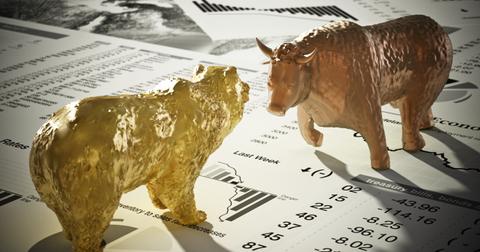 Why DXC Technology Stock Has Risen More than 14% Today
By Adam Rogers

Updated
DXC Technology (DXC) shares are trading over 14% in the early market today. The company announced its results for the second quarter of 2020 (year ending in March) yesterday after hours.
The company reported revenues of $4.85 billion with an adjusted EPS of $1.38—below the consensus revenue estimate of $4.92 billion and EPS estimate of $1.42. DXC Technology also reduced its fiscal 2020 earnings from $7.00–$7.75 to $5.25–$5.75. Analysts estimated earnings of $7.17 in fiscal 2020.
Article continues below advertisement
DXC Technology also reduced its 2020 revenue forecast from $20.2 billion–$20.7 billion to $19.5 billion–$19.8 billion. Analysts have forecast the company's 2020 sales at $20.23 billion. So, why is DXC Technology stock gaining despite missing the consensus estimates in the September quarter and providing guidance below analysts' estimates?
Optimism about DXC's strategic review
Investors are optimistic about DXC Technology's review of its product portfolio. The company has evaluated each of its business segments based on several criteria. The criteria include the importance of the enterprise technology stack, the ability to create industry solutions, the customer requirement, and the potential to unlock value.
DXC Technology stated that it decided to pursue strategic alternatives for three businesses—US State & Local Health, the Human Services Business, and the Workplace & Mobility Business. These three verticals account for 25% of the company's total revenues.
Article continues below advertisement
The company's CEO, Mike Salvino, said, "When I say strategic alternatives that could involve a range of actions to unlock value including potential divestitures to strategic or financial buyers, a spin-off or other transactions. Throughout this process, we will remain closely engaged with our customers and our people, ensuring we are meeting our commitments to both."
What are DXC's financial goals?
DXC Technology will have to focus on executing these strategic alternatives and creating a more focused portfolio. After excluding these three business segments, the company expects its revenues to reach $15 billion by fiscal 2022. Digital offerings will account for at least 50% of the revenues.
The financial goals will also improve the company's bottom line. The net margin is estimated at 12% after accounting for investments. Notably, the net margin is in line with industry peers. DXC Technology's management has a conservative outlook on cash flow conversion. The company has estimated net capital proceeds of $5 billion from strategic divestitures.
Article continues below advertisement
DXC Technology expects to distribute $4.25 billion in share repurchases and dividends to shareholders over the next ten quarters. Currently, the company is valued at $8.81 billion. The company also aims to reduce debt by at least $2.5 billion and focus on a capital balanced approach that will protect its credit rating metrics. DXC Technology has forecast a debt-to-EBITDA ratio of less than 2x by fiscal 2022. The company ended fiscal 2019 with a debt balance of $4.51 billion.
Analysts cut the target price  
While investors were enthused about DXC Technology's strategic guidelines, analysts weren't impressed. According to multiple reports from The Fly:
Stock is trading at a cheap valuation
Despite the recent upward spiral, DXC Technology shares have fallen 41.5% in 2019 and have severely underperformed industry peers. The stock fell more than 30% in a single day after its first-quarter results, which pointed to a slowdown in enterprise tech spending.
The company will have to successfully turnaround its business priorities to keep investors interested. However, DXC Technology is trading at a cheap valuation multiple, which might be attractive for contrarian investors.
DXC Technology stock has a valuation at 1.5x forward sales. The company is trading at a forward PE ratio of 4.2x. The stock's price-to-sales ratio is 0.44x, while the price-to-book ratio is 0.98x. The estimate for DXC Technology's five-year PEG ratio is 0.62x.
The stock has lost more than 50% in the last year and has fallen 67% since January 2018. However, the company's low valuation multiple and a forward dividend yield of 2.9% might make it an interesting bet in a market where several stocks are trading at a premium.