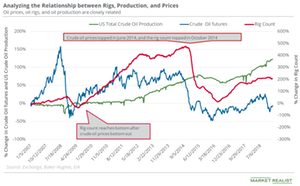 Tilray Tumbles following Its Q3 Earnings Report
By Nivedha Elango

Updated
Tilray (TLRY) reported its third-quarter earnings results on November 12. The company reported five times its revenue from last year's third quarter. From the time of the release, the stock has fallen almost 3%. It's currently trading at $20.93.
Article continues below advertisement
Highlights of Tilray's financials
Tilray reported revenue of $55.1 million in the third quarter, implying an increase of 408.6% from the same period last year. The company attributes this growth to the recreational marijuana market and the growing international medical market. It reported selling 10,848 kg of cannabis products in the quarter, almost seven times last year's third-quarter sales.
The company's gross margin expanded to 31% of its revenue in the period. Its second-quarter gross margin stood at 27%. Further, Tilray reported a net loss of $35.7 million in the third quarter, implying a decline of almost 91% from the previous year's quarter. It reported adjusted EBITDA of -$23.5 million, almost three times last year's third-quarter EBITDA. The increases in its net loss and EBITDA were the result of an increase in its operating expenses. Its increased expenses reflected costs related to expansions and acquisitions. Further, its average selling price decreased from $6.21 per gram last year to $3.25 per gram.
Business highlights
Tilray entered into many acquisitions and expansions in the quarter. The most important was its deal with Privateer Holdings. It acquired Privateer for 75 million Tilray shares, which it will transfer in an orderly manner. Tilray also acquired FOUR20 Investments. This transaction will complete by the first quarter of 2020.
Tilray expanded its international capacity by adding 20 hectares in Portugal, which resulted in a total manufacturing space of 3.4 million square feet for the company. It further expanded its supply to Germany and Ireland. It also expanded its brand portfolio with Fluent Beverages, High Park, and Smith & Sinclair and supported two clinical trials conducted by the NYU School of Medicine.
Management's take on the results
Tilray is satisfied with five times the revenue compared to last year's third quarter. The company expects to report positive EBITDA in the fourth quarter. It also expects its investment in Portugal to contribute to its profitability in 2020. Because management is optimistic about industry growth, the company aims to increase its revenue in 2020.
Tilray expects the industry to see regulation changes due to the ongoing vaping crisis, but management is still confident about the quality of its products. It's currently developing many products for launch next month.
Tilray's president and CEO, Brendan Kennedy, said, "Our performance in the third quarter, including solid revenue growth and sequential gross margin expansion, reflects the positive business trends we have underway."