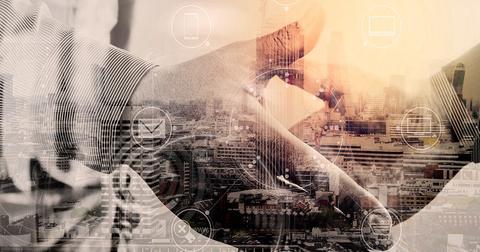 The UK's Labour Party: Block the Google-Fitbit Deal
By Ruchi Gupta

Updated
Alphabet (GOOGL) stock popped more than 1.0% on the day Google said it would purchase Fitbit (FIT). That jump in Alphabet stock indicated that investors viewed the deal positively. Google is Alphabet's largest corporate division. In the third quarter, Google comprised 99.5% of Alphabet's total revenue.
On November 1, Google announced its intention to acquire Fitbit, a leading maker of fitness trackers and smartwatches. The search giant said it would pay $2.1 billion in cash for Fitbit. The company could count on the Fitbit acquisition to help it build better technology products.
Rick Osterloh, Google's SVP of Devices & Services, noted, "By working closely with Fitbit's team of experts, and bringing together the best AI, software and hardware, we can help spur innovation in wearables and build products to benefit even more people around the world."
Article continues below advertisement
Fitbit deal could boost Google's hardware business
According to Allied Market Research, the global market for fitness trackers could top $62 billion by 2023. In 2016, the market was estimated at $17.9 billion. Fitbit also makes smartwatches, another booming market. Allied Market Research reported that the global smartwatch market could grow to $31.1 billion by 2025, from $9.3 billion in 2017.
Fitbit generated $1.6 billion in revenue from selling fitness trackers and smartwatches in 2018. In our view, this could be a significant boost to Google's hardware business and, by extension, Alphabet's nonadvertising operations.
How do PayPal and iZettle fit in?
The UK delayed PayPal's closing of iZettle acquisition for months. Notably, Google faces a similar risk with its Fitbit deal. Google's proposed acquisition of Fitbit is already facing a potentially disruptive challenge. The UK's center-left Labour Party wants Google blocked from acquiring Fitbit on the grounds that the deal raises antitrust and data privacy questions.
The Labour Party argues that Google could use Fitbit's customer health data to target advertisements. So, the party wants the UK's antitrust regulator to conduct a thorough review of the Google-Fitbit deal to determine its impact on privacy.
However, a full-blown antitrust review in the UK could take months to complete. In turn, that could delay the closing of the transaction and hamper Google's plans for Fitbit.
PayPal (PYPL) is a good example of how facing a full antitrust review in the UK can be disruptive to its business. In September 2018, UK authorities initiated an antitrust review of PayPal's proposed acquisition of payment firm iZettle. It took about nine months for the review to conclude, as PayPal finally received official approval of the deal in June 2019.