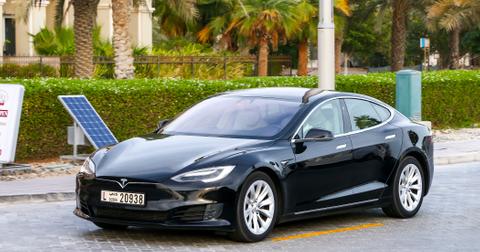 Can Tesla's Expiring Federal Tax Credit Lift Q4 Deliveries?
By Mohit Oberoi, CFA

Updated
Tesla cars won't be eligible for a federal tax credit as of the beginning of next year. The credit was halved at the start of this year, and then again on July 1.
Last year, Tesla's fourth-quarter deliveries spiked as US buyers preponed their purchases to take advantage of the higher tax credit. Yesterday, Tesla sent an email to registered users explaining that buyers need to get their vehicles delivered before December 31 to be eligible for the tax credit.
As of next year, Tesla (TSLA) cars wouldn't be eligible for a federal tax credit, which has been gradually withdrawn since January 1, 2019. Incidentally, Tesla's Q4 2018 deliveries spiked as US buyers took deliveries before the year-end to be eligible for the tax credit, and the company reported record deliveries in last year's fourth quarter. It posted a profit in Q4 2018 for a second successive quarter, the company's fourth profitable quarter in its history. It then posted wider-than-expected losses in this year's first and second quarters before surprising markets with a profit in Q3. TSLA stock rallied after the company's Q3 earnings release, and short-sellers suffered massive losses.
Article continues below advertisement
Could Tesla's Q4 deliveries set another record?
For Tesla, the last two years have shared several similarities. Analysts expect the company to post a net profit in this year's fourth quarter. If Tesla succeeds, it would mark the second time in its history of posting a profit in two consecutive quarters.
Last year, TSLA stock outperformed markets in the fourth quarter. That looks to be the case again in Q4 2019. Similarly, the company's guidance suggests it should deliver a record number of cars this quarter, like it did in Q4 2018.
As Tesla's tax credit was halved on January 1 of this year, potential buyers scrambled to take deliveries in Q4 2018 to get the higher credit. Now, Tesla is expecting to repeat last year's magic by prompting potential US buyers to take deliveries of their vehicles before the credit is reduced completely.
Tesla Cybertruck and effects of the federal tax credit
Recently, Tesla unveiled its Cybertruck. Despite the vehicle's botched ceremony and polarizing design, Tesla CEO Elon Musk has suggested in a tweet that Cybertruck preorders have swelled to 250,000. Musk has also claimed that the Cybertruck is better than Ford's (F) F-150, a claim Ford has challenged. To learn more, read Tesla's Cybertruck and Ford's F-150 to Battle It Out.
The federal tax credit's withdrawal may indeed prompt a spike in Tesla's Q4 deliveries like last year. However, the company might need to find a way to avoid the trough it had in Q1 2019. Tesla stock underperformed markets in this year's first half as its Q1 deliveries and earnings spooked markets. It will be interesting to see if Tesla tweaks its car pricing next year after the tax credit withdrawal.
TSLA is among the most polarizing stocks today. For further analysis, read Tesla Stock: Are You Bullish, Bearish, or Just Neutral.