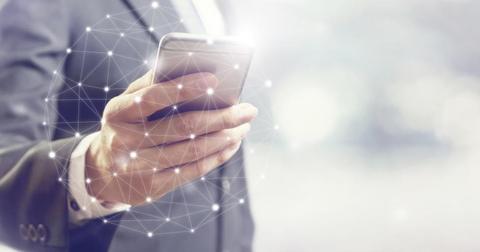 T-Mobile's Strong Postpaid Momentum Continues
By Ambrish Shah

Updated
In the third quarter, T-Mobile's (TMUS) strong momentum continued. The telecom company gained postpaid phone customers and reported robust earnings results. The company reported sales of $11.1 billion—a growth of 2% year-over-year.
EPS rose 8.6% year-over-year to $1.01. Analysts expected the wireless carrier to report sales of $11.3 billion and EPS of $0.96 in the September quarter. In the third quarter of 2018, T-Mobile posted sales of $10.8 billion and EPS of $0.93.
Article continues below advertisement
T-Mobile's postpaid momentum continues
In Q3 2019, T-Mobile reported a total of 1.75 million net customer additions versus 1.63 million net additions in the same quarter a year ago. For the last 26 quarters, the wireless carrier gained more than 1 million total net subscribers.
At the end of Q3 2019, the telecom company had a customer base of about 84.18 million, which is 9.0% higher than in Q3 2018. In the third quarter of 2019, T-Mobile added 754,000 postpaid phone net customers, which was the best in the wireless industry.
In the third quarter, T-Mobile's postpaid phone churn rate continued to fall year-over-year. The wireless service provider reported a third-quarter record-low postpaid phone churn rate of 0.89%. This rate was lower than its churn rate of 1.02% in the third quarter of 2018. This trend suggests that the third-largest wireless carrier has attracted and retained subscribers. On T-Mobile's Q3 earnings call, CEO John Legere noted that for the last four quarters, T-Mobile had a lower postpaid phone churn rate than AT&T.
Article continues below advertisement
T-Mobile's postpaid phone churn rate decreased year-over-year due to ongoing improvements to the company's wireless network quality. Notably, the lower churn rate helps mobile operators reduce the acquisition costs related to acquiring customers. Comparatively, Sprint (S) posted a postpaid phone churn rate of 1.91% while AT&T (T) has a churn rate of 0.95%.
Outlook for 2019
For full-year 2019, T-Mobile expects postpaid net customer additions between 4.1 million and 4.3 million. The company also expects adjusted EBITDA to be in the range of $13.1 billion and $13.3 billion. T-Mobile expects cash capex, excluding capitalized interest, between $5.9 billion and $6.0 billion. Analysts expect 2019 sales of $44.9 billion and an EPS of $3.99 for T-Mobile.
T-Mobile's nationwide 5G wireless network, which is built on its 600 MHz low-band spectrum, will go live on December 6. According to a FierceWireless report on November 11, "T-Mobile will be the only nationwide 5G network provider until the summer of 2020. With dynamic spectrum sharing T-Mobile will be able to provide service without impacting its existing 26 million 4G customers being served on T-Mobile's 600 MHz spectrum."
Article continues below advertisement
T-Mobile and Sprint merger
T-Mobile and Sprint agreed to merge in April 2018. The Justice Department and the FCC have approved the proposed $26 billion merger agreement. However, the merger is still not complete, as it faces a lawsuit filed by several state attorneys general on antitrust concerns. New York is leading the multistate court challenge.
A court hearing for the lawsuit will begin on December 9. Take a look at T-Mobile and Sprint Merger Gets Arkansas' Support and T-Mobile-Sprint Merger: Renegotiate Terms? to learn more.
Stock performance
On Tuesday, T-Mobile stock closed at $77.43, 29% higher than its 52-week low of $59.96 on December 26, 2018. The stock hit a 52-week high of $85.22 on July 26 after the Justice Department approved its merger with Sprint. Based on Tuesday's closing price, the company's market capitalization was $66.3 billion.
TMUS stock has risen 21.7% year-to-date, -2.6% in the last month, and 14.1% in the trailing-12-months period. On Tuesday, it closed 4.9% below its 20-day moving average of $81.38 and 3.1% below its 50-day moving average of $79.88. It was trading 1.7% below its 100-day moving average of $78.73. Yesterday, the stock closed near its lower Bollinger Band level of $78.93, which suggests that it's oversold.
Analysts' mean price target on T-Mobile stock stands at $89.74, which implies a 16% gain from the current level of $77.43. Sprint and AT&T have risen 0.9% and 37.3% year-to-date, respectively.