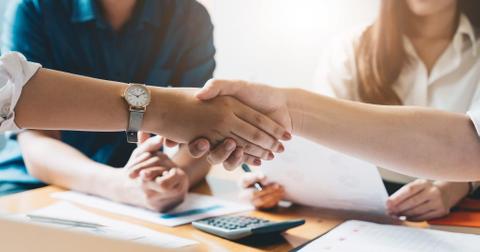 Sprint Fairly Valued at $3 per Share amid T-Mobile Merger
By Ambrish Shah

Updated
The proposed merger agreement between T-Mobile (TMUS) and Sprint (S) expired on November 1. As a result, either company has the right to walk away from the transaction until a new date is set. As reported by Reuters on November 8, the two parties are in discussions to extend the date. T-Mobile CEO John Legere said that the talks about conditions of the deal could include the price.
According to a FierceWireless report dated November 5, Raymond James believes that Sprint should merge with T-Mobile to gain scale, rapidly build a 5G network nationwide, and enhance its margins and cash flow position.
Article continues below advertisement
Raymond James analyst Ric Prentiss noted, "However, given the deterioration of Sprint's business, as well as the Lifeline services claimed/collected/reimbursed issue, since the merger was announced in late April 2018, we wonder if in the name of fairness the parties involved will need to address the terms of the deals."
Prentiss added, "Given September 2019 quarter results and trends, we feel the fair value for Sprint on a standalone basis has dropped to ~$3 per share (<$2 for the operations and <$2 for the owned/leased 2.5 GHz spectrum)."
T-Mobile and Sprint merger lawsuit
In April 2018, the two wireless carriers had announced the plan to merge. More than 18 months have passed since the proposed acquisition of Sprint by T-Mobile was made public. Still, the two parties expect to close the transaction in a few months. The companies had initially expected the merger agreement to close in the first half of 2019.
Currently, the merger deal faces a lawsuit filed by a number of state attorneys general to block the combination. The states argue that the merger is anti-competitive and would hurt wireless consumers. The multistate lawsuit is led by New York, and a district court trial is slated to begin on December 9.
Article continues below advertisement
To win support for the merger deal, T-Mobile announced three Un-carrier initiatives, which include Connecting Heroes, Project 10 Million, and T-Mobile Connect. These Un-carrier initiatives are subject to the approval of its merger deal with Sprint. To learn more, please read T-Mobile Announced Un-Carrier Initiatives to Boost Merger.
On November 8, Arkansas supported the settlement deal reached with the US Department of Justice (or DOJ) related to the proposed merger of Sprint and T-Mobile.
T-Mobile and Sprint merger deal approved by regulators
In July, the DOJ conditionally blessed the merger contract between T-Mobile and Sprint. The proposed new T-Mobile agreed to divest Sprint's prepaid business to Dish Network (DISH) for $1.4 billion. Dish would also acquire Sprint's 800 MHz spectrum for $3.6 billion. The new T-Mobile would also offer its network support to Dish for seven years.
Earlier this month, the FCC conditionally voted to support the merger contract between T-Mobile and Sprint. The two companies agreed to build a 5G network across the US.
Article continues below advertisement
WeWork in talks to hire T-Mobile CEO
As reported by CNBC on November 11, T-Mobile CEO John Legere is in discussions to become the new CEO of troubled WeWork. WeWork is a co-working company that is seeking new leadership to help turn the company around. In October, SoftBank took control of WeWork. SoftBank is also the parent of US mobile operator Sprint.
According to a November 11 FierceWireless report, LightShed Partners analysts asked T-Mobile and SoftBank Group to turn down media reports, as "it complicates the carriers' upcoming merger trial with state attorneys general."
Legere could step down as T-Mobile's CEO after the merger deal with Sprint is completed. To learn more, read WeWork: Hello Softbank, Goodbye JPM and Neumann?
Financial performance
In the third quarter, T-Mobile reported revenues of $11.1 billion—up 2% year-over-year (or YoY). The company reported EPS of $1.01, up 8.6% YoY. Notably, Wall Street analysts expected the company to report adjusted EPS of $0.96 on total revenue of $11.3 billion.
T-Mobile gained 754,000 postpaid phone net customers in the third quarter. The telecom company has led the wireless industry in postpaid phone customer net additions in the last 23 quarters. T-Mobile posted a postpaid phone churn rate of 0.89%, which was lower than AT&T's (T) 0.95%.
Article continues below advertisement
Comparatively, Sprint has been reporting net losses over the last few quarters. In the quarter ended in September, Sprint reported revenues of $7.8 billion—down 7.6% YoY. The company reported EPS of -$0.07 versus $0.05 in the same quarter in 2018. Notably, Wall Street analysts expected the company to report EPS of -$0.02 on total revenue of $8.2 billion.
Sprint lost a net of 91,000 postpaid phone customers in the September quarter. It also reported a postpaid phone churn rate of 1.91%, which was the highest in the wireless industry.
Analysts' ratings
T-Mobile is covered by 21 Wall Street analysts. Of these, 16 analysts rate it as a "buy," and five analysts rate it as a "hold." Analysts' mean price target on T-Mobile stock stands at $89.74, which implies a 15% gain from the current level of $77.97.
Sprint stock was rated as a "hold" by 14 out of 17 analysts—or 82% of the analysts surveyed.
Stock performance
T-Mobile stock closed at $77.97 on November 13. At its November 13 closing price, its market cap stands at $66.7 billion. The stock was trading 8.5% below its 52-week high of $85.22. Meanwhile, it was trading 30% above its 52-week low of $59.96. It's currently trending downward in today's trading session and was down about 1.3% at 2:18 PM ET.
TMUS stock has returned 22.6% year-to-date, -2.0% in the last month, and 14.0% in the trailing-12-month period.
Year-to-date, Sprint and AT&T have risen 4.1% and 37.2%, respectively.