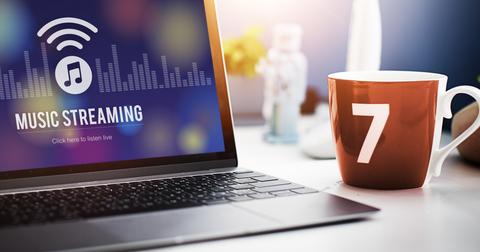 Spotify Subscribers at Risk: Stock Down as TikTok Looms
By Sophia Nicholson

Updated
Spotify (SPOT) stock fell during Tuesday's trading session, as investors fear the entry of Chinese rival TikTok, putting Spotify's subscribers at risk. Spotify stock was trending lower and was down by over 2% at 9:38 AM EST on Tuesday. Plus, Spotify stock fell yesterday on reports that TikTok plans to enter the music streaming industry. TikTok is an app that lets people post their own video clips. China's tech giant ByteDance owns the popular video app.
The stock of the world's most popular music company, Spotify, fell around 4.91% on Monday. SPOT stock closed at $140.26 on November 18. At Monday's closing price, Spotify's market capitalization was $25.1 billion.
Article continues below advertisement
ByteDance's music streaming plans
TikTok plans to enter the music industry, as reported by the Financial Times on November 17. The entry of TikTok is likely to directly threaten music streaming giant Spotify in the industry. The Financial Times noted that TikTok's music streaming service would be subscription-based.
The report also stated that ByteDance wants to ink licensing deals with the world's major record companies for its new music subscription service. ByteDance is in talks with Universal Music, Sony Music, and Warner Music to include their songs on its music service. Plus, ByteDance plans to launch its new service in the emerging markets of India, Indonesia, and Brazil, followed by the United States.
Currently, ByteDance has over 1 billion users. We believe its expansion in these emerging markets would help China's ByteDance expand its user base. Notably, India's huge population offers a rich market for the company, and TikTok has already gained immense popularity there.
Spotify is also eyeing expansion in India. Spotify launched in India earlier this year and has only 2 million subscribers. According to a November 18 report by Barrons, Spotify has a smaller user base in India than in Europe and the US. Nevertheless, Spotify witnessed strong subscriber growth in developing markets during the third quarter, especially in Southeast Asia. The company also outperformed in India, above its expectations for Q3.
Article continues below advertisement
TikTok: A threat to music streaming players
With its huge subscriber base, the expansion of TikTok in the music industry is likely to dent Spotify's market share. A new service would also threaten Apple (AAPL) and Amazon (AMZN) in the music streaming industry. Although Spotify's subscriber numbers were higher than Apple Music's numbers, the two services offer identical subscription rates. Spotify has a free tier that is supported by advertising. Both Amazon Prime and Apple Music offer paid subscription services.
Spotify's "freemium" model starts at $9.99 per month and includes a free ad-supported version along with a paid ad-free version. Reuters notes that Amazon's paid music service also begins at $9.99 per month. On the other hand, Apple Music offers only a paid subscription service for $9.99 per month.
Netflix (NFLX) also provides its premium plan at $9.99 per month. However, Netflix's family plan is available for $14.99/month. The basic plan for students costs only $4.99 per month. As Barrons reported, Spotify also faces fierce competition from free radio services as well as the ad-supported YouTube streaming service.
Spotify's subscribers
Spotify ended the third quarter with 248 million subscribers, around 30% higher than in Q3 2018. The company's premium subscriptions increased 31% year-over-year, while its paid subscriber numbers totaled 113 million. Its ad-supported subscribers increased 29% year-over-year to 141 million in the third quarter. An increase in podcast hours streamed helped Spotify increase its subscriber numbers. Product innovation, as well as higher retention rates among new users, also drove the company's subscriber base in Q3.
The higher-than-expected subscriber numbers helped Spotify attain upbeat third-quarter results. We believe the consistent growth in Spotify's subscribers would continue to drive Spotify's revenues and earnings in the quarters ahead.
The music streaming company forecasts its monthly users to increase to 255 million–270 million in the fourth quarter. Spotify also expects the number of premium subscribers to increase to 120 million–125 million in Q4.
In our view, Spotify should continue to focus on the factors that drive subscriber growth. Innovations and expansion in new countries would also increase its user base. A higher retention number would also help the company withstand the competition from its rivals.