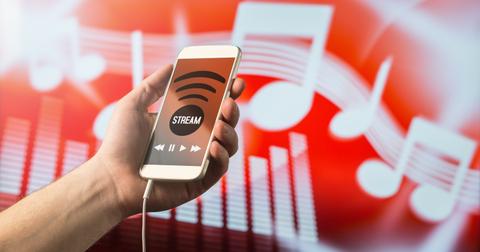 Spotify Stock Tanks, ByteDance to Start Music Streaming
By Adam Rogers

Updated
Shares of music streaming giant Spotify (SPOT) are down more than 5% today. The stock is trading lower after China's popular tech company ByteDance announced its intention to enter the music streaming space.
According to a Reuters report, ByteDance is in talks with music labels—including Sony Music, Universal Music, and Warner Music for—licensing deals. ByteDance plans to launch the new service in December 2019.
The company will be targeting emerging markets, including India, Brazil, and Indonesia. It might later expand its streaming service to other developed markets.
Article continues below advertisement
India is a huge market for Spotify
ByteDance already has a huge consumer base in India. Its social media platform Tik Tok is on at least 30% of Indian smartphones as of August 2019. ByteDance will look to leverage Tik Tok's popularity in India. It can easily monetize part of this user base into paying subscribers for its music streaming service.
Spotify launched its music streaming service in India earlier this year. And it already has over 2 million subscribers in the country. Access to smartphone devices and high-speed internet has driven digital consumption exponentially higher in India.
We'll see robust growth for on-demand audio and video services, and Spotify is looking to gain traction in India. A Deloitte report expects India's online music user base to increase ten times over, from 27 million in 2015 to 273 million in 2019. Meanwhile, the digital music subscription industry will likely grow from $70 million in 2013 to $430 million in 2020.
India is a price-conscious country with rampant audio and video piracy issues. ByteDance has the resources to compete with Spotify in terms of prices, and it might take away Indian subscribers if this launch is successful.
What next for investors?
Spotify went public on April 6, 2018, and closed trading at $147.92 that day. The stock then rose to $192.38 by August 2018 before falling to $112 by the end of 2018. Spotify shares are currently trading at $140.66 after gaining 25% year-to-date.
Spotify stock also gained by double-digit percentages on October 28 this year. The company reported its third-quarter results with sales of $1.92 billion and adjusted EPS of $0.40. Analysts expected the company to post sales of $1.9 billion and EPS of -$0.36.
At the end of the September quarter, Spotify's total monthly active users stood at 248 million, a rise of 30% year-over-year. Its paying subscribers rose 31% to 113 million while its ad-supported customers rose 29% to 141 million.
Though Spotify is the largest music streaming service in the world, it faces competition from giants such as Apple, Amazon, and now ByteDance. Apple Music subscribers stand at 60 million, though the service launched just four years back.
However, the music streaming space is a fast-growing segment, and it offers opportunities for multiple players. In Q3, Spotify's subscription sales rose 29%, and ad-supported sales were up 20% year-over-year.
Analysts expect the company to grow sales by 26.3% to $7.49 billion in 2019 and 24.4% to $9.32 billion in 2020. Spotify continues to post an adjusted loss. But analysts expect the company's earnings to improve at an annual rate of 131% over the next five years.
Analysts tracking Spotify stock have a 12-month average target price of $169 for SPOT stock. That target is 21% above the current trading price.